Elle Janns
​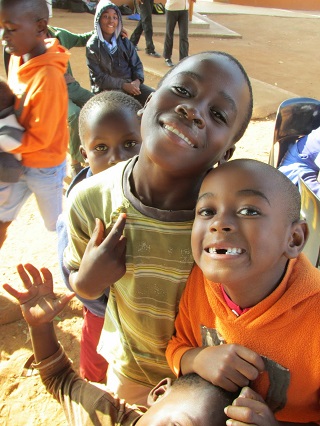 This was the first day that I brought out my camera
so I was swarmed by smiling faces wanting a picture.
Elle Janns is spending a year in South Africa through the ELCA Young Adults in Global Mission program. To learn how to sponsor a participant, see www.ELCA.org/YAGMsupport or contact globalchurch@elca.org.
I have been so blessed to be surrounded by more love and friends. Recently I have begun volunteering with the Lutheran Church's Far North Community Care and Development. They have four programs, one of which is Child and Youth Care Development. Part of their mission is to provide quality care and support to youths, orphans and vulnerable children. The Drop in Center at Muledane stared in 2011 and reaches 58 children. This is one of the two drop in centers that the program currently has. Drop in centers provide a wide range of critical services to children, including homework support, psychosocial support, life skills training, and recreational activities.
There are four BEAUTIFUL women that I get to engage with. They have some of the largest hearts that I know and are unbelievably welcoming. They also have a lot to do. These women know each child that comes to them. They have designated days in which they go to the homes of the children to check in with the guardians and see how the kids have been doing since they started coming to the center. They have a schedule for each week with different activities that the kids will do, teaching them about hygiene, culture, arts, sports, etc. They also provide a meal each day for the children. This means that there is cooking that must be done at the center every day. These women are saints.
The children are also fabulous. They start to arrive around 2 p.m., after school is let out and leave at 4 p.m. I have only had a few hours to interact with this beautiful gathering of people, but it has been some of my favorite and most cherished times. We joke and play, do homework and sing. I have read stories with them, some in English and some in Tshivenda. Mostly we just enjoy the company of each other. One girl, after making her nearly roll on the ground with my silly behavior and inability to succeed at playing a rock game (similar to Jacks), touches my shoulder or arm every time she passes me so that I turn to see her smile and wave. EVERY TIME. And I love each time she passes. Her smile is so warm and genuine. I feel indisputably welcomed into this community, family, home that these children of God have made.