Lanny Westphal, director of ELCA Global Church Sponsorship
Read on for updates on Siberia: Equipping the Faithful (GCS4030), an ELCA Global Church Sponsorship project that is part of Always Being Made New: The Campaign for the ELCA. The project began in Siberia and has expanded to all of Russia! To make a gift to this Global Ministry, click here.
________________________________
Nov. 27, 2014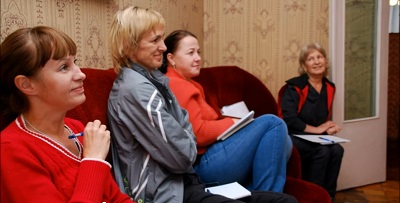 Video: 'People here want to grow in their faith'
ELCA missionary in Russia Bradn Buerkle narrates a short video on the need for the Equipping the Faithful program in Siberia. To watch the video, click here.
________________________________
Nov. 23, 2014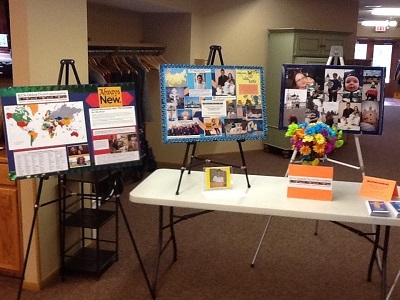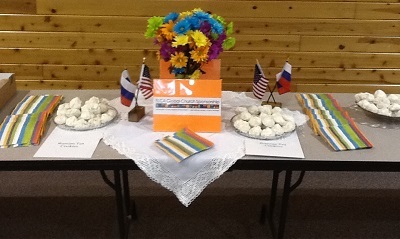 Global Church Sunday in Nisswa, Minn.
Lutheran Church of the Cross in Nisswa, Minn., created festive displays and refreshments (including delicious Russian tea cakes!) for its Global Church Sunday, which focused on missionary Bradn Buerkle and the Equipping the Faithful program of  The Campaign for the ELCA appeal.
________________________________
Nov. 4, 2014
By Bradn Buerkle,
ELCA missionary in Russia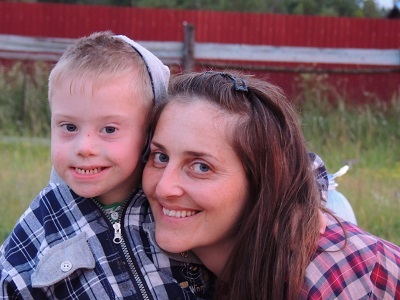 Dmitry and Svetlana
A parent and her special child find support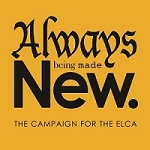 For many years, Svetlana* felt incapable of being a parent of a Down syndrome child. In her isolated Siberian city, many people with a Down syndrome child would give the baby up for adoption. Svetlana might have, too, but she couldn't get through the paperwork during the major depression she had after Dmitry's* birth.
Svetlana's mother was able to take care of Dmitry for a time, long enough that Dmitry was able to show his family the great joy that can come from a child who is differently-abled. Eventually Svetlana was able to reach out to others in her community who were in a similar situation. They did their best to support each other, with their life experience and parental love being their only expertise.
But Svetlana continued to struggle to find the strength to work for Dmitry's good in a society that gave such little support. She didn't expect to find that much-needed support when she accompanied her mother to church one Sunday. It was there that she met Ivan*, a theology student intern. He showed Svetlana that he cared about her and her struggle to be a good parent for Dmitry and he shared with her the good news of God's love.
Since that time, Svetlana's circle of support has widened. The members of the congregation, many of whom are elderly women, have adopted her and Dimtry. Ivan has also found ways to connect Svetlana with Lutherans who work with developmentally challenged children elsewhere in the church.
Thanks to your support for the Equipping the Faithful program we are able to provide opportunities for Svetlana and others to come together in fellowship and education for growth in their faith.
Moreover, the program provides additional training for students like Ivan on the path to pastoral ministry. An increase in the program's budget will also allow Svetlana to travel through the Siberian wilderness to the "neighboring" congregation in the city of Irkutsk, which has a long history of working with special-needs children.
Dimitry, Svetlana, Ivan and others like them thank you for supporting the Equipping the Faithful program.
* Names have been changed.
________________________________
Nov. 4, 2014
By Bradn Buerkle,
ELCA missionary in Russia
Becoming leaders, despite the odds
One is from Siberia and the other is from European Russia, so Olga* and Lena* have never met in person. But a Lutheran group in the Russian online social network Vkontakte allowed them to make their first virtual contact.
And it turns out that they have much in common. Both are just entering middle age. Both came to the church independent from (and without the support of) their families. Both found Lutheran theology to be helpful in their understanding of faith. And both go through the challenges of daily life without the full use of their legs.
Lena and Olga also both want to serve. But it won't be easy for them; their first attempts on a congregational level have proven that. Society here tries to avoid contact with people with special needs, and for many people, the thought that women could be leaders in the religious sphere is unacceptable. Yet Lena and Olga's desire to live out their faith in ministry is inspiring. It was for them and for all the other people in this country who need education but cannot travel that the Equipping the Faithful program was formed.
This project aims to maximize the accessibility of high-quality theological education through seminars held in cities and towns from Kaliningrad to Vladivostok. Your support for Equipping the Faithful helps the Russian Lutheran church live out its call as a model of God's grace applied to people in need and of our response to that grace in acts of love.
* Names have been changed.
________________________________
Nov. 4, 2014
By Bradn Buerkle,
ELCA missionary in Russia
Supporting and nurturing lay leaders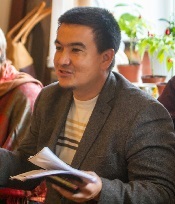 Rustem (photo, right) doesn't look like a typical Russian; that's because he's not. He's ethnically Bashkir, a traditionally Muslim group from the area on the border between Europe and Asia.
Rustem is also a Christian and has dedicated his time away from work to serving in his Lutheran congregation in Ufa. There is much to be done to preach the gospel in word and deed, through worship, fellowship and the ministries that will be served by the new diaconal center the congregation is building.
To better serve his congregation, Rustem enrolled in an online theological education program, which has been helpful to him. But as important for his understanding of ministry are the opportunities he has through the Equipping the Faithful program to attend seminars for education and mutual support. Your gifts to this program help ensure that the Ufa congregation, and others like it, will have lay leaders such as Rustem who can help others know the love of Christ.
________________________________
Nov. 4, 2014
By Bradn Buerkle,
ELCA missionary in Russia
Revitalizing congregations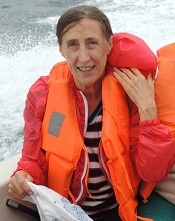 Nina Ottovna (photo, right) couldn't believe it. "You mean you'd actually come to our congregation and run a seminar?" she asked. She thought no one really knew or cared about her small and isolated congregation. The area was depressed, and the congregation also seemed to be languishing.
"Could you really?" she wanted to know. "Yes, I can," I said. "What if we have a weekend retreat in your congregation? Do you think that might help revitalize your spiritual life there? When might we do that?" So began our conversation.
To be honest, it won't be easy to get to her congregation. But thanks to the gifts of brothers and sisters in Christ to the Equipping the Faithful program, congregations like Nina'a have an opportunity for renewal through education and fellowship. As they are strengthened, they gain the confidence and energy to spread God's love to their neighbors.
________________________________
July 2014
"We pray that our great God will, through the Holy Spirit, bring about a new awakening here in Russia." – Russian Bishop Otto Schaude, in a letter to the ELCA Central States Synod, a companion synod.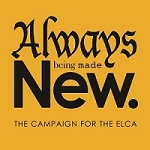 THE CHURCH: The Lutheran communities in European Russian were forced into exile in Siberia and locations farther east during the communist era. Though the church was subject to persecution, repression and abandonment, it managed to survive by the grace of God and the faithfulness and perseverance of its members. For the past 20 years, the church's members have been free to worship and re-engage in its ministry and mission activities. The ELCA has been engaged in ministry with the church in this region.
The Evangelical Lutheran Church in the Urals, Siberia and the Far East is one of the two member churches of the Evangelical Lutheran Church (Russia), consisting of nearly 20,000 members in 456 congregations. The Church House in Omsk has become a central meeting point for the leaders in Siberia and the neighboring states. In addition, the Evangelical Lutheran Church (Russia) is the administrative and theological center for the Evangelical Lutheran Church in the Urals, Siberia and the Far East as well as for neighboring Lutheran church bodies in Kazakhstan, Ukraine, Kyrgyzstan, Uzbekistan and Georgia.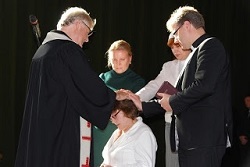 THE NEED: The major challenges facing Lutherans in Siberia are the lack of formally trained clergy and laity and the need to satisfy the demand for biblical education and training in evangelism. The combination of a repressive history combined with the vast distances between locations, not to mention the lack of resources, has made it difficult to address these challenges in a comprehensive manner. These needs are also found in neighboring churches surrounding the Lutherans in Siberia.
THE OPPORTUNITY: We have an opportunity to help build up the capacity of the church one module or distance learning course at a time. A new generation of Christians is seeking faith formation even as they sacrificially support God's mission in their communities. Increased technology has offered the possibility of developing a new short-term residential and on-line learning curriculum, suited for the Siberian context.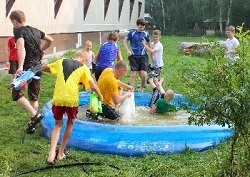 Your gifts to ELCA Global Church Sponsorship will cover for five years the cost for a full-time Russian-speaking director, translator, travel expenses, lodging for students in Omsk, maintenance of website, media services, and scholarships for Russian students. The Church House in Omsk with its residential facilities will be adapted for teaching core courses that will be recorded and placed online for other learners. Neighboring churches have been invited to participate in this educational program. Guest lecturers from the ELCA and other partners will teach courses either in Omsk or via satellite or other media. Scholarships will be available to bring lay leaders, who are preparing to engage in pastoral functions, to these courses. The courses will be translated into Russian, recorded and made available online to students who cannot travel to Omsk. Building personal relationships among participants, which are important to Russian communication patterns, will be integral to the new curriculum.
THE IMPACT:  This project will provide The Evangelical Lutheran Church in the Urals, Siberia and the Far East and other churches in the region with the means to launch a program in evangelism training and biblical and theological formation. It will equip congregations' leadership and pastors to build up the faith and extend the mission of the church.
GET INVOLVED! This ELCA Global Church Sponsorship priority is a new ministry as part of Always Being Made New: The Campaign for the ELCA. You can help by sharing this information, by praying, and by making a donation.
By check: Make your check payable to "ELCA Global Church Sponsorship" with "Siberia (GCS4030)" in the memo line, and send it to: Evangelical Lutheran Church in America, Gift Processing Center, P.O. Box 1809, Merrifield, VA 22116-8009.
Online: Go to https://community.ELCA.org/russia-siberia.
By phone: Call 800-638-3522 and give with a credit card or set up a monthly gift.
For more information please visit www.ELCA.org/globalchurch or contact:
Rev. Lanny Westphal, director, ELCA Global Church Sponsorship
8765 W. Higgins Road, Chicago, IL  60631
773-380-2641
lanny.westphal@elca.org