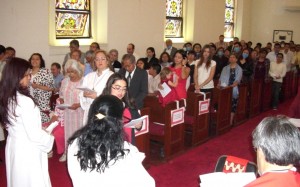 Thanks to the Rev. David Brandos, ELCA missionary in Mexico, for sharing this update.
During the past couple of weeks we here in Mexico have been living with the restrictions established by the Mexican government over the influenza outbreak. We were caught by surprise on Thursday night, April 23, when we learned that classes at all levels would be cancelled on the following day because of concerns about so-called "swine flu."
We had big plans for Saturday, April 25, since the first three woman graduates of our Lutheran Seminary were going to be ordained together in a special service here at the Lutheran Church of the Good Shepherd as the first Lutheran woman pastors in Mexico. Because of the flu situation, there were questions as to whether to proceed or not, but we did. The attendance was much lower than we originally expected, since the government was heavily discouraging any type of large public gathering like a church service. You can see in the photo of the ordination how a number of people were wearing surgical masks.
After almost two weeks of no school, no religious services, no restaurant service, and no other activities involving large numbers of people, things are now returning to normal. However, what has been most difficult for the majority of people is not so much dealing with health issues but with the disastrous effects that all of this has had on the Mexican economy. Many people here have been without work. Foreigners are now afraid to come to Mexico or to have any contact at all with Mexicans, even when they are perfectly healthy. For a good article on these problems, see: http://news.bbc.co.uk/2/hi/americas/8035802.stm
Please continue to remember all of us in your prayers, including especially those who have been hit hardest by this crisis.
—David Brondos, ELCA Missionary in Mexico