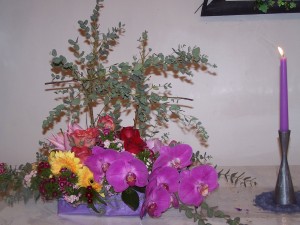 "They came to Philip… with a request. "Sir," they said, "we would like to see Jesus." –John 12:21
Recently our family worshipped at Amazing Grace Lutheran Church, which has a special outreach to Filipinas employed as domestic workers here in Hong Kong. They cook, clean, watch children, run errands. They live right in the same small apartment with their employers, and usually only receive one day a week off… if that.
While many feel fortunate to have jobs that can help pay school bills and raise the living standard of their families back home in the Philippines, these women can find themselves in a very vulnerable situation in the case of a dispute, miscommunication, or sadly but realistically, physical, emotional, or sexual mistreatment by their employers.
The liturgist this Sunday was Letty, who came from the Philippines many years ago herself, and so is a unique role model and inspiration for the congregation. The choir, consisting of seven women, filled up the small sanctuary so much that Wayne and I kept looking around to see where all the extra voices were coming from. Angels, maybe?
Wayne consecrated the sacrament, the congregation eagerly reaching out for the body and blood of Christ. Afterwards there was a fabulous supper for all.
I saw this gorgeous flower arrangement adorning the altar. What a good symbol, I thought, of the vibrant, beautiful women who make up a large part of this church and the joy and strength they find in the all-embracing love of Jesus.
This story is taken from Christa von Zychlin's blog on the many facets of her new life in Hong Kong. She and her husband Wayne Nieminen are ELCA missionaries in Hong Kong, where Wayne recently began service as a professor of Practical Theology in the area of Marriage and Family at the Lutheran Theological Seminary of Hong Kong.