Tauna Roth
​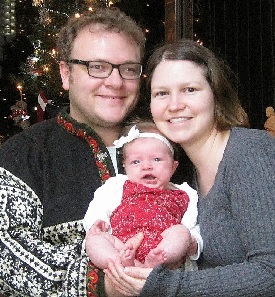 Erik and Tauna Roth with Nozomi
The Rev. Erik and Tauna Roth are ELCA missionaries in Japan. Erik is serves the English speaking congregation of the Tokyo Lutheran Church. Here is a recent entry by Tauna to their blog, Journey in Japan. To support the Roths, or another of the ELCA's more than 240 missionaries in the global church, click here.
I love living abroad because there are times I can live in a bubble. I can easily ignore things going in the U.S. and I miss out on Japanese things because of the language and cultural barriers. I can live my daily life and not worry about all the terrible things going on in the world. I can create my own set of rules and cultural norms.
But today I was reminded that we don't live in a bubble.
As missionaries we must come out of our bubbles and be with other people. In the ELCA we call this accompaniment. We have been invited to Japan to walk along with our brothers and sisters in Christ. Sometimes this is very easy and fun. We get to experience all the fun positive stuff about a culture. People are quick and eager to share or help us navigate and explore Japan. We have been welcomed into a loving community that feels like family.
Of course, communities are not always cheerful and bubbly. Sometimes they are full of pain and hurt. Bad stuff happens.
This afternoon I learned that one of the students at the Hongo Student Center died. Erik came home and asked me if I knew her. And yes, I did. She was close to my age, and whenever I saw her she always had a bright cheerful smile and was full of fun stories. She was adventurous. She also loved '90s alternative music. I'll never forget the night when she asked me if I knew the band The Offspring. The world became a little smaller that night. I'll miss her smile and stories.
I know the community at Hongo Lutheran Church will greatly miss her. And I am thankful that we have this little community where no one has to grieve alone.