Kirsten Fryer
​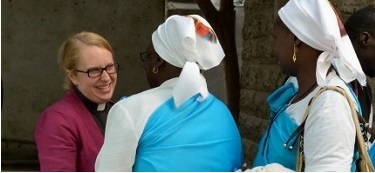 The Rev. Kirsten Fryer
The Rev. Kirsten Fryer is an ELCA missionary in Cairo where she is the pastor of St. Andrew's United Church of Cairo, a partner with the ELCA. Here is a recent entry from her blog, "Cairos." To support Kirsten, or another of the ELCA's more than 240 missionaries in the global church, click here.
[June 20 was] World Refugee Day. For most of the refugees living in Cairo and around the world, it's just another day. Another day of being far from the place they long to call home. Another day of looking for a job or standing in line for water. Another day of dreaming of a new home. Another day of wondering where friends or family are and if they are safe. Another day of waiting, hoping, dreaming.
As of January 2014, there were 253,268 registered refugees in Egypt. As of June 17, there are 137,916 registered Syrian refugees in Egypt. The numbers of Somali, Ethiopian, Eritrean, Sudanese, South Sudanese, Iraqi and other refugees are not released as often, but the total number of refugees in Egypt has certainly grown since January. When we think of refugees, we often think of camps – places where, though meager, food, shelter and water are provided. Education is offered for the children and health care is available. For the nearly 280,000 refugees living in Egypt, this is not the case. Here, urban refugees must find a place to live. They need money to buy food and pay for health care. Tuition is charged at nearly all of the schools. They face different challenges, as they struggle to find a place in a strange land. Many speak Arabic, but even then, the dialect is sometimes different. Though there are many nongovernment organizations in Cairo serving the refugee community, there's never enough money, time or space. We all have our wish lists. We all have dreams about what we could do, if only there were more time, more money, more space, even as we fervently wish that peace would come to countries ravaged by violence and war. We listen to horrific stories and it's sometimes really hard to see hope.
Which is why the World Refugee Day celebration recently was so important. Held in the garden of one of the private clubs in Cairo, I watched as refugee children sat in the grass and ran their hands through it – a rare treat in this (broken) concrete jungle. I watched as children ran and played together, seemingly oblivious to the cultural differences that might threaten to divide them. When music started, a group of Iraqi men joined together to dance and were soon surrounded by Somali, Sudanese, Eritrean, and other refugees who clapped along and held up phones to take photos. Soon, they traded places with Eritrean dancers. And then a group of South Sudanese children took the stage to perform a play they had written together. Handicrafts from the different communities were available for sale. We sampled delicious Somali and Eritrean food.
We don't get a chance to celebrate all that often. A lot of the time, it feels like there isn't anything to celebrate. But that night was a respite for all of us – refugees and those of us who work with and for refugee organizations. It was a celebration of the beauty of the cultures that refugees here in Cairo treasure. It was a celebration of the ways that people can set aside differences and laugh, dance and play together. It was a celebration of the beauty that is in the world, despite all of the things that threaten to divide us.
We keep our eyes open for these little things, signs of hope, promise, light in the midst of darkness. We dream of a day where there won't be a need for World Refugee Day because peace will reign in every land. Until then, we listen to stories, we learn from one another. We work for justice and pray for peace.