After another week of stalled budget negotiations, the U.S. is now in the third week of the partial government shutdown. Various media outlets and agencies have covered important points over the past few days, such as the 800,000 workers left without pay, limited TSA service and shocking images of deteriorating national parks as services close. But perhaps less noticeable are the growing effects that a prolonged shutdown could place on low income families.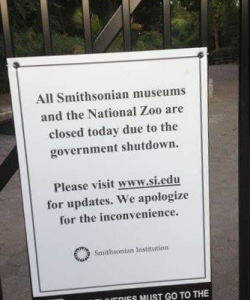 Though many services and programs Congress authorizes are still temporarily running on necessary or "mandatory" funding, local agencies that work with federal contracts will start to feel a tighter and tighter squeeze the longer the government remains closed. For instance, local public housing agencies that provide housing aid will likely run lower and lower on their own funding the longer the shutdown goes, risking the closure of local operations. Other important low-income housing programs, such as certain types of rental assistance and multifamily housing, may start to face serious challenges as well if the shutdown runs past February 1st. (Read more about the shutdown impact on housing programs here.)
Uncertain funding decisions and gaps in funding can be destabilizing and risky for private and non-profit stakeholders who work with the government, disincentivizing investors from partnering with public programs in the future. When building an apartment building, for example, contractors may be less likely to choose low-income options if they are dependent on a shaky funding arrangement. For faith-based and other service organizations that challenge local poverty, the failure of government programs to meet their commitments is a serious issue. Households living paycheck to paycheck, seniors and the most vulnerable among us cannot afford the uncertainty and lapses in services that a prolonged shutdown brings.
In addition, past Administrations have set aside reserves to keep the Supplemental Nutrition Assistance Program (SNAP) funded through potential governmental shutdowns. That funding is managed by the Department of Agriculture (DoA) which is currently an unfunded agency of the government. This year, however, DoA has not indicated if it has the funds to keep hunger funds like SNAP running, which could impact millions of hungry people in our nation. Other programs, such as school meals and the Women's Infant and Children's program are at risk. All these services form a critical backdrop for our country's ability to prevent hunger in our most vulnerable communities.
U.S. government shutdown can also impact foreign assistance and our engagement overseas. Our diplomatic and development agencies cannot make new funding commitments during a shutdown unless it is deemed necessary to protect life and government property. In addition, a government shutdown decreases oversight of international programs due to staff furloughs. This could lead to program inefficiencies and reduce the amount of resources and services available to at-risk populations.
Government shutdowns reduce the availability and credibility of public programs. Policy debates over funding should not ride on the backs of low-income households and those who can afford it. As stated in the ELCA Social Statement, The Church in Society: A Lutheran Perspective (1991), "The witness of this church in society flows from its identity as a community that lives from and for the Gospel. Faith is active in love; love calls for justice in the relationships and structures of society. It is in grateful response to God's grace in Jesus Christ that this church carries out its responsibility for the well-being of society and the environment." Lawmakers must hear from their constituents that closing the federal government is not an effective solution, and we must continue to build public leadership to reinforce the integrity of the nation.
---
During this shutdown, most traditional avenues for communicating with our lawmakers are also shut down. Consider often-monitored social media accounts, like Twitter, and local news outlets to urge reversal of the shutdown and re-stabilization of vital government services and relationships.