California | Colorado | Minnesota | New Mexico | Ohio | Pennsylvania | Southeastern Synod | Washington
---
California
Mark Carlson, Lutheran Office of Public Policy                                                                                                             loppca.org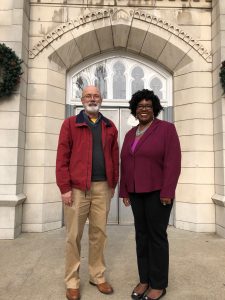 Mark Carlson and Regina Banks
A NEW DIRECTOR: The Lutheran Office of Public Policy – California is delighted to announce the appointment of a new director, Ms. Regina Banks, J. D.  Her background includes work as a legislative staffer and work in a legal clinic.  She is an alumna of Valparaiso University Law School.  Regina replaces Mark Carlson, who served in various capacities in the office since its founding in 1984.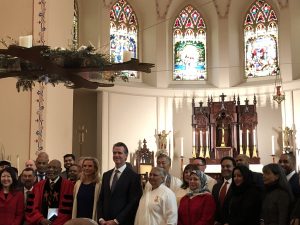 Faith Leaders with Governor Newsom
A NEW GOVERNOR AND LEGISLATURE: Following holiday recess, the 2019-2020 session of the California Legislature reconvened January 7, Inauguration Day for Governor Gavin Newsom. The day started with a Unity Service hosted at St. John's Lutheran Church, home of LOPP-CA, and organized by the San Francisco Interfaith Council.  Gov. and First Partner Jennifer Seibel Newsom, parents of four children, bring fresh energy, a new generation of leaders, and, among other priorities, a renewed focus on early childhood education and health.
A SPECIAL ANNIVERSARY: The 30th Anniversary of the Cleveland School Shooting in Stockton, adjacent to then-Faith Lutheran Church, was observed at the Stockton Civic Auditorium on January 17. Pastor Alan Field, present at Faith at the time of the shooting, traveled from Tucson to participate.  Five elementary-age students were killed, and nearly 30 students (including a member of Faith Lutheran; others were mostly from Southeast Asian refugee families) and a teacher were wounded, by a troubled young man with encounters from childhood to young adulthood with child welfare, juvenile justice, alcohol and drug, and mental health services. The incident was the primary catalyst for the ELCA Social Message on Community Violence.
---
Colorado
Peter Severson, Lutheran Advocacy Ministry – Colorado                                                                                           lam-co.org
2019 LEGISLATIVE AGENDA: Lutheran Advocacy Ministry-Colorado has published its 2019 legislative agenda. You can read our agenda at www.lam-co.org. Our top-line goals are to ensure that people living in poverty can meet basic needs while addressing systemic issues that prevent people from earning a self- or family-sustaining income, with heightened concern for people disproportionately impacted by policy change in these areas. Below are several major issues we anticipate addressing:
ENDING THE DEATH PENALTY: We support the abolition of capital punishment in Colorado and anticipate advancing this issue in 2019.
SCHOOL LUNCHES: We will seek to expand the reduced price lunch co-pay through high school. This will build on our work in 2018, when we successfully expanded the co-pay from grade 5 up through grade 8.
CLEAN SLATE: Too many Coloradans experience unstable employment and housing situations because of a criminal record. We will support legislation to automatically seal the records of those with charges that did not result in a conviction after 60 days, as well as non-violent drug misdemeanors after 7 years. These offenses are already eligible for sealing under Colorado law, but an individual must undertake the costly and time-consuming petition process themselves.
In addition, we anticipate work on paid family leave, local control over raising minimum wage, source of income discrimination and warranty of habitability for housing. The Colorado General Assembly convenes on January 4, 2019, and will meet for 120 days.
---
Minnesota
Tammy Walhof, Lutheran Advocacy – Minnesota                                                                   www.lutheranadvocacymn.org
 NOTE: Lutheran Advocacy-MN's advocacy priorities were provided previously. Please check our website for details!
NEW ADMINISTRATION & LEGISLATIVE SESSION: Gov. Tim Walz and his Lieutenant Governor, Peggy Flanagan, took the oath of office January 7. The Walz-Flanagan administration is a reflection of their "One Minnesota" campaign theme. Nearly 20% of new department commissioners live in Greater Minnesota, and 50% grew up there. More than 20% are people of color, and women commissioners exceed 50%. [Learn about commissioners] On January 8, the 2019-2010 legislative biennium began. Democrats have taken leadership of the House of Representatives while Republicans retain control of the Senate.
CITIZEN ADVOCACY: Nothing is as effective as citizen advocacy! It is an easier than many people realize, and LA-MN staff are ready to help you set up meetings, supply you with talking points, help prep you for legislator conversations, and supply samples for letter campaigns. LA-MN Director, Tammy Walhof, is also willing to meet with church or synod committees, speak for adult forums or worship, provide workshops, and facilitate activities with youth groups. LA-MN wants to help you (and your congregation) live your faith in the public square!
Important committees for LA-MN's affordable housing & energy work are:
House
Housing Finance & Policy Division chaired by Rep. Alice Hausman
Health & Human Services Finance Division chaired by Rep. Tina Liebling
Health & Human Services Policy Division chaired by Rep. Rena Moran
Energy & Climate Finance & Policy Division chaired by Rep. Jean Wagenius
Senate
Agriculture, Rural Development & Housing Finance Committee chaired by Sen. Torrey Westrom
Agriculture, Rural Development & Housing Policy Committee chaired by Sen. Bill Weber
Health & Human Services Finance & Policy Committee chaired by Sen. Michelle Benson
Energy & Utilities Finance & Policy Committee chaired by Sen. David Osmek
*(If bonding bills occur in the first year of the biennium, the Capitol Investment Committees will also be important. Usually, bonding occurs in the second year of each biennium)
---
New Mexico
Ruth Hoffman, Lutheran Advocacy Ministry – New Mexico                                                            lutheranadvocacynm.org
2019 ADVOCACY AGENDA SUMMARY: The LAM-NM Advocacy Agenda is adopted each fall by the LAM-NM Policy Committee. Since our beginnings, our Advocacy Agenda has focused primarily on alleviating poverty and hunger because New Mexico ranks among the states with the highest rates of poverty and hunger. Below is a summary and here is link to our full 2019 Advocacy Agenda document.
AFFORDABLE HOUSING & HOMELESSNESS:
Support for the state Housing Trust Fund
Funding for programs that assist people experiencing homelessness
FAMILY-SUSTAINING INCOME:
Policies & programs that assist people living in poverty to work toward family-sustaining income
Temporary Assistance to Needy Families
Quality early childhood programs & childcare assistance
Raising the state minimum wage with inflation adjustments
Right of workers to organize & bargain collectively
Restricting predatory lending
Paid sick and family leave
HEALTHCARE:

Outreach & enrollment of those eligible for Medicaid or the NM Health Insurance Exchange
Increasing the number of people with health coverage by working toward a Medicaid Buy-in program
Creation of the mid-level profession of dental therapist to increase access to dental care
Increase funding for the DD (Developmental Disabilities) Waiver
HUNGER:

Increasing funding for the state SNAP supplement program & removing barriers to SNAP enrollment
Efforts to close New Mexico's food gap & funding for food banks
TAX POLICY:

Tax policy that is fair and provides stable, sustainable & adequate revenue to meet the needs of the our state, particularly the most vulnerable
Effective oversight & review of state tax credits, exemptions & incentives
CRIMINAL JUSTICE:

Ending solitary confinement for juveniles and people with serious mental illness in prisons, jails & detention centers; restricting the use of solitary confinement for the general population in prisons, jails and detention centers
Working against efforts to reinstate the death penalty
Supporting efforts to "Ban the Box" on initial employment applications so that felony convictions are not used to screen out applicants
 Note: The LAM-NM Policy Committee may add issues as opportunities might arise.
---
NORTH CAROLINA
Deacon GeoRene Jones, NC Synod Social Justice and Advocacy Ministries (SJAM)
NC Synod SJAM policy priorities for 2019 are affordable housing, immigration, voting rights, and gun violence.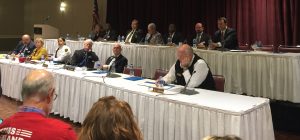 The NC Governor's Crime Commission Special Committee for School Safety, specifically tasked with identifying resources and developing recommendations to strengthen school safety, graciously received from the ELCA Social Statement "Caring for Health: Our Shared Endeavor" (2003) and 2016 Churchwide Assembly's Resolution, "Gun Violence Prevention."
The Synod's Legislative Advocacy Day, March 26, 2019, will begin with a Prayer Breakfast at the State Legislative Building. The day will include education workshops for participants and culminate in visits with St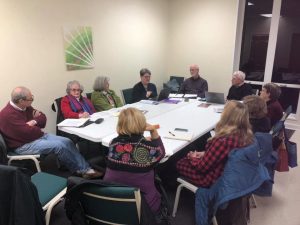 ate Legislators and their policy staff members.
The 'A-Team' ("A"=Advocacy) of Christ the King of Cary, NC meets with SJAM Convener Michael Jones, and Deacon GeoRene Jones and, to review the congregation's peace and justice ministries. Says Pastor Wolfgang Herz–Lane, "[We are] so excited about how our congregation is working for the sake of the world.
Pastors Carol and Greg Yeager are leading the task force to host an ELCA/SJAM Tent at the 2019 Wild Goose Festival July 11-14, in Hot Springs, NC.  The annual 4-day event is a Spirit, Justice, Music, and Arts Festival, providing a space for those who want to connect faith, justice, and energy for fresh expressions of Christianity.
---
Ohio
Nick Bates, The Hunger Network in Ohio                                                                                            www.hungernetohio.com
As we ring in the New Year, Ohio's public policy office is excited to get back to advocating to end hunger by addressing the root causes of poverty!
WHAT DO WE EXPECT?
Governor-elect DeWine is well known for his passion around children's well-being. Since November, HNO – along with coalition partners – has been trying to understand his priorities and how we can collaborate to invest in Ohio's future. We anticipate a lot of dialogue over the next 12 months about our child welfare system, the opioid crisis, and school funding. "We just need a lot more money invested to solve Ohio's biggest problems," Deacon Nick Bates, director of HNO. We look forward to working with the Ohio Legislature in crafting a two year state budget that reflects our values as a state.
HNO will continue to push legislators to re-think how we use TANF dollars in Ohio. Currently Ohio has a $500million surplus of TANF dollars that could go a long way in helping families struggling to get by. We will also continue to fight for common sense criminal justice reforms that treat addiction as a healthcare issue and not a criminal justice issue.
HNO will also join in coalition with others protect Medicaid. Many members of the Ohio House and Ohio Senate are upset that outgoing Governor John Kasich expanded healthcare access through Obamacare to an additional 700,000 Ohioans. With a new Governor, fears remain that these hardworking families may lose their health coverage.
Our work in 2019 will continue to build up and educate our congregations so that they can advocate on the issues most important to them – including human trafficking, the environment, diversity, and much more.
We don't do this work alone. We appreciate local congregations, communities, and partner organizations. As the body of Christ, we all have different talents and we look forward to working with all of you in 2019!
Please sign up on Facebook at www.facebook.com/hungernetworkohio or online at www.hungernetohio.com
---
Pennsylvania
Tracey DePasquale, Lutheran Advocacy – Pennsylvania                                                                 lutheranadvocacypa.org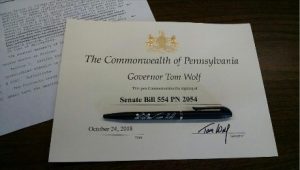 In December, LAMPa received a ceremonial signing pen, certificate and copy of signed Safe Harbor Bill.  Photo credit: Bishop Kurt Kusserow
POLICY COUNCIL SETS 2019 PRIORITIES: LAMPa Policy Council met in December to set their agenda priorities for the upcoming term of the Pennsylvania General Assembly. Following a thoughtful, engaging and lengthy conversation among those present the following priorities were identified: Hunger; Creation Care; Poverty; and the 2020 Census.
Hunger continues to be a central focus of LAMPa as everyone acknowledges the intersections between hunger, health, housing and poverty. LAMPa, along with synods and congregations, ELCA Advocacy, and partners will continue to provide education, resource development and advocacy on how to get fresh foods to local communities. LAMPa will continue to advocate for additional funds in the upcoming Pennsylvania state budget for the State Food Purchase Program (SFPP) and the Pennsylvania Agriculture Surplus System (PASS).
Creation Care was deemed an additional priority for the coming year, as we seek to protect all of creation, especially the most vulnerable. LAMPa will work to promote emissions standards to mitigate climate change, including equipping congregations to make sound choices regarding their own practices, such as energy consumption.
To learn more about LAMPa's 2019 priorities click here.
LAMPA ADVOCATES SHARE TESTIMONY: LAMPa advocates submitted testimony on proposed methane regulations for oil and natural gas operations in Pennsylvania at a hearing Dec. 13. LAMPa is encouraging its creation care network to continue writing letters in support of strong curbs on this contributor to climate change.
---
Southeastern Synod
Hilton Austin, Director
2019 PRIORITIES: It is really too early to determine the legislation we will be addressing. We will continue to watch legislation in our 4 state synod; our priorities remain to be Human Trafficking, Criminal Justice Reform, Immigration and Detention, Care for Creation, Education funding, Hunger, and Medicare Expansion. We know that Medicaid Expansion will be an issue in Alabama, Mississippi, and Tennessee. Legislative sessions begin January 8th in Mississippi and Tennessee, January 14th in Georgia, and March 5th in Alabama. By our 4th Annual Advocacy gathering on Feruary 2, 2019, we should have a pretty good idea what legislation we will be supporting or opposing.
POLICY COUNCIL: Three members of our Policy Council have rotated off; and new members have joined the team. Fresh eyes are always beneficial. Our Policy Council meets via Zoom once a month to help maintain communication between the 4 states. Members of the Policy Council are taking responsibility to engage and mobilize people within each state. We are also checking with colleges to find an intern in each state to track legislation and communicate to the Policy Council. It has also been determined that we should re-focus on our Ready Benches; this is where we began and was very successful.
HUNGER FELLOW: Jordan has been a great addition. Jordan continues to meet with congregations, work with the Policy Council, develop brochures, and develop new advocacy partners in Tennessee and Georgia. He has a great passion for being present in the community. Jordan is currently tracking legislation as we move toward the legislative session and helping coordinate our annual advocacy gathering.
MLK DAY OF SERVICE: We are cosponsoring MLK Day of Service with Lutheran Services of Georgia. The day will kick off with exciting, intergenerational and interactive learning for all: Children's Activities (grades K-5) will feature learning about the life of Dr. Martin Luther King Jr. Fearless Dialogues will feature learning for Youth (middle and high school) and adults. Following Fearless Dialogues, SES Advocacy will have a station setup for letter writing concerning current state and national legislation.
---
Washington
Paul Benz, Faith Action Network                                                                                                                                      fanwa.org
CONGRESSIONAL BIPARTISAN VICTORIES- FARM BILL AND THE FIRST STEP ACT: We are excited about the recent bipartisan Congressional victories. FAN and our advocates have been pushing for a good Farm Bill that protects SNAP, and a comprehensive criminal justice reform bill that not only addresses lowering recidivism, but also reduces the number of folks incarcerated in the first place. The passage of the Farm Bill and the First Step Act are encouraging.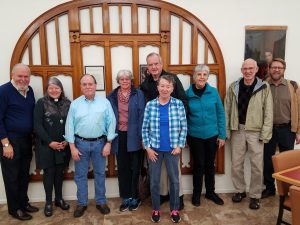 INTERIM MEETINGS:As we are approaching the beginning of Washington State's legislative session, Co-Director Paul Benz has been having interim meetings with elected officials. For many of the meetings, some of FAN's advocates have been able to join as well. This is a good time to discuss with their senators and representatives what they would like to see happen during session. Pictured are Paul and advocates from Washington's 38th district with Representative Mike Sells at Trinity Episcopal Church.
LEGISLATIVE SESSION/FAN AGENDA: Legislative Session begins on Monday, January 14th. This is a longer session in which we will set the biennial budget. FAN has been working on our legislative agenda, and our priorities for session. We have six different policy areas on our agenda, which include bills on advocating for a biennial budget that protects the poor and vulnerable, restoring justice in our criminal justice system, funding housing for all, caring for creation, protecting immigrant families and civil rights, and ensuring healthcare and mental health for all. If you are interested in taking a closer look at our agenda, you can find it on our website at http://fanwa.org/legislative-agenda/.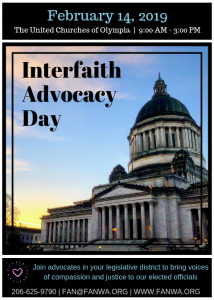 IFAD: One of our biggest events of the year is Interfaith Advocacy Day. On February 14th, we will have hundreds of advocates join us at the State Capitol to participate in workshops on advocacy and policy, and meet with their elected officials about FAN's legislative priorities. We are just starting to prepare for this enormous event.