Our values are tangibly expressed when elected policy makers create laws and programs that support and protect vulnerable people in all our communities in times of great need. The current government shutdown is an impediment. Vital domestic programs that ensure food, housing, health, safety and more are stalemated. Global initiatives that bring sustenance and hope are interrupted. Civil servants across our land and low wage federal contractors who strive daily to carry out the work of our government are experiencing increasing strain as the shutdown elongates.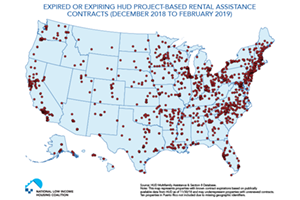 Federal programs that provide vital housing
assistance to low income families, seniors and
others are facing challenges the longer the
government shutdown continues. Visit this
interactive map published by the National
Low Income Housing Coalition, in which
ELCA Advocacy is a participating member,
to see how your state is effected.
God calls us to care and to act. See the Action Alert for suggested action to help move our nation beyond the current impasse.
Congress and the president should reopen government. The hard work of fixing the immigration system in the United States by ensuring a pathway to citizenship for members of our community without legal status in the United States and by supporting research-based border policy should follow.
Our opportunities to be heard are limited during this shutdown period. Currently the White House call center is closed. Tips to leave a voice message with your Senators and Representatives urging them to reopen government can be found in the Action Alert: "End the government shutdown."