by Andrew Fuller, Advocacy Coordinator
The start of the 116th Congress begins this week. As five new Lutheran lawmakers are sworn in to the U.S. House of Representatives, check out some of the Lutheran legislators who will serve our country in this new Congress.
Both incumbent ELCA Lutherans who ran for re-election to the U.S. Senate, Sen. Martin Heinrich, D-N.M., and Sen. Sherrod Brown, D-Ohio, successfully won their respective races in November. They will rejoin their other Lutheran Senate colleagues when the new Congress starts in January 2019, including ELCA members Sen. Jeff Merkley, D-Ore., and Sen. Joni Ernst, R-Iowa; as well as Wisconsin Evangelical Luthe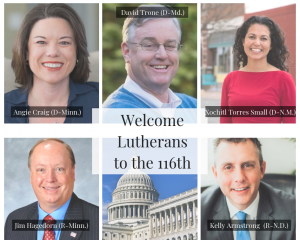 ran Synod (WELS) member Sen. Ron Johnson, R-Wis.; and The Lutheran Church–Missouri Synod (LCMS) member Cory Gardner, R-Colo.
Five new Lutheran-affiliated members will be joining the U.S. House of Representatives this year., Lutheran colleagues now include Rep. David Trone, D-Md.; Rep. Angie Craig, D-Minn.; Rep. Kelly Armstrong, R-N.D.; Rep. Xochitl Torres Small, D-N.M.; and LCMS member Rep. Jim Hagedorn, R-Minn. Two incumbent Lutheran members did not win their bides for re-election this year: self-described Lutheran member Rep. David Young, R-Iowa; and LCMS member Rep. Erik Paulsen, R-Minn.
Incumbent ELCA House of Representatives members who won re-election and will continue serving in the 116th Congress include Rep. Zoe Lofgren, D-Calif.; Rep. Scott Peters, D-Calif.; Rep. Chellie Pingree, D-Maine; Rep. Collin Peterson, D-Minn.; Rep. Stacey E. Plaskett, D-U.S. Virgin Islands; Rep. Lloyd Smucker, R-Pa..; Rep. John Carter, R-Texas; and Rep. Denny Heck, D-Wash. Re-elected LCMS representatives include Rep. John Shimkus, R-Ill.; Rep. Larry Bucshon, R-Ind.; and Rep. Glenn Grothman, R-Wis. WELS member Rep. Ron Kind, D-Wis., also will rejoin the House. Other self-described Lutherans re-elected to the House are Rep. Jack Bergman, R-Mich.; and Rep. Donald Norcross, D-N.J.
Special Mention:
Four Lutheran members did not seek re-election last November, including ELCA Rep. Bill Shuster, R-Pa.; Rep. Tim Walz, D-Minn.; Rep. Diane Black, R-Tenn.; and LCMS member Rep. Dave Reichert, R-Wash. Among those not seeking re-election, former Congressman Tim Walz won the gubernatorial race in Minnesota and will be joining the state house at the start of 2019. We are grateful for their leadership in Congress and look forward to engaging with them in the future!
________________________________________________________________________________
Get a jump start on building relationships with your lawmakers with ideas from an interfaith guide, "Make Sure Your Member of Congress Knows You!"