by the Rev. Amy E. Reumann
Today the 116th Congress is sworn in to serve our nation.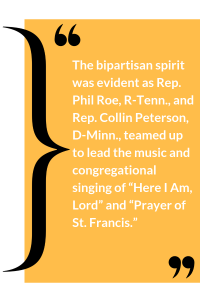 Before members get down to the business of government, many mark the opening of a new Congress with a bipartisan and interfaith prayer service at St. Peter's Catholic Church on Capitol Hill. This tradition shows a different side of Washington, reflecting the rich pluralism of our elected representatives and their respective faith traditions. The bipartisan spirit was evident as Rep. Phil Roe, R-Tenn., and Rep. Collin Peterson, D-Minn., teamed up to lead the music and congregational singing of "Here I Am, Lord" and "Prayer of St. Francis." They joked that they hadn't practiced and needed us all to sing loudly to cover any mistakes.
This year, current and new members shared readings that expressed yearning for wisdom in their leadership and for their service to be a blessing to others. Selections included the Old and New Testaments (Genesis 12, Psalm 33:12-22 and James 3:13, 16-18), the Bhagavad-Gita, an Islamic Prayer, a hymn by Edna Dow Cheney and a reading from Thomas Merton. The Chaplain of the House of Representatives, the Rev. Patrick J. Conroy, S.J., encouraged new members as they leave their former positions and "start over as freshmen." To seasoned members, he counseled that they continue to serve with honor and faithfulness. Prayer petitions were offered by members, lifting to God the work of government, the Supreme Court and work of justice, Armed Forces and veterans, and peopl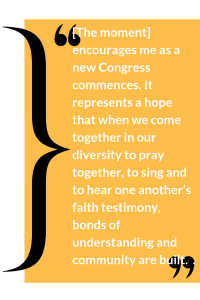 e who are displaced or facing difficulty or struggles.
As I left the church, I overheard someone joke, "We'll see how long this bipartisan spirit lasts. I'll give it two hours." Yet this moment, though fleeting, encourages me as a new Congress commences. It represents a hope that when we come together in our diversity to pray together, to sing and to hear one another's faith testimony, bonds of understanding and community are built.
Cooperation and communication across partisan lines are more common than is reported. Shared work together built on faith commitments to justice, equity and compassion doesn't make headlines, but it can and does open doors for compromise on issues we care about. This morning's service and prayer prepared a foundation for the work of the 116th Congress.