Lutherans are taking action across the country! Below you will find our monthly State Advocacy Newsletter. Share with your friends!
---
ELCA Advocacy Office, Washington, D.C.
The Rev. Amy Reumann, director
ADVOCACY LENT DEVOTIONALS: This Lent we offer two advocacy resources:
ELCA World Hunger's "40 Days of Giving" Lent devotional. focuses on the connections between faith and economic justice as we follow Christ's journey to the cross. A number of pages highlight some of the work of our State Public Policy Offices with suggestions for advocacyactions.
The ELCA AMMPARO initiative released the "I Was A Stranger" challenge to focus on meeting people who have been displaced with the heart and love of God throughout Lent.
MIGRATION EXECUTIVE ORDERS: President Trump signed executive orders late January that cripple the asylum process, increase the detention of migrants, and expands border enforcement. Unaccompanied children and families currently arriving or who have arrived from El Salvador, Honduras and Guatemala will be among those most severely impacted by the executive orders. The policy changes encouraged by the Administration will strip children and families of critical protections, allowing them to be quickly pushed through detention facilities through an expedited removal process, and quickly deported without due process rights.
Some policy changes in the executive orders will need a Congressionally approved increase in funding to be implemented effectively. ELCA Advocacy has begun educating Members of Congress about the impact of policies included in the memorandum and asking that funding for programs to help the most vulnerable are not cut to implement inhumane and impractical immigration policies.
FEDERAL BUDGET UPDATE: The Trump Administration announced plans to boost military spending late February, and is expected to do so at the cost of deep cuts into the EPA and other annual domestic programs. Non-defense programs address several critical issues that ELCA Advocacy prioritizes, including foreign aid, addressing homelessness, providing education and veterans' services, suicide prevention, and many others.
Faith and poverty advocates continue urging Congress to reauthorize a budget deal to prevent harsh cuts for people in the greatest need. As Congressional leaders move to respond to the release of the Administration's proposal, ELCA Advocacy will conduct outreach to protect anti-poverty programs. An action alert urging Congress to maintain funding for affordable housing and homeless programs in the federal budget is live on the ELCA Action Center.
INTERNATIONAL VIOLENCE AGAINST WOMEN ACT: A bipartisan group of senators is working to re-introduce the International Violence Against Women Act this March. Passing this important legislation continues to be a priority for ELCA Advocacy. In 2012, the Obama administration released a government-wide strategy to address the issue of gender-based violence around the world, and to make it a priority of U.S. foreign policy. The International Violence Against Women Act seeks to congressionally authorize this strategy.
METHANE WASTE STANDARDS: The new Bureau of Land Management (BLM) Methane Rule that was adopted last November has updated working standards and technologies for oil and gas companies on public land—helping better control methane pollution (a potent greenhouse gas). During the public comment period that led to the implementation of the Methane Rule, Lutherans across the country testified at public hearings in favor of the policy in 2015—citing health, community, moral and environmental concerns. But now, in the 115th Congress, lawmakers have prepared a bill that would overturn the methane rule. The methane repeal measure passed the House of Representatives in early February, and now makes its way to the Senate. ELCA Advocacy shared an action alert in support of the BLM Methane Rule, which now makes its way for a final vote in the Senate.
---
Lutheran Office for World Community, United Nations, New York, N.Y.
Dennis Frado, director
BREASTFEEDING ADVOCACY: The NYC Breastfeeding Leadership Council, Inc. held its Annual Breastfeeding Forum on February 17 at the Lincoln Medical and Mental Health Center. The forum brought together more than 150 representatives of local organizations involved in breastfeeding promotion. Delegates learned how to advocate, how New York won the nation's strongest paid family leave law, Birth Equity in NYC and what is at risk for policies concerning breastfeeding in the 115th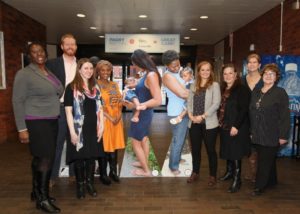 Congress. Presenters w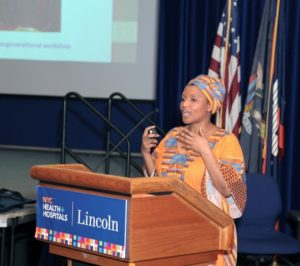 ere Theresa Landau, MS, RDN,CDN Chairperson; Susan Vierczhalek, MD,IBCLC,FAAP Vice Chairperson; Kathleen Carpenter, MS,RDN,CDN,IBCLC Treasurer; Eric Williams, Paid Family Leave Coalition; Molly Weston Williamson, Attorney, A Better Balance; Sharon Marshall Taylor, NYCDOHMH and Susannah Pasquantonio, Legislative Aide to State Senator Liz Krueger. LOWC's Christine Mangale gave the keynote speech (See photos).
FIFTEENTH COORDINATION MEETING ON INTERNATIONAL MIGRATION: On February 16 and 17, LOWC took part in the 15th annual coordination meeting on international migration at the UN headquarters, organized by the Population Division of the UN's Department of Economic and Social Affairs. The meeting focused on the progress made in the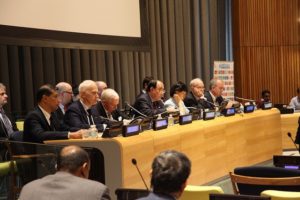 implementation of migration-related SDG targets, while discussing the preparation for the 2018 global compact for safe, orderly, and regular migration. The event was divided into six panels, including "The Roadmap for Implementing the New York Declaration", "Implementing the migration-related commitments of the 2030 Agenda", and "The global compact on migration: Regional and human rights dimensions". (See photo right)
RESPONDING TO MIGRATION CHALLENGES FROM THE ECONOMIC ASPEC: On the margins of the Fifteenth Coordination Meeting on International Migration, a side-event "Responding to migration challenges from the economic aspect" was held at UN headquarters on February 17. Many individuals and families migrate from rural areas for economic reasons as they see migration as the most viable option for moving out of poverty within their own communities. Conflict, extreme weather events and political instability are also among the root causes of migration. Migration is part of the process of development. Migration should be a choice not a necessity. International cooperation should address the structural drivers of large movements of people and create conditions that allow communities to live in peace and prosperity in their homelands. Investing in sustainable rural development, climate change adaptation and resilient rural livelihoods are important parts of the global response to current migration challenges.
FIFTEEN CHRISTIAN ORGANIZATIONS CALL FOR PEACE, JUSTICE, AND EQUALITY IN ISRAEL AND PALESTINE: The ELCA joined 14 other Christian organizations in sending a briefing paper to all members of Congress and to the Trump Administration on February 15 calling for U.S. policies that promote peace, justice, and equality between Israelis and Palestinians.
---
California
Mark Carlson, Lutheran Office of Public Policy
BILL INTRODUCTIONS: February 19 was the deadline for bill introductions, and the next step in the legislative process is committee hearings over the next number of weeks. There are many bills addressing LOPP-CA subject priorities, including immigration, health, climate change/environmental justice, and housing. We are supporting a new version of The Disclose Act, which failed to reach the required 2/3 majority by one vote last session. It would improve the health of democracy by requiring more timely and visible reporting of contributions to support or oppose ballot measures.
EVENTS: LOPP-CA co-sponsored the Green California Summit, and participants were motivated in call-and-response style by our luncheon speaker, civil rights and environmental justice leader Dolores Huerta. LOPP-CA also co-sponsor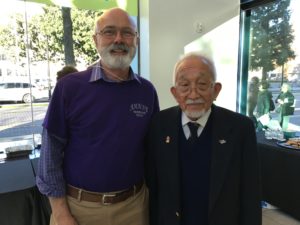 ed the annual Day of Remembrance and Unity Candlelighting Ceremony to mark the 75th Anniversary of Executive Order 9066. Director Mark Carlson was blessed to spend a few moments with a 100-year-old honoree who was able to return to his farm and community, thanks to the care of neighbors during his family's incarceration while he served in the Army (see photo left).
UPCOMING: March brings a small group of PLTS seminarians to the Capitol, who are focusing on LOPP-CA as an ELCA World Hunger grantee as part of Dr. Cynthia Moe-Lobeda's Public Ministry Class. The annual conference of the California Budget and Policy Center is also taking place. The UC Sacramento Center continues its series of informative events with a lecture on the long reach of child nutrition programs.
---
Colorado
Peter Severson, Lutheran Advocacy Ministry–Colorado
FAITH ADVOCACY DAY: Nearly 100 advocates joined together for Colorado Faith Advocacy Day on February 11. Keynote speaker Rev. Amy Reumann, Rocky Mountain Synod Bishop Jim Gonia, and others put enlivening words to the theme "Luther at 500: Reclaiming Protest for Today's Public Church." Participants concluded the day by writing their commitments to action and advocacy on pieces of paper and nailing them to a door, painted to resemble the Wittenberg Castle door on which Martin Luther posted his 95 Theses. (Top-right: Colorado Faith Advocacy Day participants)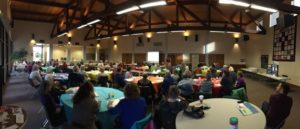 LEGISLATIVE SESSION: The Colorado General Assembly is approximately one-third of the way through its 2017 session. LAM-CO is currently advocating for bills that would extend the child care expenses income tax credit (HB 1002) and continue low-income household energy assistance (HB 1116). We are opposing a bill that would repeal the state's health care insurance exchange (SB 003).
Bills we have supported that have already been defeated: HJR 1013 to oppose the executive order on refugee resettlement, SB 22 to support rural economic development, and SB 95 to repeal Colorado's death penalty.
---
New Mexico
Ruth Hoffman, Lutheran Advocacy Ministry–New Mexico
LUTHERANS AND ADVOCACY PARTNERS GATHER: About 175 advocates, including members of ELCA congregations and their ecumenical and interfaith advocacy partners, attended the 2017 LAM-NM Bishop's Legislative Luncheon as well as the annual issues briefing in the morning prior to the luncheon. Bishop Gonia spoke to the gathering about "Prophetic Love." Archbishop John Wester from the Archdiocese of Santa Fe brought greetings at the beginning of the luncheon that was also attended by a dozen legislators. In the afternoon, Bishop Gonia accompanied the group of advo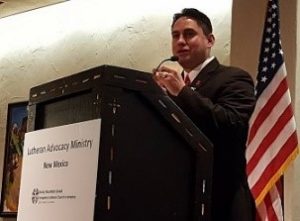 cates who visi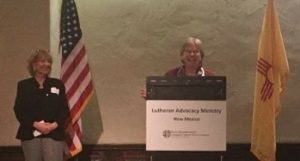 ted the capitol.
Pastor Anne Morwaski received the Haaland Advocacy Award presented by LAM-NM Policy Committee Chair, Judy Messal (See picture on left). Senator Howie Morales from Silver City received the LAM-NM Legislator of the Year Award (See picture right).
---
Ohio
Nick Bates, The Hunger Network
FAITH LEADERS CONTINUE TO GATHER IN COLUMBUS to discuss our vision for a more just community. Jewish, Christian, Muslim and other traditions gather once a month for breakfast to discuss the prevalence of anti-immigrant and anti-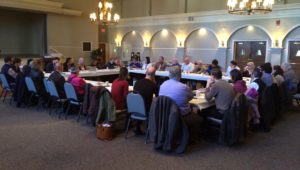 Islamic rhetoric, racial injustice, policing issues, and how the faith community can respond in a meaningful way. In order to foster more diversity and community, the breakfasts rotate location in order to allow all of us the grace of receiving hospitality from one another. Breakfasts have been hosted by historically white and historically black congregations and the above photo was taken at Congregation Tifereth Israel – a Jewish Synagogue on the East side of Columbus. (See picture right)
BUDGETS ARE MORAL DOCUMENTS. The budget proposed by Governor Kasich doesn't expand dollars for food banks or for the Ohio Housing Trust Fund. It also does very little to address to the opiate overdose rate in Ohio. The budget will be in the Ohio House until April. And we need your voice this Lenten Season!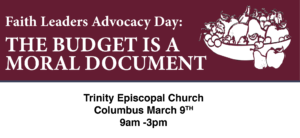 On March 9th, people of faith will gather at the Ohio Statehouse to advocate on issues of hunger, housing and healthcare. Come and join us! You can register at www.hungernetohio.org/advocacy-day. Not able to make the advocacy day of action? Contact Hunger Network at Nick@HungerNetOhio.org and we can help set up an in-district meeting between you and your Representative.
---
Pennsylvania
Tracey DePasquale, Lutheran Advocacy–Pennsylvania
Lutheran Advocacy Ministry in Pennsylvania applauded the inclusion of an additional $2 million for school breakfast in an otherwise austere budget proposal put forth by Gov. Tom Wolf at the start of the month. LAMPa has been championing school breakfast expansion for several years. The governor's plan, which includes level funding for other nutrition programs, confronts an estimated $3 billion deficit. LAMPa also supports proposed increases in funding for early childhood education, public school funding, and efforts to address both clean water and climate change.
LAMPa director Tracey DePasquale has been working with increasing numbers of individuals and congregations looking to become engaged in advocacy in response to turmoil in public life. Many are wrestling with how to strive for justice when e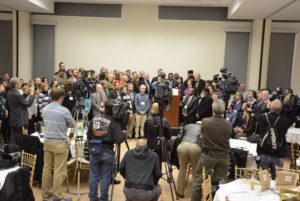 ven our faith communities are so politically divided. On Feb. 27, Tracey attended an interfaith event hosted by Southeastern Pennsylvania Synod titled "Coming Together: Supporting, Organizing and Pastoring to Our Members (and one another) in This new Political Landscape." The event offered much that could be shared throughout the church. At the conclusion of the event, nearly 200 faith leaders held a news conference at the Lutheran Theological Seminary in Philadelphia, condemning the weekend's desecration of hundreds of graves at a Jewish cemetery in the city and committing to continue working toward peace and unity. (See picture right)
LAMPa is coordinating Ashes to Go at the capitol, the second year for the offering with the Lower Susquehanna Synod, the Episcopal Diocese of Central Pennsylvania and the Pennsylvania Council of Churches.
---
Southeastern Synod
Hilton Austin
ANNUAL ADVOCACY GATHERING – "OPEN OUR EYES, LORD":
On February 11, we gathered at St John's Lutheran in Atlanta Georgia. Our Devotion was done by Patti Austin, National President of Women of the ELCA; it was based on Isaiah 58:6-12. The morning session was loaded with powerful speakers. Hilton Austin welcomed everyone and spoke briefly about the inter-connectedness of social issues and how each of them contribute to hunger and poverty and our new roll-out of congregational advocacy. Bishop Julian Gordy spoke briefly about the importance and significance of the church's voice in the public arena. Roxann Thompson, interim chair of the SES Policy Council, told her story as an immigrant and encouraged congregations to become AMMPARO Welcoming Congregations (See picture).

Angela Saxton, lead organizer for A.B.L.E. (Atlantans Buliding Leadership for Empowerment), spoke to the group about her experience as a black woman and the need for bringing people together for 'sacred conversations.' Our Keynote speaker was Sherry Boston, Dekalb County District Attorney; Sherry spoke on Criminal Justice reform and the inter-connectedness between education and the criminal justice system.
After lunch, attendees had the opportunity to choose 2 of 4 workshops; workshop presenters were: Melanie Johnson, Program Director Lutheran Services of Georgia – Immigration and Refugee Resettlement (See picture below left)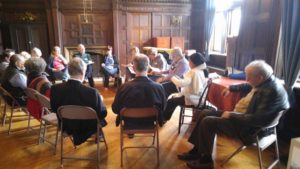 Mary Campbell, SES Green TEAM – Caring for Creation, Graham Younger, Faith in Public Life – How to write an Op-ed and current hot topics, Rev Ronald Bonner, Asst. to the Bishop, Criminal Justice Reform.
All of our ready benches continue to monitor what is happening in the state legislatures, as well as attending various Lobby Days. Several congregations have shown interest in building congregational advocacy teams; these folks are looking for guidance in this new ministry. With the help of our Policy Council, synod staff, and the Washington office, we look forward to furnishing them with an advocacy manual and developing a network of communication between congregational teams.
---
Texas
Samuel Brannon, Texas Impact
Lutherans from around the state gathered at Gethsemane Lutheran Church in Austin, Texas from February 12-14 for the third annual Lutheran Legislative Event. The gathering was cosponsored by Texas Impact, the Southwestern Texas Poverty and Justice Taskforce, and the by all measures, it was a smashing success. Attendance was up from previous years and enthusiasm for legislative engagement was demonstrably ardent.
The event's two-day training portion included key note speaker Reverend Alexia Salvatierra, justice advocate and author Pastor Salvatierra guided attendees into a grace filled model of legislative advocacy. In drawing a distinct differentiation between faith-based advocacy and other models, she led participants into gentle but assertive Biblical best-practices that have borne fruit by tested advocacy experience.
Participants were also treated to a fact laden panel discussion on pay day lending led by Rev Amy Reumann, Director of the ELCA Public Advocacy Office in Washington D.C. and Rick Ertel of the SWT Poverty and Justice Task Force. Other speakers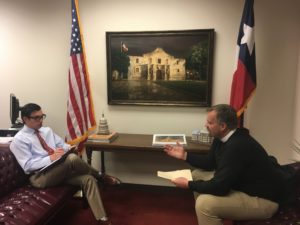 focused on the environment, immigration, refugees, children's health coverage, and religious freedom.
After two days of instruction and prayerful discernment, Bishops Eric Gronberg and Ray Tiemann led a spirited caucusing exercise. The resulting legislative agenda ranged from stewardship of communities and creation, to child welfare and justice for the incarcerated. Everyone spent the third full day in the state Capitol building lobbying legislators and staff (See picture right). Many participants developed new connections and/or strengthened current relationships with their legislators.
---
Virginia
Kim Bobo, Virginia Interfaith Center for Public Policy
Virginia's General Assembly 2017 session ended on Saturday, Feb. 25, and the Virginia Interfaith Center for Public Policy was able to celebrate several successes:
stopped the cutting of TANF benefits for low-income families.Proposals would have reduced from 24 to 12 months the length of time a family could receive public assistance. This was a mean-spirited bill and we stopped it on the floor.
supported expanding mental health and substance abuse services in Virginia. We joined partner organizations in expanding resources in the state for mental health and substance abuse services.
helped restore driver's licenses to those who owe court fines and feesby leading the advocacy for ended the state's practice of suspending driver's licenses to those persons.
opposed and helped stop some of the worst of the anti-immigrant and anti-refugee bills. We were a vocal presence against these bills and in favor of making Virginia a more welcoming place. At a press event,VICPP volunteers called on Governor Terry McAuliffe to veto all the anti-immigrant bills that emerged from the session. … VICPP is partnering with the Sacred Heart Center on two Worker Clinics for the Richmond area. These sessions — March 1 and March 15 – will provide a safe space for workers to learn more about their rights and ask questions. Lawyers will be present for consultation, and both English and Spanish speaking volunteers will be available to help.
---
Washington
Paul Benz, Faith Acton Network
INTERFAITH ADVOCACY DAY: On February 9, over 400 advocates of all faiths came to the State Capitol to learn about FAN's issues in workshops, gather in caucus meetings by legislative district (people from 37 of our 49 districts came), hear from interfaith speakers and elected officials, and attend a total of 121 meetings with legislators or their staff. (See picture below left)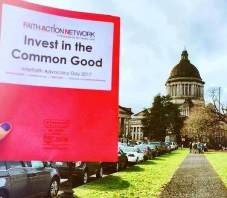 KEY LEGISLATIVE BILLS: FAN's main bills are about the use of deadly force by law enforcement, and legislation called "Breakfast After the Bell." Washington's statute on deadly force i the most egregious in our country because a prosecutor has to prove the officer acted with malice. Those bills are stalled right now because of law enforcement opposition to changes in language, as well as a lack of political will. Requiring all school districts to allow student access to 'breakfast after the bell' will probably once again not reach the Governor's desk because Senate Republicans emphasize parent responsibility over school mandates.
RESPONSES TO EXECUTIVE ORDERS: FAN has been busy responding to recent Trump executive orders, especially the travel ban and immigration orders. FAN has engaged by having a press conference in the capitol on Interfaith Advocacy Day,
supporting numerous grassroots events, supporting immigrant protection legislation, and issuing statements to affirm our immigrant neighbors. See our two statements on our website here and here. (See picture below of Interfaith leaders at a press conference at the State Capitol to support legislation that protects Muslims from a possible religious registry) 
CONGRESSIONAL RECESS EFFORTS: FAN is participating in a statewide coalition regarding concerns about repealing the Affordable Care Act by meeting with some Members of Congress and their staff. We are also encouraging and coordinating our advocates to set meetings with their MOC during one of the upcoming recesses.
---
Wisconsin
Cindy Crane, Lutheran Office for Public Policy in Wisconsin
2017-19 STATE BUDGET: This budget draft is not as austere as the last on. We are pleased that funding for anti-sex trafficking is proposed to remain in the budget and would increase the second year. Part of the funding would expand the LSS-operated facility for trafficked girls in rural Wisconsin. LOPPW is thankful for the bishops signing a letter about anti-sex trafficking to the governor in November 2016.
We have serious concerns about the budget and expected bills in relationship to some public benefits:
New pilot program requiring FoodShare (Wisconsin's SNAP) recipients who have children to work 80 hours per month for benefits.
Eliminating FoodShare eligibility for parents not in compliance with child support.
Denying FoodShare benefits for anyone not elderly, blind, or disabled whose household has over $25,000 in liquid assets. The paperwork required to prove eligibility is daunting. Pennsylvania stopped their asset test after 111,000 households were denied benefits because they had trouble producing all of the required documentation.
Drug testing and limiting the types of food someone can purchase via FoodShare will likely emerge again.
ADVOCACY DAY: People of Faith United for Justice organizes advocacy day every two years, during budget years. Brochure for the April 4th event:
CARE FOR GOD'S CREATION: LOPPW's director and two volunteers will join groups from the Wisconsin Climate Table to meet with the Dane County supervisor about the county using more renewable energy. Our table is planning ways to make local impacts with partners in strategic parts of the state.