The 118th U.S. Congress convened on January 3, 2023. Following finalization of House speakership, the official swearing in took place January 7, 2023. The following are some of the legislators with Lutheran affiliation who will serve the country in this new session. 
---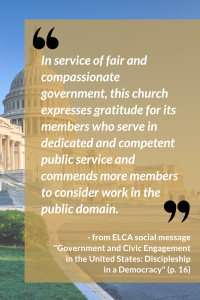 In the U.S. Senate, ELCA member Sen. Sherrod Brown D-OH, Sen. Joni Ernst R-IA, Sen. Martin Heinrich D-NM, and Sen. Jeff Merkley D-OR are continuing their service. In the U.S. House of Representatives, incumbent ELCA members continuing their service includes Rep. John Carter R-TX, Rep. Zoe Lofgren D-CA, Rep. Scott Peters D-CA, Rep. Chellie Pingree D-ME, Rep. Stacey Plaskett D-U.S. Virgin Islands, and Rep. Lloyd Smucker R-PA.  
Additional Lutheran leaders in the Senate include Sen. Cynthia Lummis R-WY and re-elected Sen. Ron Johnson R-WI. In the House of Representatives, incumbent Lutheran leaders continuing their service include Rep. Kelly Armstrong R-ND, Rep. Jack Bergman R-MI, Rep. Larry Bucshon R-IN, Rep. Angie Craig D-MN, Rep. Ron Estes R-KS, Glenn Grothman R-WI, Rep. Tracey Mann R-KS, Rep. Donald Norcross D-NJ, and Rep. David Trone D-MD. Rep. Sydney Kamlager D-CA will be joining the House, and Rep. Ryan Zinke R-MT will be returning to the House after leaving his seat to serve as Secretary of the Interior in the Trump administration from 2017-2019.  
Prior to conclusion of his term, Rep. Jim Hagedorn R-MN, had died in office in February 2022. Retiring from Congress are Lutherans Rep. Ron Kind D-WI, Rep. Ed Perlmutter D-CO, and Sen. Ben Sasse R-NE. 
---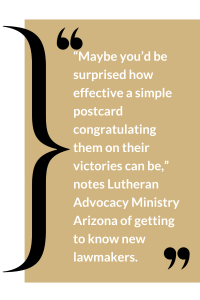 "Taking the time to learn about your legislators is an invaluable asset to your advocacy efforts at any level of government," notes Lutheran Advocacy Ministry Arizona in the ELCA-affiliated state public policy office network. "Maybe you'd be surprised how effective a simple postcard congratulating them on their victories can be," they add. 
Get a jump start on building relationships with your lawmakers this session! Start by making sure you know who represents you. Use govtrack.us to find federal officials, or openstates.org, among other lookup tools to find websites and social media for state and federal leaders, as well as www.congress.gov/members/find-your-member.