Following are updates shared from submissions of the state public policy offices (sppos) in the ELCA Advocacy Network this month. Full list and map of sppos available.
CALIFORNIA | COLORADO  | FLORIDA | MINNESOTA | OHIO | PENNSYLVANIA | WASHINGTON | WISCONSIN |
California
Lutheran Office of Public Policy – California (LOPP-CA) – lutheranpublicpolicyca.org
Regina Banks, Director
Happy New Year from the Lutheran Office of Public Policy-California! The California legislature reconvened for the start of the 2023 session on January 4th. We will start to know more about proposed legislation and goals for this year once the governor's budget is released soon. 
Looking ahead: LOPP-CA's weekly advocacy briefings are starting up again on February 8th and will continue throughout the legislative session on Wednesdays at 12 pm Pacific Time on Zoom. Feel free to join us! Find out more on our website: https://lutheranpublicpolicyca.org/advocacy-in-quarantine-2 
Colorado
Lutheran Advocacy Ministry Colorado (LAM-CO) – lam-co.org
Peter Severson, Director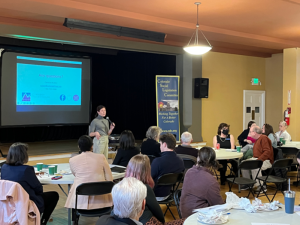 LEGISLATIVE SESSION KICKS OFF: The Colorado General Assembly returned to legislating action on Monday, January 9. Lutheran Advocacy joined partners in human needs and social services sectors for a kickoff luncheon at First Baptist Church of Denver to discuss the budget and fiscal forecast for the upcoming session, featuring the experts from the Colorado Fiscal Institute. The state of Colorado is expected to continue to experience historically high revenue for several years, and we look forward to advocating for equitable, human needs-centered legislation that makes the best use of the opportunities ahead. 
COLORADO LUTHERAN DAY AT THE CAPITOL: Mark your calendars! Colorado Lutheran Day at the Capitol will take place on Thursday, February 16, from 8:00am to 1:00pm. The event will kick off with breakfast at St. Paul Lutheran Church, 1600 Grant Street, in downtown Denver, just a few blocks from the Capitol, followed by a morning of advocating with legislators in person. Breakfast and lunch are included! Registration opens soon: check https://www.rmselca.org/co-lutheran-day-at-the-capitol for more information. 
Florida
The Rev. Russell L. Meyer, Executive Director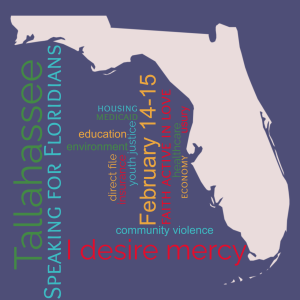 "I Desire Mercy" is the 2023 Florida Advocacy Days theme with Florida-Bahamas Synod Bishop Pedro Suarez for synod clergy and laity in Tallahassee on February 14-15. Participants are asked to arrive in the afternoon for training on February 14 followed by a dinner. Visits with legislators will be held the next morning. More information is forthcoming at floridachurches.org/idesiremercy. Please make this your date with the Florida you love!
 
Florida has become an expensive state to live in (read more). Many moved here for the good weather and low cost of living. The state coffers are flush with money, yet the burden are high on local taxes and fees. Wages don't match increases in rent, food, and fuel costs for many. Our schools are pinched, creation is under great strain, and divisiveness is apparent.  
Jesus teaches that God desires mercy.  Faith communities have been feeding and clothing and counseling Floridians without question. We know human pain. We have stories to share. These stories are God's tools for bringing new opportunities to life. Our legislators need to hear our voices speak of the calling for mercy. Your voice belongs in the legislature! 
Minnesota
Tammy Walhof, Director
Affordable Housing: The Homes for All Coalition has a list of 35 issues. Lutheran Advocacy-MN will focus on… 
Sacred Communities

(Communities of tiny homes on premises of places of worship with formerly homeless households and "missioner" households): Change zoning laws to allow houses under 400 square feet.

 

Naturally Occurring Affordable Housing

(NOAH): Provide significant annual funding for acquisition and rehab.

 

Capital Requests for Production & Rehab Funding

:

 

$500M for Housing Infrastructure Bonds;

 

$250M for General Obligation Bonds for publicly owned housing rehab;

 

$250M cash for homeownership, community land trusts, and manufactured home park

infrastructure;

 

$200M for emergency shelter capital.

 

Down Payment Assistance

: Create a first-generation down payment assistance program targeted to BIPOC homebuyers. 

 

Housing Support Income Modifications

: Reform calculations to ensure those receiving SSI, RSDI, veterans benefits, tribal payments and lived experience stipends can to retain more of their personal income. 

 

Pre-Eviction Notice & Eviction Expungement

: Mandate a landlord-provided 14-day pre-eviction notice, and make reforms including a requirement that evictions 3 years or older be removed from a renter's record. 

 

Source of Income Protection

: Amend the Minnesota Human Rights Act to clarify that housing discrimination based on a person's source of income is illegal.

 

Lead-Free Homes:

Create a fund for small grants to do lead-remediation in low-income rental homes.

 
Creation Care:  
Infrastructure Funding Matches

: Funding to take advantage of federal funds available through the Bipartisan Infrastructure legislation. 

 

Climate/Clean Energy

: Reduce greenhouse gas emissions and increase clean energy through stand-alone legislation or portions of other bills, including the 100% Bills. 

 

Energy Transition

: Increase the role and funding of the Minnesota Energy Transition Office to support both community and worker transition from fossil fuels.

 
Ohio
Deacon Nick Bates, Director

The Hunger Network will focus the next six months on the Ohio Capital Budget. We are offering a budget training and conversation on Thursday, January 26th at both 12pm and 7pm to discuss priorities, historical context and hot issues for this year's budget debate. REGISTER HERE FOR THIS EVENT!  
In the budget we plan to prioritize: 
Support for food pantries and affordable housing:

We will work in partnership and coalition to make sure we continue to increase investments into housing and food security in Ohio. 

 

Hunger Free Schools Ohio:

During the pandemic we saw that universal school meals worked. We encourage the Ohio General Assembly to expand free meals again to all of Ohio's public schools. 

 

Inflation assistance through

targeted

tax credits:

The federal child tax credit in 2021 reduced childhood hunger in Ohio. Ohio should adopt a refundable Earned Income Tax Credit

EITC

or a Child Tax Credit to help families respond to higher prices at the grocery store and gas pump. 

 

Guarantee equity and adequacy in our schools:

Two years ago, the General Assembly agreed to a new school funding formula. It is time that we properly fund it so that all kids have the love and support they need to succeed. 

 

Make Ohio the best place to raise a family:

There are many steps we can take in Ohio to build up our great state that will reduce hunger and infant mortality, invest in our parks and waterways, and help families to succeed. Through Ohio's budget we can change lives and strengthen our state.

 
Pennsylvania
Lutheran Advocacy Ministry – Pennsylvania (LAMPa) lutheranadvocacypa.org
Tracey DePasquale, Director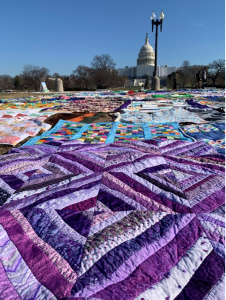 Lutheran Advocacy Ministry in Pennsylvania (LAMPa) advocates helped draw attention to the needs of our unsheltered neighbors as 2022 drew to a close, spreading approximately 1,000 blankets on the lawn of the U.S. Capitol on the nation's Homeless Persons Memorial Day, also the longest night of the year.  The art installation was also an act of charity – enabling people across the country to donate handmade blankets that were later distributed to those experiencing or escaping homelessness.  Advocacy with and on behalf of unsheltered neighbors continues through ELCA Witness in Society, as ministries invite lawmakers to visit and learn about the factors underlying homelessness in their communities. 
LAMPa's policy council will meet later this month to establish priorities for its policy agenda, a task made more challenging by the uncertainty in the General Assembly, with leadership in flux and a vow by the surprise Pennsylvania House Speaker that nothing will move until the House adopts an amendment reopening a window in the statute of limitations for cases of child sexual abuse.  
LAMPa has begun a search for a full-time communications and advocacy engagement manager. Do you (or someone you know) have professional communications experience, a passion for justice and a call to serve God's mission in the world — especially in the public square? Learn more here, including how to apply for this position within ELCA Witness in Society. 
Washington
Faith Action Network (FAN) – fanwa.org
Elise DeGooyer, Director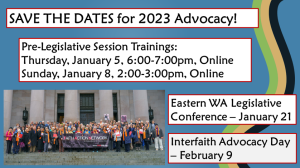 We have turned our attention toward the 2023 Washington State Legislative Session, which officially began Monday, January 9, 2023. We are proud to share our ambitious Legislative Agenda, shaped in collaboration with advocates who participate in Faith Action Network (FAN) meetings year-round, coalition partners, and FAN's staff, Policy Committee, and Governing Board. There is momentum from the Governor's office and legislators for making significant investments in affordable housing and preventing homelessness this session, and we are part of building momentum for universal school meals and an assault weapons ban. We will be adding fact sheets for the items on our legislative agenda and updating our bill tracker as legislation moves through the session.  
We recently hosted two virtual trainings sessions to prepare our network for the session, one previewing our legislative agenda and the other an Advocacy 101 refresher with tools for getting involved this session. You can view these recorded sessions on our YouTube Page. We are co-sponsoring and will be presenting at the annual Eastern Washington Legislative Conference in Spokane on Saturday, January 21. We especially look forward to gathering our statewide network in person in Olympia again for Interfaith Advocacy Day on Thursday, Feb 9. 
Wisconsin
Lutheran Office for Public Policy – Wisconsin (LOPPW) loppw.org
The Rev. Cindy Crane, Director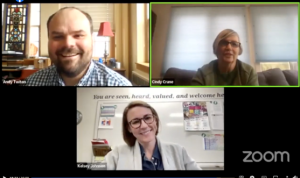 Wednesday Noon Live: We interviewed former Lutheran Office for Public Policy in Wisconsin (LOPPW) ELCA Hunger Advocacy Fellow, Vicar Kelsey Johnson. Johnson discussed faith-based advocacy, her year in the Holy Land as a YAGM, and her continued advocacy for Palestinians. 
We enter 2023 looking forward to following through with plans we began in 2022, some that were initiated earlier. 
March 21 Advocacy Day: Hunger and our Environment. We are co-organizing this event with Faith in Place, an interfaith environmental organization, and accessing local experts to address specific line items in the Governor's budget as the budget is analyzed by the joint finance committee.

 

April 14 – 15 Youth Advocacy Gathering: LOPPW has been meeting with representatives from six synods since early in 2021. Our first in-person event for youth from Wisconsin and the Upper Peninsula of Michigan will be held in Madison. We will address specific social justice issues and talk about faith-based advocacy.

 
Our Raise the Age Coalition, which was resurrected largely by our former Hunger Advocacy Fellow, Kyle Minden, is coming closer to influencing legislators to pass a bill to return 17-year-old youth to the youth justice system. We have key Republicans interested in championing the bill.

 
LOPPW has a presence at the regular meetings of ELCA World Hunger leaders from around the state. We are discussing ways to educate people about the Farm Bill.  One of our members is involved with Bread for the World. We may organize one event in partnership with Bread while working with our D.C. office.