By Savannah Jorgensen, Lutheran Office of Public Policy – California [about the author]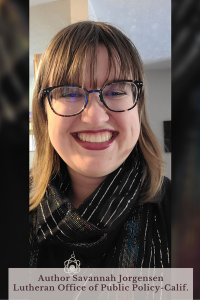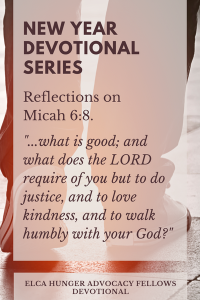 A specific song came to mind when I began reflecting on Micah 6:8. I often find that when I'm searching for the words to express my thoughts and feelings about something, music is my source of guidance. For me, music has always been a way of re-centering myself.
You can ask close friends and even teachers from my more creative days in school. They would attest that there have been numerous occasions where I would include a lyric or song reference in reflections or essays. If my friends read this, they will probably nod vigorously here since I have often used songs to guide serious conversations I've had with them, or to say goodbye before a move.
These words from the opening of the song Spark by The City Harmonic join breath and justice: When I breathe in hope, And breathe in grace, And breathe in God, Then I'll breathe out peace, Breathe out justice, Breathe out love, Oh, this little light's gonna shine With just a spark light a fire…
Keyword Justice
"Justice" is a keyword these days, with important social issues containing that word in their very name: environmental justice, racial justice, gender justice, etc. We are likely familiar with a definition people generally think of, which relates strongly to the criminal justice system. In that sense, justice is portrayed as being held to the standards of the law and society, especially in criminal cases when prosecutors may express concern with "getting justice."
As a community of faith, we look to a different standard for measuring justice. The legal system and other institutions may not by that measure be just. In fact, these systems can be most plagued by distortions of systemic racism and classism in this country. So then, what does it mean when Micah 6:8 tells us to do justice, and what from a faith perspective does this justice mean?
We Fit Together
To me, the justice referenced in Micah 6:8 is about our duty as a community of faith to lift people up on an individual level all the way to a systemic level, to think about how we fit together as a whole not only as a particular part. It is about equity and accountability for our actions towards others. Justice is about compassion and that feeling of fervor that compels us to carry out that justice.
While it can be overwhelming at times, are we alone in this task? No! The end of verse 8 tells us to walk humbly with our God. God goes with us and before us in this journey towards justice on Earth. We also can find strength in a community of other justice-doers.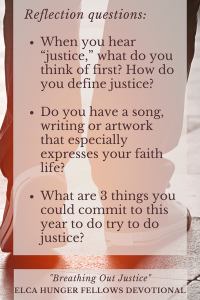 I am very grateful to be doing justice with a great team and community in the ELCA and beyond as a Hunger Advocacy Fellow this year, but I also humbly acknowledge that despite my great passion for wanting to do justice, I have fallen short of that calling. In that spirit, here are three things I'm committed to in 2023 in my efforts to do justice:
Pick a few non-profits or charities to donate to, no matter how small the donation.
Volunteer with an environmental justice organization.
Contact more of my elected representatives to advocate for change.
Taking a Moment to Breathe
The Spark song lyrics ring in my ears and are especially poignant during this season of Epiphany. May we reflect on this season in our lives by taking a moment to breathe. When we breathe out into the world, may we do so with peace, justice and love. Much like the star shown a light to the world announcing the birth of a new kind of Savior, may this new year and season of Epiphany light a spark in each one of us to do justice, love kindness and walk humbly with God in 2023.
---
ABOUT THE AUTHOR: Savannah Jorgensen is currently serving with the Lutheran Office of Public Policy – California. Before her ELCA Hunger Advocacy Fellowship, Jorgensen received her master's degree in Atmospheric Sciences from Texas A&M University. She has a passionate interest in environmental justice and climate change policy.