By Ruth Ivory-Moore, Program Director for Environment and Corporate Social Responsibility
There are four numbers that matter according to Patricia Espinosa, Executive Secretary of the United Nations Framework Convention on Climate Change (UNFCCC):
1.5 or less – The degrees Celsius to which we must limit global warming;
2050 – the year by which the world must reach carbon neutrality;
2030 – the year by which we must limit global emissions by 35-40%; and
2020 – when new and revised Nationally Determined Contributions (NDCs), quantifying commitment for greenhouse gas reductions, must be issued by countries.
The world is in a critical state, and we are far behind in our efforts to limit global warming to 1.5 °C said the executive secretary in her Global Climate Action briefing on June 21, 2019 at the Bonn Climate Change Conference (SB50). ELCA Advocacy is present at SB50 which raises ambition to curb greenhouse gas emissions, accelerate resilience-building efforts, and ensure that climate policy is built on a solid foundation of the best available science and knowledge. Battles over resources will only exacerbate if the limit is not reached, Espinosa warned. We have the facts, but she emphasized we must "get on with the how."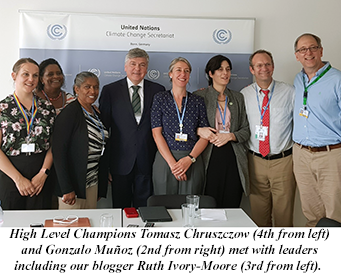 Diversity is required to address climate change, and UNFCCC appointed two High Level Champions who exemplify and connect the work of governments with the many voluntary and collaborative actions taken by cities, regions, businesses and investors, and nations. Tomasz Chruszczow, Special Envoy for Climate Change from the Ministry of Environment in Poland, said mindsets on all sides need to be changed such that there is a recognition that acting on climate presents economic opportunities to eliminate hunger. Gonzalo Muñoz, business entrepreneur and social change-maker at the forefront of environmental innovation in Chile, said moving forward requires a toolbox with four items: evidence of what has been done; grassroots engagement; talent called upon and used from around the world; and love. Both appreciated successes in the Marrakech Partnership, a framework for high level champions across seven thematic areas, namely – land use (agriculture, forestry and other land use), water, oceans and coastal zones, energy, industry, human settlements and transport.
In a meeting attended by Chruszczow and Muñoz along with ELCA Advocacy, UNFCCC staff members and others, we were assured with awareness of an important asset on earth – our humanity. One comes away with a renewed sense of hope and a firm resolve to navigate the bumpy paths ahead.