United Nations | California | Colorado | Minnesota | Nevada | Ohio | Pennsylvania | Southeastern Synod | Washington | Wisconsin
---
Lutheran Office for World Community, United Nations, New York, N.Y.
Dennis Frado, director
GENERAL DEBATE ON HIV AND AIDS: On June 3, the annual debate took place in the General Assembly concerning the Implementation of the 2001 Declaration of Commitment on HIV/AIDS and the 2011 Political Declaration on HIV/AIDS. The UNAIDS target of reducing HIV by 2020 is just a year away — 90-90-90 (diagnose 90% of all HIV-positive people, provide antiretroviral therapy to 90% of those diagnosed and achieve viral suppression for 90% of those treated by 2020). This target is in line with Sustainable Development Goal 3 target 3:3 of ending the AIDS epidemic by 2030.
As Maria Luiza Ribeiro Viotti, chef de cabinet of the secretary general's executive, pointed out, when AIDS was first identified more than 30 years ago, suffering and death seemed unstoppable.  Years later, nearly 8 million deaths have been averted since 2000 and three-quarters of people living with the virus now know their status. Unfortunately, this progress remains uneven. Since 2010, Eastern Europe and Central Asia have witnessed a 30% increase in HIV infections.
Ten years ago the ELCA Church Council adopted the ELCA Strategy on HIV and AIDS and called on the ELCA to respond faithfully and effectively to this pandemic. Find information concerning the ELCA's HIV and AIDS Ministry, worship resources and more here.
Read the secretary-general's report: "Galvanizing global ambition to end the AIDS epidemic after a decade of progress". Read the full report with short summaries of the statements here.
STILL STANDING STRONG – INTERNATIONAL ALBINISM AWARENESS DAY : On June 13, the U.N. celebrated International Albinism Awareness Day. The theme "Still Standing Strong" encourages the international community to "recognize, celebrate and stand in solidarity with persons with albinism around the world". On this day, everyone is reminded that people with albinism deserve to have their rights to life and security protected.
Different speakers shared their work on awareness-raising and the challenges that people with albinism face. Senator Isaac Mwaura from Kenya pointed out how important it is to be innovative and create spaces where people with albinism feel secure, beautiful and seen. This message was also shared by Diandra Forrest, the first woman with albinism to sign with a major modeling agency.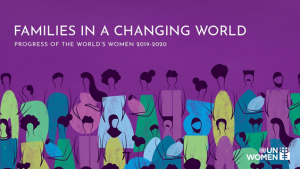 PROGRESS OF THE WORLD'S WOMEN REPORT LAUNCH: On June 25, U.N. Women launched a 2019 report titled "Progress of the World's Women 2019-2020: Families in a Changing World," which highlights the diversity of families. Families "can be places of love and affection" however, women and girls "too often face violence and discrimination" within the home. The report includes a comprehensive policy agenda with eight recommendations, calling on governments, civil society and the private sector to safeguard women's and girls' rights. You can read the online report here and a blog post on the report by Joanna Lilja, Church of Sweden.
---
California
Regina Q. Banks, Lutheran Office of Public Policy- California (LOPP-CA)           loppca.org
BUDGET GAINS AND LOSSES: During our Lobby Day last month we advocated for a Medi-Cal (California's low-income health care program) expansion that would cover all income-eligible people independent of immigration status. We, and our allies, were partially successful in spurring an expansion that will cover those up to age 26.  We also talked to legislators about the establishment of a clean, safe and affordable drinking water fund. The Legislature agreed and chose to finance the measure with cap-and-trade funds as opposed to the governor's proposed new fee on polluters. Finally, the Legislature approved a significant expansion to the California Earned Income Tax Credit. This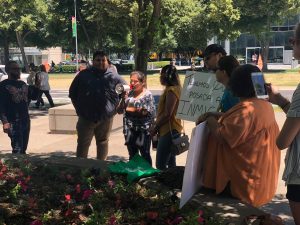 is a tent post for the End Child Poverty coalition to which we belong and was a huge win. Unfortunately, the expansion will not include those who file taxes with an ITIN, whose filers are primarily undocumented workers. Thank you to everyone who came to Lobby Day, made calls, wrote e-mails and prayed. We got both some significant wins and a clearer roadmap of the work ahead!
WORLD REFUGEE DAY ACKNOWLEDGMENT: June 20thmarked U.N. World Refugee Day. LOPP-CA acknowledged the day with partners such as St. Paul Lutheran Church of Lodi, Calif; Organizacion de Trabajadores, Fuerzas Unidas and others in a march and prayer circle for the reunification of families being callously held in US detentions. We prayed together and then marched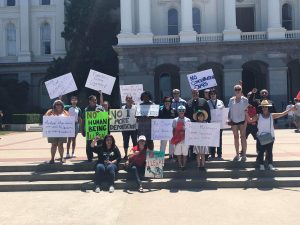 to the U.S. General Services Administration building in Sacramento where we prayed for the employees and our policy makers.
SECOND-MILE GIVING: Thank you so much to everyone, congregations and individuals alike, who participated in the Sierra Pacific Synod's second-mile giving support of LOPP-CA in June. We are humbled by your generosity.
---
Colorado
Peter Severson, Lutheran Advocacy Ministry–Colorado                                                  lam-co.org
MINISTRY VISITS: Peter Severson, director of Lutheran Advocacy Ministry-Colorado, visited Shepherd of the Valley Lutheran Church in Grand Junction in late June to preach, present, and march in the Colorado West Pride Parade (alongside American Lutheran Church too). The two congregations joined Pride along with other faith communities that participate in the Grand Valley Interfaith Network.
Severson also visited Rainbow Trail Lutheran Camp in Hillside, in early June for the commissioning service at the end of staff training. Congratulations to these great couns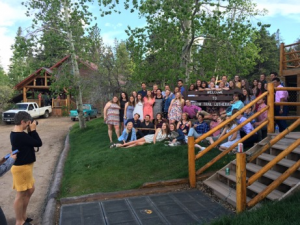 elors and staff, who are having a great summer in the mountains as they faithfully lead campers!
In July, we look forward to visiting Trinity Lutheran Church, Boulder; First Lutheran Church, Colorado Springs; and the ELCA World Hunger Leadership Gathering in Minneapolis!
---
Minnesota
Tammy Walhof, Lutheran Advocacy- Minnesota (LA-MN)               lutheranadvocacymn.org
UPCOMING EVENT – A VIEW FROM THE BORDER/UNA VISTA DESDE LA FRONTERA: The Rev.

Mateo Chavez, pastor of San Juan Bautista Lutheran Church in Tucson, Ariz., is a board member of Cruzando Fronteras, a collaborative ministry between Episcopal, Lutheran, and Anglican communities on of borders with Mexico, Latin America, and elsewhere. A free will offering will support ministries of Tapestry and San Juan Bautista, which accompany immigrants, asylum-seekers and refugees.
5:00 p.m. – Worship service, with Chavez preaching
6:00 p.m. – Dinner (suggested donation $10/adult) and Stories of sorrow, hope, determination, and love, as Chavez shares about ministry and work with immigrants and asylum seekers at the Nogales border crossing.
Dinner RSVP: Lidia@oakgrovelutheran.org or on Tapastry (Richfield) Facebook page
Questions: The Rev. Melissa Melnick Gonzalez, pastormelilymel@gmail.com
ASSESSING & PLANNING: The Legislative session is barely over, but Lutheran Advocacy-MN is meeting with coalition partners to review 2019 accomplishments and prepare for 2020. On both housing and clean energy, it is clear that we need more grassroots action, especially with senators. Housing did better than other issues, but Senate leadership blocked additional needed funding. Housing supportive services fell way short, despite bipartisan co-sponsorship and support! Clean Energy ran into many roadblocks in the Senate, and it's clear that some senators in key committee positions are 8-10 years behind in their knowledge and understanding of clean energy technologies and possibilities. Now (and throughout the fall) it will be crucial to meet with your legislators to educate them on issues and get them pushing their leaders to do more! 
---
Nevada
William Ledford, Lutheran Engagement and Advocacy in Nevada (LEAN)     leanforjustice.org
With our legislative session officially over and the governor done signing bills, we are happy to report that almost all of the legislation we were supporting has passed. Suffice it to say, this was a successful session for LEAN. Going into our long offseason means that we are strategizing ways to increase buy-in from our represented churches and to increase awareness in our state of the work we do.
---
Ohio
Nick Bates, Hunger Network Ohio (HNO)                                               www.hungernetohio.com
AND WE DO NOT HAVE A BUDGET: Speaker Larry Householder (R-Glenford) and Senate President Larry Obhof (R- Medina) were unable to reach an agreement to pass a budget by the June 30th deadline. There are many issues at play – school takeovers by the state, school funding, tax policy, and other issues. During the final hours of June, the Legislature voted for temporary funding bills to keep the state government open for a few more weeks. HNO will continue to work with community groups and legislators to lift up our top issues, including the wealthiest Ohioans paying their fair share and investments in food and housing security.
STEPS BACKWARD FOR ENVIRONMENTAL STEWARDSHIP & OHIO'S ENERGY ECONOMY: HB 6 will bail out nuclear power plants in Ohio with a guaranteed $150 million state subsidy. The bill will also reduce (Senate version) or eliminate (house version) Ohio's renewable energy goals. This will hurt our clean energy economy and also leave Ohio behind a growing number of states that realize that renewable energy is a smart investment. We encourage our Lutheran partners to follow Ohio Interfaith Power and Light for updates on these policy issues.
VOTER REGISTRATION PLAN – EARN $200 FOR YOUR PANTRY: Are you a food pantry in Ohio and want to earn $200 (or more)? Be on the lookout for our upcoming voter registration campaign where we will pay partner pantries $200 if they incorporate voter registration into their pantry. Sign up form will be rolled out by the middle of July! 
---
Pennsylvania
Tracey DePasquale, Lutheran Advocacy Ministry–Pennsylvania (LAMPa) lutheranadvocacypa.org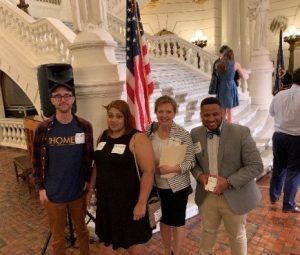 LAMPa director Tracey DePasquale accompanied general assistance recipients and housing and domestic violence services advocates to urge lawmakers to preserve the life-saving program for the most vulnerable in times of crisis.
On June 28, Pennsylvania adopted a $34 billion budget that includes no new taxes but socks $330 million away in rainy day fund. Highlights include increases for housing; basic pre-kindergarten and special education; services for disabled Pennsylvanians and domestic violence victims; election security; and help for a struggling agricultural industry. Anti-hunger funding was held level, and a General Assistance (GA) program re-instated by the state Supreme Court last year was eliminated. LAMPa staff delivered about 100 letters in support of increased funding for anti-hunger programs that were gathered at synod assemblies. This followed more than 100 legislative visits made on Lutheran Day as well as other outreach by Lutheran advocates to let lawmakers know that, in spite of what seem like good economic statistics, our feeding ministries have not seen decreased demand.To protect GA, program director Lynn Fry met with the governor's staff, and director Tracey DePasquale made rounds of Senate offices with recipients and advocates, including a press conference where the Rev. Timothy Seitz-Brown spoke. The battle over ending the program erupted into chaos on the Senate floor as seen in this video, highlighting growing divides in our commonwealth.
ALSO IN JUNE:
Staff led workshops at the Upper and Lower Susquehanna synod assemblies.
Lutheran advocates joined approximately 400 in urging lawmakers toward the goal of 100% renewable energy by 2050.
DePasquale taught post-confirmands at Camp Nawakwa how they can engage their faith in climate change advocacy.
DePasquale visited lawmakers urging rejection of bill reducing clean-water protection.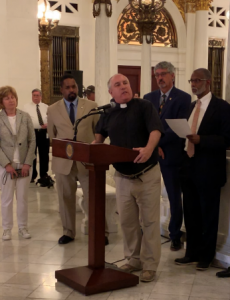 The Rev. Timothy Seitz-Brown urges lawmakers and citizens to see God in the faces of the poor.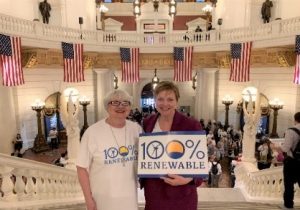 Kathie Westman, a member of the Southwestern Pennsylvania Synod's Church and Society Committee, joined Lutheran advocates from around the state in a rally for legislation to get Pennsylvania to 100% renewable energy
---
Southeastern Synod
Hilton Austin, director
SOUTHEASTERN SYNOD ASSEMBLY: We had a great assembly this year. There were three workshops that reflected our work as advocates for the common good: "Disaster Preparedness and Mitigation in the Age of Climate Change"; "Welcoming the Stranger"; and "Who is My Neighbor: A Prophetic Vision", our 'Advocacy Policy Council' workshop. The latter was a seven-person panel answering how Jesus' question "which of these three do you think was a neighbor to the man?" speaks to their ministry of advocacy. It was awesome. We also gained significant support in Alabama. Kevin L. Strickland is the new bishop-elect of the Southeastern Synod.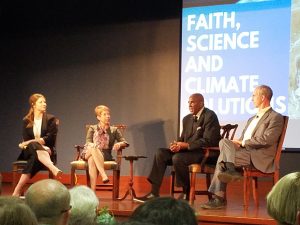 CARE FOR CREATION: "Faithful Climate Conversations: Public Forum on Faith, Science, & Climate Solutions" was sponsored by Interfaith Power and Light and held at the Jewish Federation of Greater Atlanta. Speakers were the Rev. Susan Hendershot, president of IPL, and Dr. Kenneth Kimmell, president of the Union of Concerned Scientists. Kait Parker of the Weather Channel was the panel moderator; the Rev. Gerald L. Hurley, chair of the IPL Board of Directors, joined the panel discussion.
CRIMINAL JUSTICE REFORM: The leader of our Criminal Justice Reform "Ready Bench" and I attended a three-day conference on "Ending Mass Incarceration" at Ebenezer Baptist Church. We made several new inter-faith connections and had the opportunity to collaborate with many of our current ecumenical partners. Michelle Alexander, Esq, author of The New Jim Crow, was the speaker at the first plenary.
IMMIGRATION AND REFUGEE RESETTLEMENT: World Refugee Day in Clarkston, sponsored by the Coalition of Refugee Services, was a great event, lifting up and celebrating the contributions of refugees in Georgia.
2019 ALABAMA LEGISLATIVE REPORT: The legislative session for Alabama officially drew to a close at the end of May, passing very few of the bills for which we were advocating. However, there is still plenty to celebrate from this session!
The state of Alabama seems to have had a great fiscal year, bringing wonderful benefits to several of the state's governmental systems.
The Education Trust Fund (EFT) was among the systems that received benefits. The surplus in funds allowed legislators to approve a 4% increase in teacher pay, make increases to most K-12 programs, and provide a 6% increase in funds allocated to state four-year colleges and public universities.
Legislators also approved a $40 million increase to the state's prison system. It is speculated that a special session may be called later in the year to address specific problems with the system as a whole.
A victory for care for creation was won with the passage of a gas tax. Between now and 2021, the tax on gas will rise 10 cents, 6 in the first year, and 2 more cents each subsequent year, bringing the total tax from 18 to 28 cents. Money provided in this bill will also be used to aid the Port of Mobile and create a charging station for hybrid and electric vehicles.
As far as bills we supported are concerned, HB176 was the only one that did not die in committee. With this bill's passage, legislators ensured that many of Alabama's hospitals will continue to receive the funding they need to keep their doors open.
On to the less than favorable bills that were passed, Alabama was one of a few states that passed an infamous heartbeat bill, banning pregnant people seeking an abortion from obtaining one if a fetal heartbeat can be detected.
Thank you to everyone who has been involved in all of the ups and downs associated with state advocacy this year. Now that all normal state legislative sessions in the synod have ended, we can rest (for just a moment!) and enjoy what has been done. Be sure to look for our special session updates and legislative posts for next year's sessions, and don't forget to vote!
---
Washington
Paul Benz, Faith Action Network (FAN)                                                                                 fanwa.org
REGIONAL SUMMITS: FAN wrapped up our spring summit meetings with our fourth and final gathering in Spokane on June 30. We are working to pull together notes from all of the attendees who shared their policy recommendations for the 2020 legislative session. Once we compile the notes from our network of advocates, our program committee will review them this summer. The results of that review will then be formulated into a draft legislative agenda for our board to review later in the year. Our goal is to have a board-approved draft for our legislative agenda by our annual dinner on Nov. 17! It's important to shape this agenda with the guidance of our network and advocates from all around Washington state.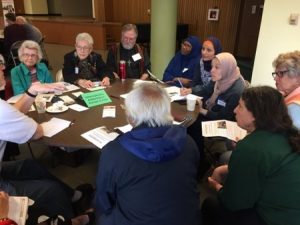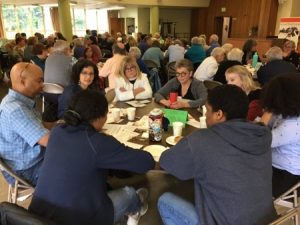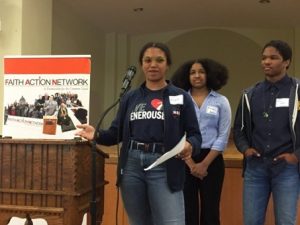 ELCA HUNGER ADVOCACY FELLOW: Sarah Vatne has spent the past year working at FAN as an ELCA Hunger Advocacy Fellow. Below she shares a reflection as she begins her final month with FAN and prepares to start law school at Gonzaga University School of Law in August:
"Throughout this year with FAN, I've attended rallies and marches, met with elected officials, led advocacy and educational events, spoken at youth gatherings, and worked with faith communities from a multitude of different backgrounds. I've really loved getting to know the other fellows in this program and talk about what brought us to this work. I've appreciated having the opportunity to advocate for bills that I really care about or that I think would be good for the people in our state. I've gotten to see real change take place in our state along the way.
It's so important for faith communities and people of faith to get involved in policy and advocacy. I believe justice work is part of our religious calling that we are called to act with justice; to love and care for our neighbors around us. It's not enough to say good words each Sunday, we need to actually get out and be part of the good fight, to advocate for a more just and sustainable world. It is so important for the church to continue to invest in young leaders. We need to see our church having a voice for change in our world, and I truly believe that will come from leadership from youth and young adults. Thank you all!" 
---
Wisconsin
Cindy Crane, Lutheran Office for Public Policy in Wisconsin (LOPPW)                           loppw.org
IMMIGRATION: About 140 people attended our panel discussion with Bishop Viviane Thomas-Breitfeld, Bishop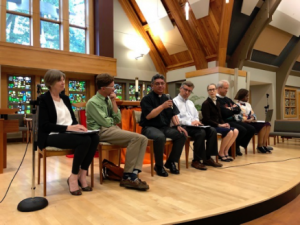 Paul Erickson, Dr. Stephanie Mitchell, Tim Muth, the Rev. Walter Baires, the Rev. Nick Utphall, and Mary Campbell. We are strategizing follow up. Watch the video here. We also participated in an interfaith rally in front of an Immigration and Customs Enforcement detention center.
EMANUEL MOVIE: Over 60 people joined LOPPW and the South-Central Synod to view Emanuel on two different nights. Several attended conversation sessions afterward. We suggested our members around the state also organize people to attend the documentary.
SYNOD ASSEMBLIES: We managed a display table at the La Crosse Area Synod Assembly and were present at the Greater Milwaukee Synod Assembly.
BUDGET: We're involved in a state budget coalition. LOPPW sent out individual e-mails about BadgerCare (taking federal dollars for Medicaid) to every Assembly and Senate member and shared responses with the coalition.
CARE FOR GOD'S CREATION:
Participated in a gathering for Midwestern environmentalists and funders with the common goal of diminishing carbon dioxide emissions.
Initiated a group to lead a breakout session on what our governor can do about climate change and how we can support his current efforts, for a Wisconsin Climate Table meeting with the hope of creating a policy advisory committee as a follow-up.
LOPPW was invited to register on a bill related to buying and selling water pollution credits by one of the Republican authors.
HUMAN TRAFFICKING: LOPPW updated Women of ELCA on three bills.