ELCA Advocacy Office, Washington, D.C.
The Rev. Amy Reumann, director
REFLECTING ON ADVENT: Visit blogs.elca.org/advocacy each Friday of Advent to read reflections from our ELCA Advocacy staff on this Holy Season.
SUSTAINABLE DEVELOPMENT GOALS: The December day to #PrayFastAct is Thursday, Dec. 21! This month, we focus on our commitment to supporting Sustainable Development Goals by engaging in prayer, fasting and advocacy for a just world. During this Advent season, we are directed to God's steadfast resolve for peace and the signs of God's reconciling love and restoration at work in our troubled world. As we await the arrival of the Prince of Peace, Lutherans and Episcopalians around the country, alongside churches' leadership, are praying, fasting and committing to advocate together in support of the U.N.'s Sustainable Development Goals as part of our ecumenical "For Such a Time" campaign.
TAX BILL UPDATE: The Senate passed its version of HR 1, the Tax Cuts and Jobs Act, legislation that would cut taxes for corporations and wealthy individuals. This legislation now moves to a conference committee to merge the two versions and will be back in the House and Senate for another vote. The House version includes language, opposed by the ELCA, that would permit houses of worship to engage in electioneering. The Senate version does not include this language, known as "The Johnson Amendment." ELCA Advocacy will work to prevent inclusion of the Johnson Amendment in a conference of the two versions.
WORLD AIDS DAY: ELCA Advocacy, together with ELCA HIV and AIDS ministries, shared an a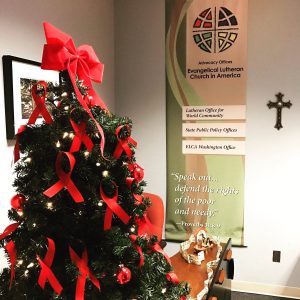 ction alert Dec. 1 in support of public policies and programs that address the spread of HIV and AIDs worldwide. U.S. programs and strategies have been effective in reducing the spread of HIV nationally and across the world. As Congress considers a spending bill to keep the government open after Christmas, it is critical to voice support for programs under consideration for being cut, such as the President's Emergency Plan for AIDS Relief (PEPFAR), prevention programs and housing for people with AIDS.
MIGRATION UPDATE: Advocates are urging Congress to pass the Dream Act, which provides a pathway to citizenship to young Americans without legal status (Dreamers), before the end of the year. The status of approximately 10,000 Deferred Action for Childhood Arrivals (DACA) recipients has already expired, and 1,000 lose their status every day that a bill is not passed. ELCA Advocacy has updated our action alert to reflect the important deadline and continue to advocate for a bill to pass.
In November, the administration announced that it would shut down the Central American Minors Program (CAM) for refugees, ending all operations by Jan. 31. It is unclear whether this arbitrary deadline will allow the review of all 3,000 pending CAM cases. The program allows children who had a legally present parent in the U.S. to apply for refugee status in their country. Children who arrive in the U.S. could avoid the dangers of traveling through Mexico to request asylum.
INTERNATIONAL GENDER JUSTICE AND HEALTH: The International Violence Against Women Act has finally been re-introduced in the Senate. This bill encompasses a few changes from the version introduced in the last Congress but keeps key pieces intact. Unlike the last time, the current version was re-introduced by a bipartisan group of senators, which increases likelihood of passage.
Another bill to improve maternal and child health outcomes in developing countries has been introduced in both chambers. The Reach Every Mother and Child Act's goal is to ensure that the U.S. can continue its role of providing critical interventions in an efficient and strategic manner. Advocates can voice support for the bill and other international health goals at the ELCA Action Center.
ENVIRONMENT COP23: ELCA Advocacy attended the United Nations Climate Change Conference (COP 23) in Bonn last month.  Significant outcomes of the conference included: 1) approval and adoption of the Gender Action Plan (GAP); 2) approval and adoption of the Indigenous Peoples Platform; and 3) moving forward with the Talanoa dialogue for implementation of the Paris Agreement. ELCA Advocacy, as a member of the UN Gender team, participated in workshops to help shape the Gender Action Plan, and, along with LWF, hosted a table at the Gender Market Place Event on Gender Day (November 14th) at COP 23.  Find out more at the ELCA Advocacy Blog.
Lutheran Office for World Community, United Nations, New York, N.Y.
Dennis Frado, director
THIRD COMMITTEE OF GENERAL ASSEMBLY CONCLUDES ITS WORK FOR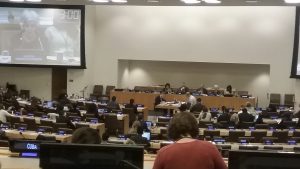 72ND SESSION:
In late October and early November, the Third Committee of the United Nations discussed eliminating racial discrimination,xenophobia and related intolerance, and promoting self determination. Experts monitoring human rights treaties were especially concerned over increased violence, racist rhetoric and Nazism, calling for targeted efforts to address root causes of discrimination.
Sabelo Gumedze, chair of the working group of experts on peoples of African descent, reported on pervasive structural racism, with people of African descent facing extreme violence, racial bias and hate. He called for an honest debate about history and its connection to modern racism.
Gabor Rona, chair-rapporteur of the working group on the use of mercenaries as a means of violating human
rights, focused on the use of private security personnel, particularly in prisons and immigration-related detention
facilities. Abuses include violence, medical negligence and sexual abuse. He recommended that member states stop
outsourcing, and urged alternatives to detention for undocumented migrants.
On Nov. 21, the committee concluded its 72nd session, having debated and approved 63 draft resolutions,
including children's rights, assistance to refugees, people with disabilities, human rights defenders, migrants, safe
drinking water, youth policies, glorification of Nazism, eliminating racism, strengthening elections, prison reform
and human trafficking.
UPDATE ON GLOBAL COMPACT ON MIGRATION STOCKTAKING PHASE: The United Nations is now in the stocktaking phase of a process to create a Global Compact for Migration. This compact, mandated by the 2016 New York Declaration for Refugees and Migrants, is to be the first inter-governmentally negotiated agreement designed to address all aspects of international migration. LOWC has been active in a subcommittee of the NGO Committee on Migration which has been focusing on the discussions during the recently completed consultation stage and will continue its activities in relation to the current stocktaking stage. These are steps on the way toward the compact being adopted by the U.N. The committee has provided input to the "Ten Acts for the Global Compact," a document outlining the essentials for a meaningful compact. The Lutheran World Federation has endorsed it.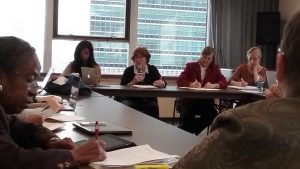 The stocktaking phase of the work plan to bring the compact to fruition will be followed by the negotiating and
finalization phase in early to mid-2018. Adoption of the global compact should occur in December 2018 at a special
conference to be convened in Morocco.
The special representative for the Global Compact on Migration, Louise Arbour, recently met with members of the Committee on Migration. She focused on her upcoming official report to the U.N. secretary general, which will set out criteria for safe, orderly, regular migration; look at how the United Nations can work on migration; offer recommendations and a review of the compact for the future.
California,Lutheran Office of Public Policy
Mark Carlson,Lutheran Office of Public Policy  loppca.org
POLICY COUNCIL MEETS: The Policy Council for the Lutheran Office of Public Policy-California met at the Southwest California Synod office in Glendale. Following the meeting, several members went to Palo Verde Gardens, site of a permanent supportive housing community for formerly homeless people, operat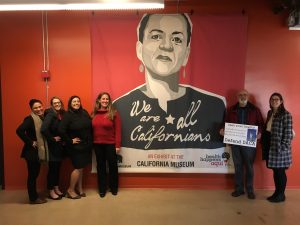 ed by LA Family Housing, with a courtyard named after the late ELCA pastor, the Rev. John Simmons, an original founder of LA Family Housing. A $4 billion housing bond is an LOPP-CA priority for the November 2018 ballot.
CHILDREN'S ROUNDTABLE: The quarterly meeting of advocates, held at the California Endowment, focused on Deferred Action for Childhood Arrivals (DACA) and immigration, with briefings from the state attorney general's office, advocates and legal experts, all acutely aware that about one-fourth of DACA recipients are in California.
GREEN CALIFORNIA: The Green California network, in which LOPP-CA participates, discussed differences in advocacy styles, internal power dynamics and communication among various organizations, and diverse approaches to social change, including "inside" and "outside" advocacy, transactional and transformational work, and the spectrum of engage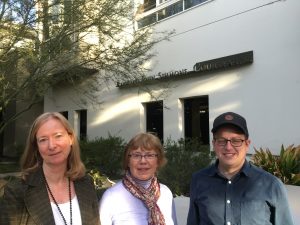 ment from a "culture of resistance" to "pragmatic problem-solving and compromise." Some of those tensions were on global display at the Council of Parties meeting in Bonn. Green California is looking at ways to support efforts to change the permissive culture of sexual harassment and abuse in the Capitol community, a topic that will be on the agenda of the Feb. 28, 2018, Green California Summit. #WeSaidEnough. Gov. Jerry Brown's Sept. 12-15, 2018, globalclimateactionsummit.org in San Francisco was also discussed.
Pennsylvania
Tracey DePasquale, Lutheran Advocacy–Pennsylvania Lutheranadvocacypa.org
In November, LAMPa accompanied the Rev. Jennifer Crist as she testified in support of Safe Harbor legislation that would redirect child sex trafficking victims away from the criminal justice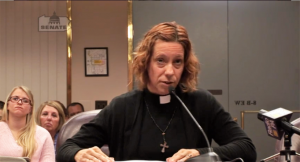 system and toward appropriate services. Crist, a second-career pastor with a degree in neuroscience, spoke as a scientist, a mother and as a minister who works with child trauma survivors through her nonprofit orphanage in Guatemala. Read and watch her testimony here.  Lutherans across Pennsylvania, particularly Women of the ELCA, continue to write and call lawmakers to move SB554 out of the House Judiciary Committee.
LAMPa staff delivered nearly 100 paper plates drawn by children of Trinity Lutheran Church in Camp Hill, Pa., to Gov. Tom Wolf as part of a thanksgiving offering of letters. The plates expre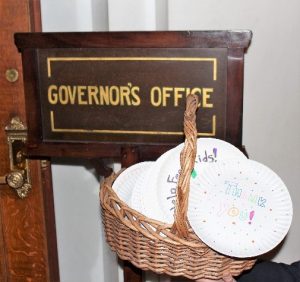 ssed gratitude to the Governor's Food Security Partnership for progress toward making Pennsylvania hunger free. Members of Trinity spent three weeks before Thanksgiving learning about the faces of hunger and its roots, signing hundreds of letters to state and federal lawmakers in support policies that address hunger, children's health insurance and protections of child sex-trafficking victims. Read more.
Lynn Fry dove into her new role as program director at LAMPa, taking on leadership on healthcare and immigration. Director Tracey DePasquale preached and taught at St. Bartholomew's in Hanover on ingathering Sunday at the invitation of the congregation's Women of the ELCA group. She also spent several days participating in the Appalachian Ministry Assembly gathered in West Virginia as the body discerned gifts and calling for public witness.
Wisconsin
Cindy Crane, Lutheran Office for Public Policy in Wisconsin
The director accompanied five bishops to visit staff of U.S. Sen. Ron Johnson to encourage him to urge the administration to extend the temporary protective services for Hondurans and El Salvadorans, to ensure the administration reaches the 45,000 refugee goal set for 2018 and to encourage him and his staff to visit local resettlement facilities.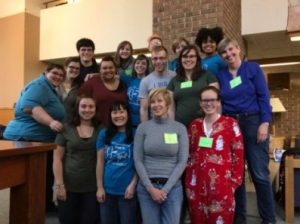 LOPPW and Madison Lutheran Campus Ministry held an overnight advocacy retreat that drew students from three campuses. We heard from special speakers and delved into the civil rights movement, ELCA advocacy, and the advocacy experiences and interests among the partipants, and next steps.
Governance, FoodShare, Water, Trafficking:
Discouraged a resolution to call for a U.S. constitutional convention but the resolution passed.
Supported a bill that would launch a pilot program to provide discounts to households that are eligible for FoodShare benefits with discounts on fresh produce and other healthy foods. The bill passed the Assembly.
Supported a bill that would make it easier for public utilities to assist people with low incomes to get lead out of their pipes. The bill passed the Assembly.
A bill formerly called Safe Harbor to decriminalize youth under 18 caught in prostitution was voted out of committee.
Federal legislation:
Addressed the Farm Bill at Our Savior's in Oshkosh, where the director preached and led a workshop, and in a workshop at First Lutheran in Janesville.
Addressed how the tax bill would affect hunger and healthcare in an action alert.