By The Rev. Amy Reumann, Director, ELCA Advocacy
---
The Edward Hicks painting, The Peaceable Kingdom, depicts a scene from the 11th chapter of Isaiah. Lions cozy up to lambs, oxen lie down with bears and children cavort with them all. Predators put aside their natural appetites to pursue harmonious relationships with former prey. Goats and sheep swallow their understandable fear to rest beside carnivores. Each gives up something that they have needed for survival in order to create peace together.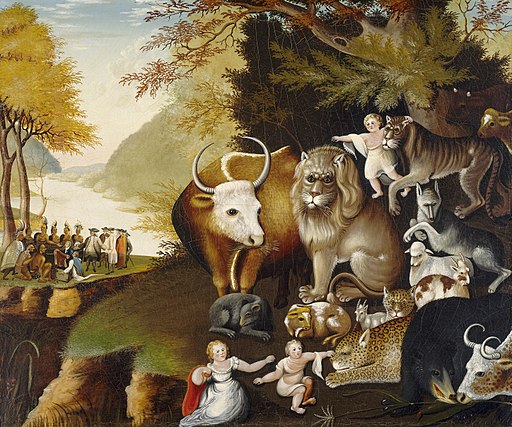 Edward Hicks [Public domain], via Wikimedia Commons
Hicks, a Pennsylvania artist, also interjects a decidedly non-biblical moment into the scene, showing the Quaker, William Penn, signing a treaty with the indigenous people of the region. He brings together the prophet's peaceable natural kingdom with an image of societal peace and reconciliation for humans who might otherwise be at war. God's realm, he suggests, delivers many kinds of peace.
I was recently among faith leaders from multiple nations that possess a history of hostile words and actions toward one another. As we spoke about the religious causes of violence between Muslims, Jews and Christians, we named the ways that sacred texts and theological misunderstandings have sanctioned violence in the name of God and are twisted to support divisive political ends. We also named the deep wellsprings in the three faiths that place a religious obligation of active peacemaking on believers. We affirmed that religion has an essential role in ending violence, with faith leaders often creating the spaces for dialog and reconciliation that resolve hostilities in communities and between nations. We parted with commitments to continue the work of peacemaking in our own nations by challenging misconceptions about one another's religion and continuing interfaith dialogues at home.
Hicks painted the Peaceable Kingdom scene over 100 times in his life. This says something about the endless task of making peace. We are never quite done. The aggression and fear that humans may think are necessary for survival repeatedly reassert themselves in communities and between nations. We are called to promote and seek peace over and over again as part of our vocation to love and serve God.
This holy season, with wars, and with rumors of war, we await the advent of the Prince of Peace who renews our hope for a Peaceable Kingdom. May these weeks bring about renewed and fervent prayers, action and advocacy for peace in our world.
---