By Ruth Ivory-Moore, Program Director, Environment and Energy Policy
---
"Talanoa is a generic term referring to a conversation, chat, sharing of ideas and talking with someone. It is a term that is shared by Tongans, Samoans, and Fijians." It is also a term that will be linked to the twenty-third United Nations Climate Change conference (COP 23) that ended on November 18.
During this conference, Fiji's Prime Minister and COP 23's
President, Frank Bainimarama lifted up the experiences and voices of Fijians and communities most vulnerable to climate change. Three critical outcomes of the COP meeting include the creation and inclusion of the Gender Action Plan (GAP), an Indigenous Peoples platform, and moving forward in Talanoa dialogue. These three resolutions will help ensure that the Paris Agreement is inclusive and intersectional in its continued planning and implementation. [Right: photo of The Fiji Pavilion at COP 23]
As a global community, we are facing what is likely one of the most serious threats to all creation: climate change. The time for action around climate change has never been more critical. Human activity is greatly amplifying Earth's rising temperature and environmental degradation due to increased accumulation of greenhouse gases in the atmosphere. The negative consequences of this degradation disproportionately impact the most vulnerable and marginalized communities, even though they have contributed the least to it. They are also least equipped to mitigate and adapt to the changes in our environment.
We must become a global community that works together to ensure the sustainable and peaceful coexistence of all. Climate change leads to increased poverty, food insecurity, migration (due to necessity for survival), and health issues. To lessen these consequences of climate change, we must all work together. As stewards of God's creation, the only option is to act, to mitigate, to adapt, and to build resilient communities. The simple fact is that we must step up our game and implement the three mechanisms that were produced to facilitate more inclusive and productive planning.
Critical outcomes of COP23:
The Gender Action Plan (GAP) facilitates the implementation of the Paris Agreement by formalizing the role of women in decision making around climate policy and action. While the role of gender and women was acknowledged in the preamble to the Paris Agreement, the GAP includes provisions for: capacity-building, knowledge sharing and communication, gender balance, participation and women's leadership, coherence (strengthening the integration of gender in all aspects of implementation of the Paris Agreement), gender-responsive implementation and means of implementation, and monitoring and reporting.
The Indigenous Peoples Platform provides a means for native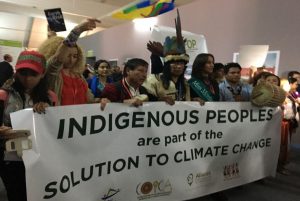 communities, who are often most impacted by climate change, to have a significant voice in all aspects of discussions around solutions. Discussions and resolutions included strengthening the knowledge of indigenous people, enhancing engagement of indigenous people, sharing of best practices and experiences, and providing means to facilitate the operationalization of the Indigenous Peoples Platform. [Right: photo of Indigenous People March at COP22]
The Talanoa dialogue lays a foundation critical for working toward climate resilient communities. The Talanoa dialogue stresses inclusivity of all, upholds communities most vulnerable, and emphasizes the need for fair and balance processes that will create fair and balanced solutions.
The Gender Action Plan, Indigenous Peoples Platform and Talanoa dialogue are key to ensuring the implementation of an inclusive process and that ensures the achievement of sustainable solutions. We celebrate these important successes; and we should congratulate the COP 23 Fiji Presidency on his leadership as well as the significant progress that was made.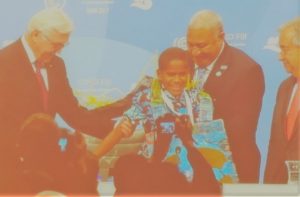 We must now move and act with deep intentionality. No one entity is to be vilified, demonized or otherwise disparaged. We need energy companies, civil society, governments at all levels, trade associations, faith-based communities, policy makers, attorneys, researchers, agriculturalists, and people from every discipline working for a sustainable world. As bridge builders, faith-based communities have a tremendous opportunity! In the words of the Fiji youth who delivered a powerful message at the opening of the COP23 plenary, we must "walk the talk." [Left: photo of World leaders congratulating the Fiji youth after his powerful speech]

We must proceed intentionally to work on implementation of the Paris Agreement. We have hope, and we have faith. But we know "for just as the body without the spirit is dead, so faith without works is also dead." (James 2:26)
To that end, to the Fiji Presidency of COP 23: