U.N. | California | Minnesota | New Mexico | Pennsylvania | Texas | Washington | Wisconsin
Following are updates shared from submissions of the Lutheran Office for World Community and state public policy offices.
Lutheran Office for World Community, United Nations, New York, N.Y. elca.org/lowc
Dennis Frado, director
UN LAUNCHES COVID-19 GLOBAL HUMANITARIAN RESPONSE PLAN: On March 25, António Guterres, UN Secretary-General, launched a US$2.01 billion coordinated global humanitarian response plan to fight COVID-19 in some of the world's most vulnerable countries in a bid to protect millions of people and stop the virus from circling back around the globe. The plan "will be implemented by UN agencies, with international NGOs and NGO consortiums playing a direct role in the response. It will:
deliver essential laboratory equipment to test for the virus, and medical supplies to treat people;
install handwashing stations in camps and settlements;
launch public information campaigns on how to protect yourself and others from the virus; and
establish airbridges and hubs across Africa, Asia and Latin America to move humanitarian workers and supplies to where they are needed most."
COVID-19 HAMPERS UN'S ABILITY TO GATHER MEMBER STATES IN NEW YORK: Since early March United Nations Headquarters in New York has struggled to hold its meetings of the Member States due to the COVID-19 situation. The need to ensure physical distance between all persons in attendance has meant that annual meetings dealing with the status of women, population and development and indigenous peoples have been curtailed, postponed or cancelled altogether. The General Assembly held at least one plenary virtually (by teleconference) and the Security Council haggled for weeks until late in the month over what constituted a "meeting", i.e. whether it could meet virtually in line with the Charter (The Council is "to be able to function continuously" but "may hold meetings at such places other than the seat of the Organization as in its judgment will best facilitate its work"). The Council faced the expiration of several peacekeeping mandates at the end of the month which forced it to allow for the submission of written statements about proposed resolutions and voting upon them via e-mail. Another result of the extraordinary safety measures at all meetings since mid-March has been that civil society voices have not been heard, a troubling by-product.
---
California
Regina Q. Banks, Lutheran Office of Public Policy- California (LOPP-CA) lutheranpublicpolicyca.org
While COVID-19 has turned our world upside down in unprecedented ways, our advocacy work continues to be essential in developing coordinated and inclusive responses that support all Americans.
The California Legislature went on an extended recess beginning in mid-March which has been extended for the next month. Advocacy has therefore focused on urging the Governor to enact a true moratorium on evictions and mortgage protections, include Individual Taxpayer Identification Number filers in any relief at the state level, and more. Even so, we continue to support state bills related to COVID-19 relief, such as CalFresh, Simpler for Seniors and CalFresh, Prison Preenrollment and the Racial Justice Act for when the Legislature reconvenes. We are also assisting our partners in accessing federal CARES and Families First provisions and shifting our advocacy to the federal level when necessary.
The Lutheran Office of Public Policy – California instituted a new program to engage our Policy Council, pastors and members of Lutheran congregations in California. We call it Advocacy in Quarantine.
We set a weekly Wednesday Zoom meeting where LOPP-CA staff offer a roughly 25 minute overview of the federal government's response to Covid-19, the State of California's response, and pending state legislation we are following and sponsoring. We also highlight the work that our allies and ministry partners are doing in the state.
We then direct them to actions that would take them about 5 minutes to complete (I.e.; call or tweet the governor to release prisoners and ICE detainees on #FaithfulFridays)
We are grateful for an incredible response from our members, and we're getting feedback from our ministry partners that the calls are already being noticed. We are seriously contemplating how this can become a part of our programing when we go back into session.
---
Minnesota
Tammy Walhof, Lutheran Advocacy- Minnesota (LA-MN)  lutheranadvocacymn.org
LEGISLATIVE SESSION: Monday, March 16, legislative leaders announced they were curtailing legislative activity, would be on call until April 14, and would only consider bills 1) COVID-19 emergency-related, 2) mission critical, like bonding, and 3) with broad bipartisan support. Before leaving that evening, legislators passed bills allocating $21 million to the Department of Health and $200 million to hospitals for COVID-19 preparation.
COVID-19 EMERGENCY RESPONSE: The Homes for All Coalition (H4A) kicked into high gear, recognizing that homeless populations, low-income families, and kids home without school meals are particularly vulnerable. H4A's Policy Team (on which Tammy serves) called for rental assistance and shelter funding, while anti-hunger partners worked to boost food shelf funding. Lutheran Advocacy-MN pushed out three separate action alerts to thousands of Lutherans within less than 10 days, helping Homes for All reach its goal of contacting legislators in every MN House and Senate district. On March 26, both chambers returned for part of a day, passing HF 4531, a COVID-19 relief bill, 99-4 in the House & 67-0 in the Senate. The $330 supplemental appropriation included food shelf support, shelter & housing assistance, small business loans, and more. Funding levels were lower than hoped, but we continue the work.
EVENT/OFFICE CHANGES:
JRLC (Joint Religious Legislative Coalition) Day on the Hill, April 1: – Cancelled. Replaced by Day on the Screen. A recording will be available soon.
Now the Green Blade Rises EcoFaith Summit, March 28: – Postponed until 2021. Contact Tammy to get on list for resources/videos/online events related to youth/young adult speakers, & breakout sessions.
Earth Day Capitol Events, April 22: In-person activities cancelled. Online & social media options available soon (#MNEarthDay).
Work from Home: Tammy can be reached at tammy@lutheranadvocacymn.org or 651-238-6506 (cell/text). Most days she is in multiple Zoom meetings but will reply.
---
New Mexico
Kurt A. Rager, Lutheran Advocacy Ministry—New Mexico (LAM-NM)   lutheranadvocacynm.org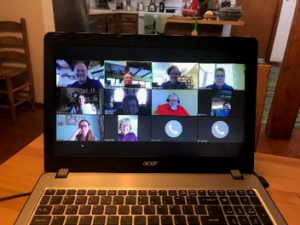 POLICY COMMITTEE OF LUTHERAN ADVOCACY MINISTRY—NEW MEXICO HOLDS SPRING MEETING: For the over 35 years that Lutheran Advocacy Ministry – New Mexico (LAM-NM) has existed, the Policy Committee has served a vital role in leading and shaping the ministry. This year's Spring Meeting was held entirely via Zoom due to a state-wide stay-at-home order in place for New Mexico. The committee is currently comprised of members of various ELCA Lutheran congregations located around the state, as well as a non-voting member representing the Presbytery of Santa Fe. Important work at this past month's meeting included:
Reviewing the 2021 Bishop's Luncheon and Issues Briefing. (The event included 135 participants from not only ELCA congregations but 7 other denominations as well.)
Reviewing the 2021 Legislative Session report.
Reviewing and approving financial reports.
Continuing planning for the annual Fall Advocacy Conference to be held in November.
Nominating new members to the Policy Committee.
Saying good-bye to faithful committee members who are no longer able to serve.
Revising the working document, "Role of Policy Committee Members."
Receiving and discussing the Director's Report.
As LAM-NM moves into the coming month there is much unknown. Yet to be determined is how the New Mexico State Legislature's Interim Committees will meet and work considering the COVID19 crisis. Also, in question is a possible special session of the Legislature to deal with ramifications of the dramatic drop in oil on the state's budget.
---
Pennsylvania
Tracey DePasquale, Lutheran Advocacy Ministry–Pennsylvania (LAMPa) lutheranadvocacypa.org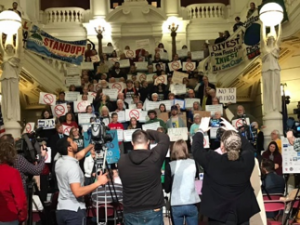 RALLY TO VETO TAX BREAKS FOR PETROCHEMICAL INDUSTRY: LAMPa staff and volunteers joined creation care advocates from around the state March 9 for a rally to urge Gov. Wolf to veto a bill that provides potential billion dollars in subsidies to petrochemical plants and gas infrastructure for the next 30 years – a time when we need to be cutting greenhouse gas emissions for the sake of our common home.
ADVOCATE ENGAGEMENT: During a 30-day period, seven action alerts were shared with LAMPa constituents. Topics included multiple alerts related to COVID-19, violence against women, and surprise medical bills.
COVID-19 RESPONSE: LAMPa staff have been coordinating with partners in ELCA Advocacy and Lutheran Disaster Relief in response to COVID-19. Advocates have acted to urge policymakers to act swiftly to protect the vulnerable and promote the common good at the local, state and federal level. LAMPa participates in the state's emergency feeding and sheltering task forces, sharing information on the calls and relaying out to our network, but also serving as a witness of the church's accompaniment to public agency and volunteer leaders. We have been sharing vital information with our synods, congregations and social ministry partners as well as reaching out to assess their needs at this time and responding as quickly as we can to their queries, particularly about grants, unemployment insurance and loans for nonprofits. We've connected Lutheran camps, colleges and seminary to the state emergency sheltering effort, and our feeding ministries to support from the state's emergency feeding effort and shared ways those experiencing job loss or reduced hours can apply for benefits.
STANDING AGAINST HATE: Pa. synods and congregations signed a public letter calling for support of people of Asian Pacific descent in the face of COVID-related xenophobia and shared information from Pa. State Police for reporting anti-Asian Pacific American bigotry as part of our work with the Pa. Coalition Against Hate.
CENSUS2020: LAMPa is equipping our advocates to #GetouttheCount. See one of our youth and family directors share the message in Swahili in this video made to encourage all people to be counted, regardless of immigration status.
PA ELECTION REFORMS: LAMPa is sharing information about additional election reforms adopted in response to COVID-19 and monitoring progress on implementation before the primary – now scheduled for June 2.
---
Texas
Bee Moorhead, Texas Interfaith Center for Public Policy texasimpact.org
COVID-19 RESPONSE: Texas Impact is resourcing local congregations to share best practices on how they are responding to meeting unmet needs in their local communities and how they can effectively advocate on behalf of vulnerable populations in their communities. Texas Impact has been sending Action Alerts and producing Weekly Witness podcasts on federal and state actions. The first Action Alert on the CARES Act generated about 200 telephone calls. This week, our E-News will focus on denominational leaders—including all three Texas ELCA bishops—clarifying that while theTexas Governor correctly identifies worship as an "essential service," in-person worship is to be suspended during the COVID-19 crisis in favor of online and "drive-in" models.
TEXAS INTERFAITH ADVOCACY DAYS: Planning is underway for the 2021 Texas Interfaith Advocacy Days, scheduled for March 7-9.
---
Washington
Paul Benz, Faith Action Network (FAN) fanwa.org
COVID-19: As regulations, concerns, and information on federal stimulus packages change almost daily in light of COVID-19, FAN has sought to be a beakon of hope and a source of up-to-date information for our statewide partners. We have kept our communities connected by sharing faith services from a multitude of traditions as they move their services online, and Co-Director Paul Benz is working with the African American community and other heavily-impacted faith communities to find funding and resources to stream their services online. FAN has also signed on to letters and participated in action campaigns to release undocumented detainees from detention centers, as well as youth and adults in prison who have been convicted of nonviolent offenses, in an attempt to slow the spread of COVID-19 in prisons and allow for social distancing. Our hearts go out to our partners around the country in this struggle to protect our communities.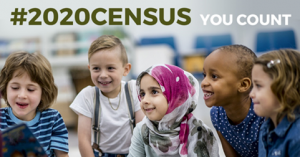 CENSUS 2020: Census day was April 1, and FAN has been active in sharing the message that even in the midst of a national crisis, it's never been easier to fill out your census! Data is starting to come in about which counties and communities are falling behind in their response to the census, and our statewide Census team will start to hone in on those historically-undercounted communities.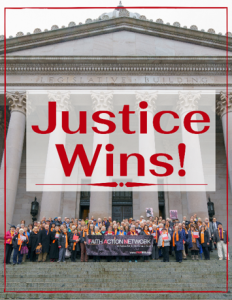 WASHINGTON STATE LEGISLATIVE SESSION: As Governor Inslee continues to sign bills into law, we celebrate the passage of 23 bills FAN worked on or supported in the 2020 legislative session. A few of the major successes include Courts Open to All (COTA) which prevents immigration agents from speaking with or arresting undocumented people at or around court houses, Sustainable Farms & Fields to incentivize carbon sequestration in agriculture, the creation of the Washington Office of Equity, and two bills that work to prohibit private detention in the state though they were greatly amended in their passage. See a full list of successes at fanwa.org/advocacy/legislative-agenda/
---
Wisconsin
Pastor Cindy Crane, Lutheran Office for Public Policy in Wisconsin (LOPPW) loppw.org
CARE FOR GOD'S CREATION: LOPPW participated in a Wisconsin Climate Table meeting in Racine. Dr. David Rhoads, Greening Greater Racine, discussed working with car dealers and other businesses on sustainability and beginnings of developing hydrogen energy. Rep. Greta Neubauer discussed Governor Ever's new task force on climate change and offered to be accessible to the Table members throughout the task forces hearings.
Pr. Cindy Crane began to prepare a presentation on climate change and COP25 for an East-Central Synod event before events like this one were canceled.
WEDNESDAY NOON LIVE: We interviewed Molly Dobberke Riehle, Executive Director of Centro Legal in Milwaukee. Molly talked about her work as a volunteer attorney at a detention center in Texas with AMMPARO. Cindy's co-host Rev. Andy Twiton then discussed his experience at the border with the National ELCA Vitality Training. We began planning for a focus on the Coronavirus and Racism as our theme for April.
IMMIGRATION: LOPPW met with the director of the Wisconsin Catholic Conference and discussed our possible actions to support our Hmong and Laotian neighbors in Wisconsin.
VOTING: LOPPW contacted youth leaders and clergy to promote recruitment of poll workers. We cancelled our project and shifted our focus to encouraging people to vote early and created this video: https://www.facebook.com/LOPPW/videos/2712099135526073/
We also began advocating for the change of election time.
CHANGED FOCUS—COVID-19: LOPPW is participating in conference calls with Lt. Governor about how the state can assist faith-based groups, especially in light of how they provide services. In one call, we received details of what the Governor's Safer at Home Order meant for churches. LOPPW made details known broadly.
We are also building awareness of statements and resources related to public benefits from the Governor's office and D.C. and sending action alerts related to being inclusive of those most vulnerable in public policies.