By guest blogger Dr. Ryan LaHurd, retired Lutheran leader in higher education
and member of Holy Trinity Lutheran Church, Chicago, Ill.
Joshua Jipp argues in Saved by Faith and Hospitality that the God of Scripture is a God of hospitality, a God who extends hospitality to all and who requires, in turn, that we embody hospitality to our neighbor. God's hospitality to us is the basis for ours. To persons of Arab heritage, this observation is no surprise.
Bedrock value of hospitality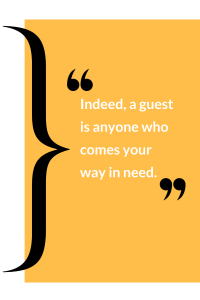 Hospitality is a bedrock value in Arabic culture. Anthropologists say it probably arose from the harsh desert conditions in the Middle East and the need to offer food, drink and rest to travelers who might appear at your dwelling. Without hospitality such visitors could die. So important is this value for Arab Christians and Muslims that it has become ritualized. You will get pretty much the same treatment in the home of any Arab or Arab-American.
No sooner is someone greeted at the door and seated in the most comfortable surroundings the host has than drinks and snacks — usually coffee or tea, nuts, dried fruits and sweets — are served. No amount of protestation or arguing that you are not hungry can prevent a drink being poured and your plate being filled for you. Ultimately, Arabs will do everything in their power to make guests feel at home, which also means: "no" isn't an answer.
Karam, the Arabic term for generosity, signifies treating guests with the utmost kindness and honor. Failing to do so brings shame upon the host. If the host has to do without later because of sharing with a guest, the host feels proud of being selfless. Indeed, a guest is anyone who comes your way in need.
The shared geography and similar cultures of the Hebrew Bible, New Testament and Quran are evidenced in their stories of hospitality. Abraham and Sarah's entertaining the strangers who turned out to be angels, the widow who gave the last of her food to Elijah, Jesus at the Cana wedding and Martha's preparing food are among the hospitality stories in the Jewish and Christian traditions. The Quran contains the story of Abraham, who greeted his strange guests, "Then he turned quickly to his household, brought out a roasted fattened calf, and placed it before them. He said: 'Will you not eat?'"* The Sayings of the Prophet Muhammad also enjoin Muslims to practice hospitality to strangers.
Practicing hospitality from a distance
In this time of national crisis, it is uplifting to see evidence of people from many faith traditions joining to extend generosity and hospitality to strangers and friends. Stories about interfaith groups advocating for the needs of the most vulnerable and supplying them with food and necessities fill the media. It is the least we can do. As Christine Pohl, author of Living into Community, has said: "A life of hospitality begins in worship, with a recognition of God's grace and generosity. Hospitality is not first a duty and responsibility; it is first a response of love and gratitude for God's love and welcome to us."
Fortunately, hospitality can be practiced from a distance as well, as the current crisis situation requires. We can provide food for others by donations of funds until we can sit together. We can advocate for those who have not been invited into the health care system. We can support and recognize those extending heroic hospitality through care of the sick and providing needed supplies to those who must stay at home. We can welcome with our hearts and resources for now, if not with our arms and homes.
---
* Surat adh-Dhariyat: 24-27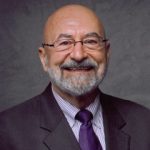 Our guest blogger, Dr. Ryan A. LaHurd, formerly served as president of Lenoir-Rhyne University, Hickory, N.C. in 2002, which is an ELCA higher education institution. Dr. LaHurd, an Arab-American of Lebanese ancestry, has served as a teacher, administrator, author and leader in many capacities, including with the ELCA Association of Lutherans of Arab and Middle Eastern Heritage.