Have you thought about what it would look like to serve as a volunteer at the Gathering next summer? Applications to serve as a volunteer at the Gathering are now open! 
There are five different volunteer opportunities: the Gathering Volunteer Corps (GVC), Servant Companions, local volunteers, MYLE and the tAble volunteers, and Young Adult Gathering volunteers. Responsibilities and commitments vary by category, so check out our website for more information.  
Daniel has volunteered at both the 2015 Gathering and 2018 Gathering and has some insight they'd like to share —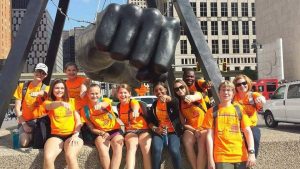 Hi, My name is Daniel Mambu and this will be my fourth Gathering. My first Gathering experience was in 2012 as a youth participant. After that, I was able to serve as an adult leader in Detroit for the 2015 Gathering. In 2018, I had the opportunity to serve on the Community Life team. 
Why do you like to volunteer? 
I remember going to the Gathering as a youth and just being blown away by the size of the event, the culture, the groups, the speakers and their stories, and the musicians. I left feeling like I could make a difference no matter how small. I like to volunteer not just for the experience, but because I get to play a part in something that could be life-changing to someone else.
What's one thing you're looking forward to in New Orleans?
I am looking forward to being back in the city of my first Gathering and seeing the joy on the faces of those experiencing it for the first time. I am also looking forward to the food!
Fill in the Blank: "I am Created to Be kind and patient!"
Written by: Bobbi Cyr (she/her)