"Who Belongs With You?" was the transition from the closing day of the tAble to prepare for the Gathering. That transition took place in closing worship focused on the faithful community that gathered and formed over four days focused on the theme "You Belong." Reminders of the days together were interspersed in the worship space: grace bags that were part of Service Learning, the prayers of the people written on pieces of cloth and woven together, and the paper chain of gifts draped on the wall behind the altar.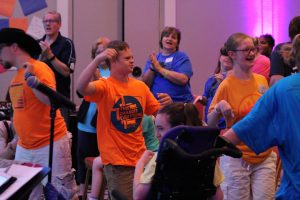 The worship service opened with music from James Kocian and Judi Tyler, the writers of the Gathering theme song. James wrote a song specifically for the tAble titled "You Belong" that he shared with the participants. Rev. Leslie Welton, chaplain for the pre-event (lovingly known as "Chappie" by participants) reminded everyone in worship to be present in the space as the heart leads. Many of the tAble participants had leading roles in worship, which communicated a full embodiment of the priesthood of all believers.
Texas-Louisiana Gulf Coast Synod Bishop Michael Rinehart preached on the fourth chapter of Exodus, reminding those gathered at worship that even when answering God's call is difficult, we are never alone. In preaching on the challenges and questions that Moses addressed to God, Bishop Rinehart said, "Show me a place in the Bible where God called someone to do something easy." Steven, 17, from Holy Trinity Lutheran Church in Habsburg Heights, NJ, responded, "God saw Moses' résumé and thought it was perfect."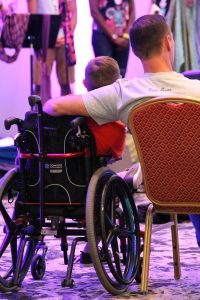 "Who belongs with you?" the tAble closing worship showed that as baptized children of God, we all belong to one another. Knowing that we are part of the same family joined together in Christ, the time transitioned to knowing that belonging can change everything.
---
Follow the 2018 ELCA Youth Gathering on social media:
Don't forget to follow the hashtag #ELCAYG2018!
Follow instructions to download the ELCA Youth Gathering app here.