– Megan Brandsrud
"In my Father's house there are many dwelling places. If it were not so, would I have told you that I go to prepare a place for you?" (John 14:2). On the last full day of MYLE, participants gathered under the daily theme of "One household, many rooms" and talked about how there is a place for everyone in God's house.
Part of the discussion took place in affinity groups (African descent, Latino/a, European American, Asian/Pacific Islander, Multiracial/Multiethnic, American Indian/Alaska Native) where participants shared reflections, joys and struggles with each other.
During Discovery Worship, MYLE participants went through a series of stations designed to help them build their personal faith life and learn how they are all connected through their relationship with God. Some of the stations included writing a letter of encouragement to a modern-day social justice activist and walking a labyrinth to focus on personal reflection and centering oneself.
Beyonnie, a MYLE participant from St. Matthew Lutheran Church in Washington, D.C., walked the labyrinth during the Discovery Worship time. "We walked in a circle and reflected on life and getting rid of negativity," she said. "When you hit the middle, you release negativity and stress, and I only felt filled with positive thoughts and feelings."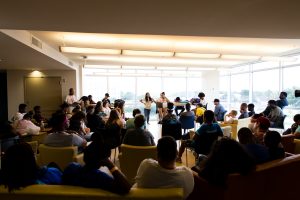 In the afternoon, MYLE participants also chose different skill shops to attend that focused on finding and understanding their place and their path. Workshops ranged from social justice theater, which focused on activities to help break down walls and build bridges, to a simulation where participants pretended aliens came to earth to learn how to help see themselves from the outside and see what values shape their behavior.
Ciara, a MYLE participant from Christ Lutheran Church in Upper Darby, Pa., attended a session called "Preparing for college."
"I'm going to be a senior and I want to go to college, so I thought it would be good to hear what they had to say," she said. "It was really helpful in explaining some things I need to know in preparing to apply to schools."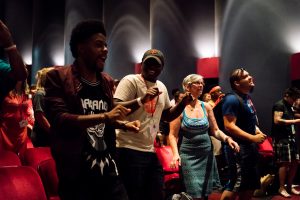 Many participants said that the music during worship and the morning Jumpstart has been their favorite part of MYLE so far, and that they're connecting with the theme of "ONE" and feeling like it's an important message for today.
"It's very encouraging," said Joshua, a MYLE participant from Toledo, Ohio. "It's all about bringing in all different groups and seeing that together we are strong. Today's theme is all about that, I think. There's one household and many rooms—just like there's God's kingdom and we are all God's children. It doesn't matter what ethnicity you are."