A message from the Director of the ELCA Youth Gathering, Molly Beck Dean– 
I am thrilled to share with you that at the close of our early-bird registration we crossed over the 10,000-person mark for the 2022 ELCA Youth Gathering. It's exciting and hopeful to know that even during an unusual and tough couple of years, thousands of you are preparing for the Gathering next summer. I know that thousands more of you are finalizing your plans and will register in the weeks to come.
Our planning teams are hard at work creating a meaningful, memorable, and safe experience at the tAble, MYLE and the Gathering. While we know that some things may look or feel a little different because of the pandemic, our boundless God will continue to show up in amazing ways. The Gospel will be proclaimed through word and deed, our neighbor will be served, young people will explore what God is calling them to be in this world and life-long memories will be made.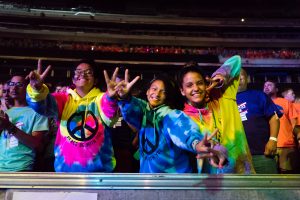 It will be so good to be together in Minneapolis next summer worshipping our boundless God. It's not too late to join us with a group from your congregation (or a neighboring congregation!) or as a Servant Companion or Local Volunteer if you fit those demographics. We continue to hold our congregations in prayer as they prepare for this life-changing experience next summer.
See you next summer in Minneapolis!
Molly