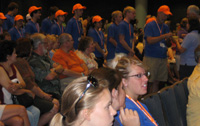 Pastor Sean Ewbank told a room full of youths that Lutherans are scarce in the New Orleans area.
With only a few congregations around, many people aren't aware of the Evangelical Lutheran Church in America.
But this week, they'll learn. ELCA members will be evident everywhere working in the muggy heat to help the area with ongoing Hurricane Katrina recovery. The teens will be working in schools, cemeteries, wetlands, parks — just about everywhere — in hopes of making life a bit better here.
Some 37,000 ELCA youths and adults are expected in New Orleans for the 2009 Youth Gathering, which begins Wednesday. The 300 volunteer leaders of the Servant Life projects, as they are known, met this morning for a final worship service together.
Ewbank spoke to the volunteers about the ELCA tagline, or motto: "God's Work. Our Hands."
"We're here to be those hands," he said.  "What an amazing witness that is."    
Ewbank is pastor of Hosanna Lutheran Church in Mandeville, La. That's an ELCA congregation not far from New Orleans.
The New Orleans area has fewer than two dozen ELCA congregations, he told the workers. Yet, the ELCA is the nation's largest Lutheran denomination, with 4.7 million members.
"We're going to show New Orleans and all of Louisiana what it means to be a Lutheran," he said.
Photo: ELCA volunteers take Holy Communion during worship at the New Orleans Convention Center.