by: Sophia Behrens
The ELCA Youth Gathering is an excellent resource for youth to explore their vocations. After attending the 2018 Gathering, I had a better understanding of how big our church was. I also realized that youth can have an empowering opinion about their faith life and how to carry that voice out through our vocations. The Gathering gave me a space to further explore my vocational call of social justice.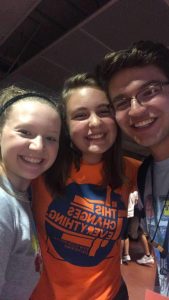 I've been involved in social justice issues since middle school, beginning with learning about women's rights and later expanding horizons to be more involved with social justice issues relating to world hunger and diverse representation. The Gathering aided me in finding a way to better connect these issues to my faith life. During my Interactive Learning day, I was able to explore and talk with different organizations and ministries of the ELCA in the social justice space from immigration law to advocating for a better life for farmers across the globe. Along with my peers, I learned how I can get involved with these organizations. 
For me, the speakers at Mass Gathering emphasized the importance of faith communities and the support they give in relation to an individual's vocation. We heard from strong speakers about a range of subjects, but the one that still sticks out to me over a year later is Maria Rose Belding. Maria founded and directs MEANS database, which helps distribute food across the country. Her words about the struggles of being a teenager and finding a way to fix and advocate for a unique problem inspired and reminded me of my vocation and how to find parallels with faith life and vocation instead of keeping them separate. 
While these were the areas of the Gathering that inspired me personally, there were countless other activities and speakers that could speak to other youth which is what creates the vast outreach of the Gathering.
Sophia Behrens is a freshman at Valparasio University. Throughout high school, Sophia was active in the ELCA Youth Core Leadership Team, her home congregation, and supporting ELCA World Hunger. Sophia was also a part of the 2021 Theme Discernment team for the ELCA Youth Gathering.