by: Kyle Lefler
Jesus walked. Miles & miles across the hills and valleys of the Holy Land. He and his disciples traveled great distances with little comforts to be with, among and beside the people.
While we need not always travel great distances to be of service to others, we are called to be out among our neighbors. We are called to listen for where there is a need, to pay attention to injustice and to respond in ways that further God's vision of justice on earth.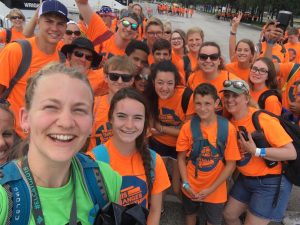 My own faith journey has been deeply strengthened by participating in acts of service, both in giving and receiving. As a young person, my youth group served through acts of generous charity and our leaders helped us understand how that charity could move into justice work through education and systemic change. Any work of service is best done in mutuality, where we are listening and responding to a need, rather than offering our own solution. The Gospels provide us with dozens example of that mutuality, through Christ's society-shaking, humble actions.
When I was a sophomore in high school, I attended the 2006 ELCA Youth Gathering in San Antonio and saw service in action on the largest scale I had ever witnessed. There were dozens of organizations educating young people about needs in the world and empowering them to participate in advocating for and serving those in need. Many of us had never had the opportunity to learn and grow in such a way. We saw the Gospel being acted upon in tangible, accessible ways and learned about the calling we have as Christians to do justice, love mercy and walk humbly. 
Since then, I've had the privilege of leading groups through their Service Learning day at the Gathering. We have WALKED  the streets of cities from New Orleans, Detroit and Houston, listening and learning from those communities, and serving in ways that respond to their needs. I have seen young people's attitudes transform from tiredness and disinterest to excitement and desire to do more in the course of just a few hours. Together, we become better disciples when we humble ourselves to listen and give of our own gifts of time and privilege. I believe Service Learning can be the most powerful moment of the Gathering for many of the attendees, as they experience a new place and find God's calling within themselves… then take that calling back home to their own community.
May we always boldly go and do likewise.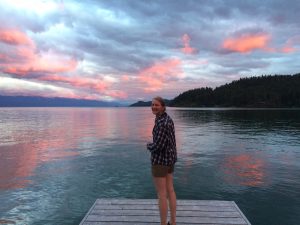 Kyle Lefler serves as the year round program coordinator at Flathead Lutheran Bible Camp in NW Montana, overseeing year round retreat programming and onsite summer camp operations. Kyle is passionate about working with young people in God's Creation and striving to create intentional community spaces where they are unconditionally loved & accepted, empowered & advocated for. She loves early morning lake swims, handwritten letters & the Avett Brothers.