– Debra Porowski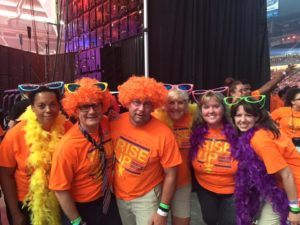 One of the greatest lessons I learned at a Gathering happened in Detroit, in a small quiet hallway in the Cobo Center. On Friday night while we were walking back from Ford Field back to our buses, I fell and twisted my ankle. By the time I got to the hotel,  my ankle was swollen and bruising. We had our Practice Justice Day the following day.  I knew there was no way I could walk onto a site with them that would require me to be on my feet and working. Maybe we would be assigned something easy that I could do sitting down? Then it hit me. If we got to do something in where I could physically take part, it wasn't what I knew my kids were looking forward to doing.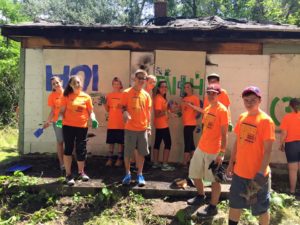 We got our assignment the next morning and sure enough, the kids were going out to the streets of Detroit to fix up and paint houses. There would be power tools, loose boards, and lots of manual labor; nothing I could do on one foot. I hugged each kid goodbye and sent them with my adult leaders out to participate in an experience that would stay with them forever. After a visit to the first aid station and all fixed up with an ace bandage and lots of ice, I found a bench in a quiet hallway in the Cobo Center. As I was sitting there, another adult leader from another church (probably from another state) came up to me and asked me what I was doing. I explained that my youth were off having this amazing day and I was sitting there. The adult leader asked if she could pray with me. It was the most beautiful thing anyone could have done for me in that moment.
I sat and cried while she prayed for my youth—for their safety and for blessings on the work they were doing. She also prayed for me, for healing, for strength for my ankle, and for my broken heart.  
I learned a huge lesson that day. As adults we accompany the youth to the Gathering and we are ultimately there to support them in their faith journey.  My youth experienced God in the houses they fixed and painted, and I experienced God in the hallway.  
In 2018, I am happy to be serving as a Synod Gathering Coordinator to help other adults to find the balance between the responsibilities and the rewards of the Gathering.
If you approach your role with faith and a little flexibility, you too will find the Gathering as a highlight on your own faith journey—in very unexpected places.