When the 2015 ELCA Youth Gathering met for the last time in Detroit's Ford Field, there was anticipation in the air waiting for the reveal. Where would the 2018 ELCA Youth Gathering be held? Where would over 30,000 ELCA youth meet in three years to be engaged in intense faith formation? When Houston was announced as the home for the 2018 Gathering, three years felt like a long time away.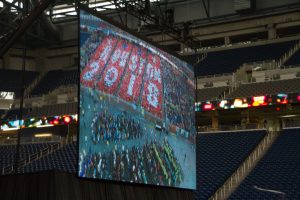 In those three years, there has been a lot of preparation. Faith communities and youth groups had car washes, bake sales, flockings of flamingos, talent shows, spaghetti dinners, and a number of additional creative fundraisers. There was also preparation in faith and community building; getting to know youth and chaperones who would be journeying in this formative experience together, checking travel arrangements, taking a deep breath, saying a prayer, then journeying onward to Houston.
The city of Houston with Gathering teams and staff have also spent the last three years in intensive preparation. The theme, "This Changes Everything," was born out of evaluations and conversations following the 2015 Gathering. NRG Park, where many of the events are being held, hosted many of the teams to understand the space for Bible studies, ELCA carpool karaoke, zip lining, Synod Day, framing homes, donating hair, Mass Gathering, and more. Throughout the city of Houston, there are a number of Service Learning partners working with the Gathering. The youth and Service Learning partners will be forming relationships on what it means to embody learning, community building, and accompaniment.
The next five days will be filled with a number of experiences and emotions rooted in faith in Christ and in one another.
Welcome to Houston, y'all! Let's get this party started today!
---
Follow the 2018 ELCA Youth Gathering on social media:
Don't forget to follow the hashtag #ELCAYG2018!
Follow instructions to download the ELCA Youth Gathering app here.