What does it mean to be one in community, but to have a variety of gifts expressed in a group of people? On the second day of MYLE, the theme was "One mission, many gifts," which explored how to be unified as a people of faith that come a diversity of talent and skill.
The day's theme was embodied as MYLE participants traveled around Houston for Service Learning projects. Ten sites were selected around the Houston area where participants could not only offer the city their gifts as people of faith, but could also learn about accompaniment and service.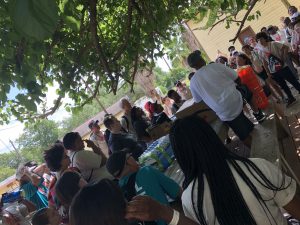 Stephen, 18, of All Peoples Lutheran Church in Milwaukee, WI, felt energized by Jumpstart (the opening worship service at MYLE). He said it wasn't just fun and a chance to feel hyped up in the morning, but it was also a wake-up call to start his day of service, which was at The Life Center. MYLE participants at The Life Center worked with residents of the homeless shelter to paint, landscape, and beautify the facility. Stephen was looking forward to what he could do to help the community. His hope for his time at MYLE is to "show equality for what this nation could be and that no matter what race or color, we are as one."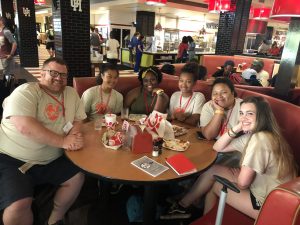 The day was also filled with intense conversations. Over dinner in the University of Houston dining hall, participants from the East Bay Lutheran Youth Program in Oakland, CA, had very honest conversations on identity, who we are as created in God's image, and defying stereotypes. They reflected on their Service Learning experience that took place at the Star of Hope, a non-profit organization that works with people experiencing homelessness in Houston. They were joined at dinner from new friends they made from Christ Lutheran Church in Washington, D.C.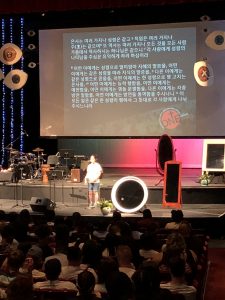 After sharing a meal, participants went to worship. Worship was filled with songs of love, justice, prayer, and liberation. Jennifer and Noah from Mediator Lutheran Church in Philadelphia shared their experiences at their Service Learning site, Spring High School. Jennifer talked about making the school's campus look beautiful through gardening. Noah expressed that it was God's work through their hands to bring hope to the school's campus. Rev. Patrick Gahagen spoke at worship, taking about gifts and passions in a life rooted in faith.
The overall theme of ONE continues to resonate strongly at MYLE. The second day was filled with a multitude of gifts and unified as one community.
---
Follow the 2018 ELCA Youth Gathering on social media:
Don't forget to follow the hashtag #ELCAYG2018!
Follow instructions to download the ELCA Youth Gathering app here.