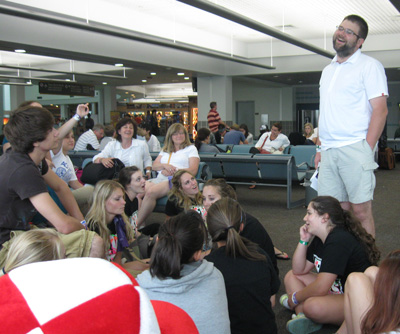 Meet Seth Moland-Kovash (standing), a funny and thoughtful pastor from All Saints Lutheran Church in Palatine, Ill. He led a group of youth from the congregation to the 2009 Youth Gathering in New Orleans July 22-26.*
Before boarding an airplane back to Chicago, he held a Bible study at Gate C-10, Louis Armstrong International Airport, New Orleans. He used a Bible covered with the youth gathering theme: "Jesus, Justice, Jazz."
*
*
He asked the teens what the best part of their week had been. Everybody wanted to talk:
"Skillet" (Christian rock band; loud — very, very loud.)
"Jay Bakker"
"My hat"
"I met my soul mate"
"Listening to stories"
"The letter from Barrack Obama"
"Having a bishop that's a lot of fun"
"Betty" (A New Orleans woman who helped them find sandwiches, then invited them to eat them in her courtyard.)
"Just being with everybody"
*
*
This is Alex Spriggs, the teen grateful for finding this hat. He's 16 and attends All Saints Lutheran Church, Chicago.
*
*
Pastor Seth repeatedly thanked the youth for their service in New Orleans. Then he led them in prayer.