-Thomas Tresselt
In 1999, my oldest daughter Melissa and my wife Carol attended the Gathering in St Louis. Upon returning, I heard nothing but great stories about the event and how the Gathering changed their lives. This prompted me to apply to be a member of the Gathering Volunteer Corps for the 2003 Gathering in Atlanta.
With a bit of apprehension, I arrived in Atlanta and was assigned to security for the convention center and dome. I was in awe that first night experiencing the mass gathering in the dome. I truly felt the Holy Spirit's presence in the Georgia Dome.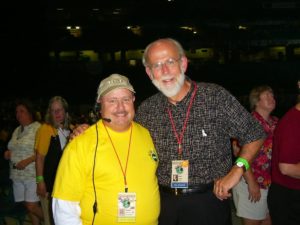 On the second day of the Gathering, I met a person who changed my life. Pastor Daina Salnitis was the Safety and Security Team Leader for the Gathering. She had heard that I was a retired lieutenant from the NYPD, was currently a security director at Pace University in New York City, and had experience in managing large events. When the Gathering ended, I was asked to be part of the Safety and Security planning team for the next Gathering.
As the father of four children, I felt a calling to this challenging offer. Since then, I have been the Security Director for the past four Gatherings, and I'm looking forward to 2018 in Houston. It's rewarding to know that when some people questioned our decision to go to New Orleans in 2009 and Detroit in 2015, I played an important part in reaffirming the decision to keep the Gathering in these cities that needed us.
Throughout this journey, I have found that my faith has grown stronger, and I have made some lifelong friends along the way. Knowing that I play an important role in providing our young people the opportunity to experience Jesus Christ is an invaluable reward to me and gives me the motivation to keep going.
Thomas Tresselt works as the Associate Director of Safety and Security at Pace University in the greater New York City area.