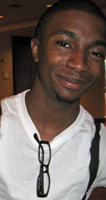 Lutherans teens spilled into the fifth floor hallway of the Sheraton Hotel on Sunday night.
Two shy boys from Puerto Rico leaned against a pillar on the right side of the hall. A young woman originally from Taiwan stood next to a pillar on the left side. In between, a  sea of New Jersey teens wearing lime green T-shirts sat on the floor.
"I didn't know what I was getting into," said Josiah Williams as he surveyed the diverse crowd.
The teens were waiting to get inside a room for worship. It's the kickoff to a three-day event known as the MYLE — Multiculture Youth Leadership Event.
Williams, an aspiring actor from Milwaukee, said he needs the MYLE. He loves worship, but doesn't make it to church every Sunday, he said.
"The MYLE  is a good place to get a closer connection to your spirit and God," Williams said.
* * *
An airport shuttle driver said Hurricane Katrina destroyed his home four years ago. Everything inside, too, including his dog, Ja.
The driver said that when he fled for safety, he left the pit bull behind. Like many people, he simply didn't believe the Katrina hype.
"My only regret to this day is that I didn't take him with me when I left town," the driver said.
* * *
An estimated 12,000 different ELCA youth will be working across New Orleans on Thursday, Friday and Saturday. They will all be wearing orange T-shirts. Not just any orange. The official color: hunter orange.
* * *
Spotted at airport:
Dozens of ELCA youth from Detroit in matching yellow T-shirts
Dozens of ELCA youth from New Hampshire and Massachusetts wearing black T-shirts that said: "Jesus, hope for the nations."
Several red-shirted ELCA volunteers helping Lutherans at the airport with shuttle rides
Businesses spotted near French Quarter:
Cajun Encounters (bus tours)
Dixie Gyros Greek Restaurant
Cemetery Tours