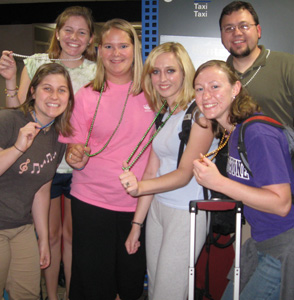 Perhaps the most colorful Lutherans in all of New Orleans today were at the airport. As they arrived in the city, greeters welcomed them by placing bright purple, gold and green Mardi Gras beads around their necks.
These smiling young adults — all in their 20s — are volunteers for the ELCA Youth Gathering in New Orleans, which kicks off late Wednesday.
The volunteers are known as "servant companions" because they'll be accompanying youth on Hurricane Katrina recovery projects across the city. In preparation, the volunteers are undergoing three days of training at Tulane University.
In the photo (first row, l to r): Carin Smith, 20, King of Prussia, Pa.; Kimi Dail, 21, Columbia, S.C.; Jessica Skinner, 20, Columbia, S.C.; Karen Fletcher, 20, Hickory,  N.C. Second row: Cayla Catino, 20, Riegelsville, Pa., and Wil Humphrey, 27, Belleville, Ohio.