by: Kris Bjorke
Hi everyone! I'm Kris Bjorke and I am excited to serve as the Service Learning Project Manager for the 2021 ELCA Youth Gathering. The city of Minneapolis, known for its parks and lakes as well as culture through the arts and music, is both a place I know and love and where I have spent my youth ministry career.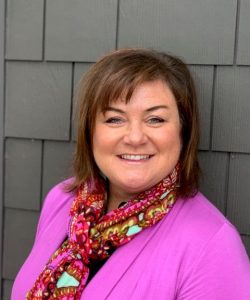 The Gathering has been a formative thread throughout my career. I was able to attend two Gatherings as a high school student. From there I had the opportunity while working at Bible Camp to serve as a leader for a busload of small congregations who were attending. Whenever serving in a congregation either settled or in interim, the Gathering was always part of the summer ministry. I also worked as Synod Day Director for the Minneapolis Area Synod twice and in Houston served as the supplies manager for Service Learning. For the Gathering to be hosted in Minneapolis is amazing— to serve alongside this capable team is a dream.
Organization experiences include; being adjunct faculty at Luther Seminary, First Third Minneapolis Area Synod Staff, co-founding InterServe Ministries along with serving as interim Children Youth and Families minister in nine congregations, Youth Leadership and six years at one congregation.
My husband Scott and I recently downsized our house and currently enjoy apartment living. We have two daughters; Julia, who lives in St. Cloud and a manager at Scheels, and Emily, a music industry student at Minnesota State Mankato and member of a local band Last Import. I enjoy all sorts of things; drinking coffee with friends, being outdoors, pets, football and hockey games, travel (with a special affinity for National Parks), being with family and quilting.
I hope you continue to be part of the Gathering in 2021 if that has been your history and if you haven't taken part in the past, consider dipping your toes into Minneapolis as together we will partner for a deepening faith experience for our young people and ourselves.