by Claire Embil
I am thrilled to have the opportunity to serve as one of the Gathering Hosts for the 2021 ELCA Youth Gathering in Minneapolis, MN. This will be my third Gathering and I can't wait! I went to the 2015 Gathering with my home church as a participant, and in 2018 as a volunteer with Lutheran Campus Ministry. In Houston, I helped lead youth through building house frames during their Interactive Learning day. Each Gathering has been different and brought something new to my faith. I am so excited to see what God and the Gathering teams have in store for each of us in 2021 and in these next 16 months leading up to it.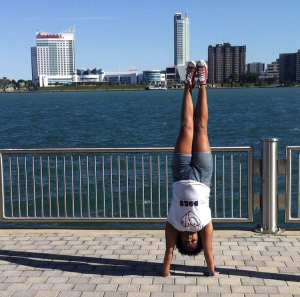 I am currently a junior at the University of Wisconsin-Madison double majoring in English-Creative Writing and Religious Studies with a minor in Photography, mainly digital but I do some film work. After college, I plan to go on to seminary and become an ordained pastor in the ELCA. Outside of school, I spend time serving with Lutheran Campus Ministry, ELCA Young Adult Leadership Team, and Lutheran Student Movement. When I'm not studying or doing church activities, I enjoy attempting to learn to play guitar, traveling (I'm currently at 28 out of 50 states), and I am also a competitive gymnast.
It was actually in the exhibit hall space for Interactive Learning in Houston that I finally stopped running from God's call for me. The Association of Lutheran Church Musicians had a section set up for youth to go through stations of some of the parts of worship. This included a station for dress up. I wanted to try on the vestments and take a picture behind the altar. I stood up all dressed in Green for Ordinary Time, and it hit me. There is a very distinct sound that can be heard when a gong is rung. This feeling that hit me was just like that except I was the gong. I could feel something resonate in my entire being, and I knew that God had a call for me that would change everything. I found my place in the world at Gatherings and I can't express enough how grateful I am to get to participate again in a ministry that completely transformed my faith twice over.
Claire Embil is a junior at the University of Wisconsin-Madison studying English creative writing, religious studies and photography. She is actively involved with the ELCA Young Adult Leadership team, the ELCA Youth Gathering, Wisconsin Campus Ministry, Lutheran Student Movement, and competitive gymnastics.