by: Ellie Abraham
At the 2018 ELCA Youth Gathering, I left each Mass Gathering feeling a buzz of energy, passion, and excitement that coursed through every extremity of my body like a wave of adrenaline. This feeling came from the power of experiencing God's love, grace, and hope in community with tens of thousands of other equally energized worshippers.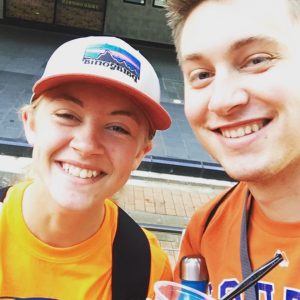 However, on my final day at the Gathering, Savanna Sullivan invited the audience to not let this joy die out after we left Houston. She said: "If our joy is only for this place, if our joy is only for us, then it is not God's joy. God's joy is for everyone." I took this to mean that the surge of passion I felt that week in Houston didn't do any good just sitting inside of me, so I should take this newfound passion and energy and use it to share God's love, grace, and hope with other people back home.
Savanna urged the audience to seek out inequalities and injustices in the world and use our newfound passion to contribute to their defeat—in such a way that we might live for a greater purpose than ourselves. So when I returned home to Brookings, South Dakota, I worked with my pastor at First Lutheran Church to start a volunteering group called Face of Grace at my church. 
So far, we have served free meals to people in Brookings, fundraised and constructed 20 beds for kids who don't have a bed, organized clothes for a free clothing drive, roofed a garage for Habitat for Humanity, and sewed new costumes for a church that flooded and lost everything. What I am doing isn't world-changing, but I am glad to be making a difference in my community and sharing the joy that still hasn't left me since the Gathering.
Ellie is a senior at Brookings High School, where she runs cross country and track. She also sings in the school concert choir and in her church choir, as well as play trombone in marching, concert, and jazz bands. Ellie loves trying new activities outdoors and spending time with family. Next year, Ellie will be attending the United States Naval Academy.