Tired of the hassles that come with a full-sized rental car?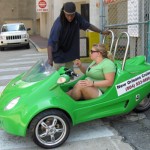 New Orleans has other options for the 37,000 Lutherans arriving in town this week.
These miniature cruisers are for rent outside the Hilton Hotel near the Riverwalk Marketplace.
A New Jersey tourist opted for the mini-car because she was tired of walking in the heat.
Many Lutherans, particularly those from northern climates, are thrilled with the sunshine. A church member from South Dakota called the sun "nature's Vitamin D."
"It's pretty awesome," she said. "You don't have to work up a sweat here. You just sweat."