The time has come! The ELCA Youth Gathering is just days away, and MYLE and the tAble begin programming tomorrow.
After bake sales, car washes, crab feed dinners, parent meetings, planning meetings, laughter, maybe some nervousness, definitely a lot of excitement, and time of intensive planning and prayer, it is now the appointed time. Team leaders have been in Houston putting the plans and activities they've been working on for the past two to three years to life. Youth are beginning to arrive. The city of Houston is prepared to welcome us.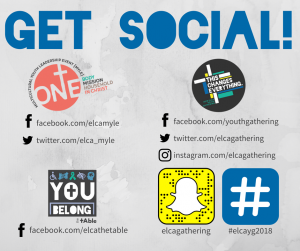 Make sure to follow us in a number of ways on social media. Find information and follow the faith formation and fun at the following places:
Don't forget to follow the hashtag #ELCAYG2018 on social media.
You can also follow instructions to download the ELCA Youth Gathering app here.
For those who have offered your prayers, your resources, and of so much more to provide the youth from your faith communities a unique and formative experience, make sure to continue to connect to what is happening in Houston!