– Natalie Zielinski
Once you experience the Youth Gathering, you keep wanting to come back.
I was lucky enough to attend the past two Gatherings. They were both were life-changing experiences for me. The Gathering helped me find my faith at a time where I was struggling. When I went to my first Gathering in New Orleans, I was getting ready to be a freshman in high school. I spent the past year battling an illness no one could figure out, and I was being bullied for having to use crutches and a wheelchair to get around. I was depressed and felt very alone, and I needed something to help me feel like I belonged.
Everyone I knew talked about amazing experiences at a Gathering and how it had changed their lives. I just hoped maybe it would change my life, too. It ended up having a bigger impact on my life than I ever imagined. When we got there the first night, I was amazed at the sheer number of youth that were surrounding me. Just standing in the sea of youth was such a powerful experience all on its own.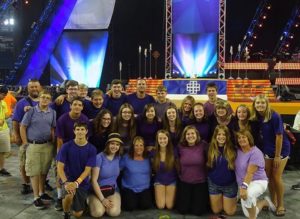 After hearing people like Nadia Bolz-Weber, Shane Claiborne, Leymah Gbowee, and so many others speak throughout the week, I had an "aha moment." I heard all of the different stories and struggles other people faced and I started to not feel so alone.
The Gathering made me realize that I wasn't the only one who felt out of place and didn't know where to go. I realized I was part of a bigger story.
The Gathering made me realize that God has a plan for me, even if I don't understand or know all of the plan.
I wouldn't be the same person I am today if I hadn't been to a Gathering.