Today's blog post is from Laura Ferree, current seminarian and Leadership in Context student at Jacob's Porch, Ohio State University, Columbus, Ohio. Laura shares her experience following the car and knife attack that took place on the OSU campus on Nov. 28, 2016.
On Monday November 28th I was driving to the Columbus airport to pick up a friend when a NPR news broadcaster stated, "There is an active shooter being reported on Ohio State University's campus". My heart sank. My mind instantly raced to all the students I have come to know during my time as the Leadership in Context student at Jacob's Porch, Ohio State's Lutheran Campus Ministry. Through social media, we quickly determined that all of our students were safe but some were in buildings very close to the violent incident. As I went through my morning at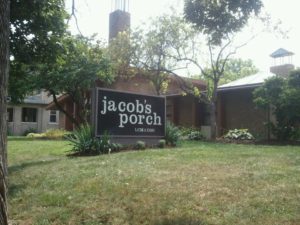 Trinity Lutheran Seminary I knew that I needed to be at the Porch that night. My mind was racing about what kind of space we needed to create at the Porch when Grant Eckhart, the pastor at Jacob's Porch, called. He told me that he was out of town but we agreed the Porch needed to be open. My heart sank once again.  I am only a seminary student. How did I have the qualifications to do this? With Grant's trust and guidance, I felt prepared to enter ministry that day with students at the Porch knowing that the Holy Spirit would intercede when our sighs were too deep for words.
As soon as possible I went to the Porch and was greeted by students, but also by news crews and cameras. As the media buzzed around there was a deep sense of palpable anguish. Amid the distress and uncertainties, we created a sacred space of prayer and lament as we reflected on the events of that morning. The Porch is a place of vulnerability where people can simply be, and on this day of tragedy many people needed to just be.
On this day we turned to something we often do: light candles and place them in a sandbox cross remembering that Christ is the light of the world. We sit on cushions around this cross and turn to prayer remembering the promise that is in the cross, the promise of eternal life and forgiveness of our sins. Coming back to the cross in this way centers us on the promise of an everlasting light that extinguishes darkness which can be easily forgotten in times of tragedy.
The Porch is a place of refuge and rest, for our Christian family but also for the Muslim and Somali community. Due to the identity of the attacker our Muslim and Somali siblings were experiencing a threat to their safety. We are called to come together in love not hate and therefore we strive to make the Porch a safe space for all regardless of religion or nationality. On that chaotic afternoon, we found rest in each other and cried out to God to be our refuge and strength.