Today's post is by Annemarie Hartner Cook, Pastor of Holy Trinity Lutheran Church in Maple Shade, New Jersey. Annemarie served as a staff member for the ELCA Worship Interactive Center at this summer's Youth Gathering in Houston, TX.
"It's a worship playground, a lab, a place to explore and have fun!"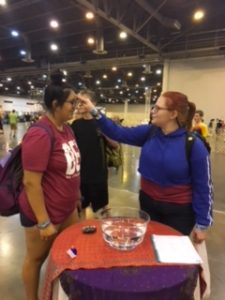 This is how I would describe the "Drawn In! Moving Out!" interactive worship space designed for youth and their leaders at the 2018 ELCA Youth Gathering. For the first time in thirty-one years, the ELCA Worship staff had a presence in the interactive learning center during the gathering. In collaboration with the Association of Lutheran Church Musicians and Lutheran Summer Music,the ELCA Worship staff designed a 3,600 square foot space where experimentation, musical collaboration, creativity, and even a little competition could flourish.
An "Acolyte Olympiad" tested the accuracy and speed of acolytes old and new in a relay course complete with candle lighting, processing, and setting the table for communion. The "Vestment Photo Booth" allowed youth to try on albs, stoles, chausibles, dalmatics, and even birettas (hats) so they could envision themselves as worship leaders and take photos together. Anne Edison-Albright of Luther College remarked that, "a group of three young women showed me the photo they took, arms lifted in orans posture. They told me it made them feel like pastors, and we all got a little tear-y. This was a Godly play area for high school youth, and they needed it, and we need them to be able to imagine themselves as leaders in the church! It helped them try on a possible future, and they loved it."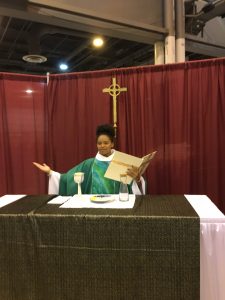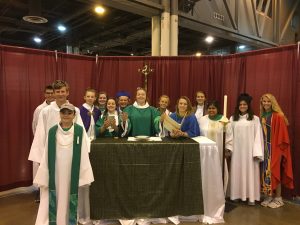 A collaborative music space was stocked with flutes, trumpets, percussion, piano, and even an organ. Professional church musicians provided leadership for the soundtrack to our conversations, exploration, and joy. Pastor Sami Johnson noted, "My student who has a hard time fitting in found his home in your booth. He gravitated to the trumpet and ended up teaching someone else how to hold the instrument and some basic fingerings, and then he kicked off a jam session. It blew my mind to see him take leadership like that. So, thank you!"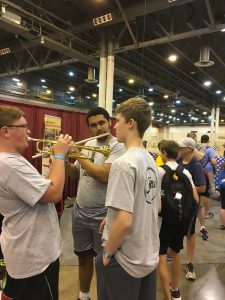 At its heart, this space was dedicated to inviting youth to understand that worship belongs to them as much as it belongs to the rest of the church. In many worshipping communities there are few roles for youth in the planning and work of worship. Often the committees or staff that handle those things invite and expect youth to participate in limited ways that don't utilize their creativity and unique relationship with their faith. Youth have a passion for worship in its ability to communicate the Good News of Jesus Christ in ways that are both familiar and brand new.
The response to these opportunities was immediate and at times overwhelming. It seemed that in the act of giving permission to explore, touch, and play with items and instruments that they had previously presumed were off limits, there was joy. This worship playground enabled youth to literally see themselves as the leaders of worship and music for the church. They wrote beautiful prayers and asked thoughtful questions about worship and how they can continue to be involved. Our "Dismissal Buttons" gave them a chance to write their own dismissal, giving them a tangible way to be sent from this gathering back to their congregations.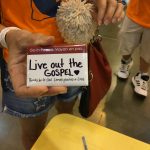 Over the course of the Gathering we continued to have conversations and received inspiring stories from youth and their leaders about the impact that this space had on their vision for worship at home and even their own vocations (See the "Part Two" blog post highlighting the words from the youth themselves). Some youth would come back over and over again, hoping to beat their time in the Acolyte Olympiad, play the organ, or dress in an alb and stole. In the end, what started as permission to play became an opportunity for real discernment into how these youth can have a greater role as worship leaders at home and into the future.