Today's post is by James Boline, pastor at St. Paul's Lutheran Church, Santa Monica, California, a Reconciling-in-Christ congregation of the Southwest CA Synod.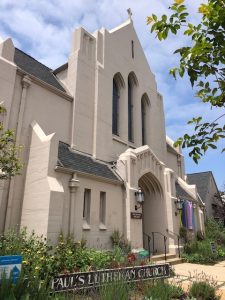 Summer is upon us. Even though we won't reach the season's solstice until the 21stof June, as we flipped the page in Sundays and Seasons after the Day of Pentecost, we arrived at the section marked "Summer" starting with Holy Trinity Sunday (aka Memorial Day Weekend this year). And with that turn-of-page and turn-of-month, school's almost out, graduates are commencing, LGBTQ Pride season revs up, "June is busting out all over," perhaps you find yourself yearning for a "leaner liturgy" in these months of travel and transition.
At St. Paul's in Santa Monica where it is perpetual summer, we have the luxury of taking our time in worship with a 10:00 service and a year-round outdoor coffee hour which follows. The congregation rarely murmurs (much) about services which extend 15–20 minutes beyond the one-hour mark during the school year. Thus, every summer my colleague Cantor Barbara Hoffman and I try our best to shore things up a bit in order to give our saintly sinners/sinful saints at St. Paul's a summery break.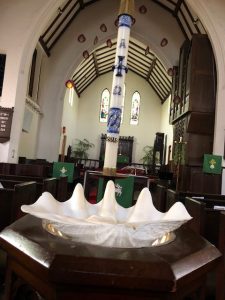 We start with an abbreviated/streamlined gathering rite at the font, which at St. Paul's is located in the very heart and center of the sanctuary. For us, this summer rite is often a brief seasonal Kyrie-infused confession found in a resource called Prayers for an Inclusive Church, by Steven Shakespeare (Church Publishing, New York, 2009). Occasionally, albeit rarely, we have gathered simply with a hymn, followed by the greeting and prayer of the day. One could also consider using a responsive reading of the day's psalm here as well, letting the service flow quickly to the "Word" section.
As we are encountered by all the readings during the service of the Word, we use "Lord, Let My Life Be Good Soil" (ELW #512) for the gospel acclamation all summer to accentuate the growing season of ordinary time. I have written a harvest stanza to which we segue in the autumn: "Lord, Let My Life Bear Good Fruit." With all my heart, soul, and strength, I do try and keep the summer proclamation as brief as I can, with 5–7 minutes being the goal but 8–10 (or 12, deep sigh) usually being the outcome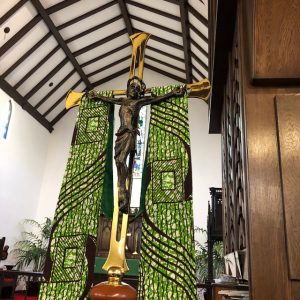 We have chosen to omit the Creed during the summer months, so following the hymn of the day we move immediately to the prayers and the sharing of the peace. With great delight, our assisting ministers have begun to write prayers of their own instead of or in addition to the pre-printed intercessions, and our people willingly respond when asked, "For what else shall the people of God pray?" Parish announcements follow the peace and are frequently too long, but always convey the warm welcome and hallowed hospitality of the St. Paul's community. It's a constant challenge to keep them — along with the homily — on the shorter side.
A spoken Eucharist can set apart the summer season and keep things moving along. Distribution of communion is continuous at St. Paul's, having phased-out kneeling at the rail years ago. In summer, we use "Calm to the Waves"(ELW #794), "Take, O Take Me As I Am" (#814), "Jesus, We are Gathered" (#529)"and other short, repetitive songs/canticles during distribution to get folks out of the hymnal a bit as they commune. (A helpful list of such repetitive songs can be found in The Sunday Assembly (Augsburg Fortress, 2008, p. 221).
All things considered, summer flies by all-too-quickly and maybe worship oughtn't parallel that notion.  In the final analysis, a few extra minutes of basking in the beauty of holiness and soaking up the Sonlight may well bring a welcome Gospel infusion to our ordinary, mid-Pentecost lives. However you may lean into summer, a leaner liturgy might serve you and your community well for these illusive weeks.
Fabric squares for Ordinary Time by Jeanette Paulson, Adorn This House, Duluth MN
Fabric on processional cross from Evangelical Lutheran Church in Tanzania