Today's post features words of five young people who spent time in Drawn In! Moving Out, the worship interactive learning space at the 2018 ELCA Youth Gathering.
Last month on the blog, Annemarie Hartner Cook, pastor of Holy Trinity Lutheran Church in Maple Shade, New Jersey, shared her perspective on the first ever worship interactive space as part of the ELCA Youth Gathering. Over the course of three days, hundreds of youth came to explore this center in a variety of ways. We hope you enjoy hearing about why the event was meaningful to them in their own words.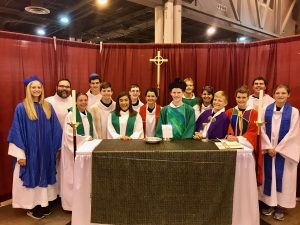 Sy Shipman (back row, third from left) worships at St. John Lutheran Church (Windfall) in Cardington, Ohio.
I really enjoyed how it brought us together…The procession we did was fun, familiar, yet also different. I have never seen streamers on poles as part of a procession and it was neat to see that this could be something we could do at worship in our church some time! This experience started some conversation about symbols in worship and will hopefully continue to open our eyes to the depth of what we do in worship.
Taknowledge Andrew Wagner (below) worships at Augsburg Lutheran Church and Christ Beloved Community Church in Winston-Salem, North Carolina.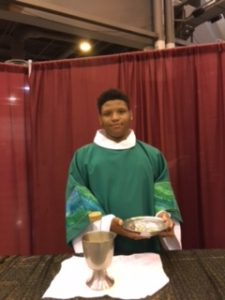 When my pastor showed me the "dress up as a pastor" section and I listened to the music they were playing, it was so joyful and I stayed there until I left. I fell in love with that section and it was so fun to be there. When I put on the pastor's robes it made me feel so much like a pastor; that's when I said I will stay here until I leave the interactive center. When the people told me I looked so good in the robe, I felt Jesus hugging me. But my favorite part is when I walked around the center with a lot of new friends and it was so amazing to feel welcomed by the new friends.
Courtney Ng (right) worships at Holy Trinity in Bellerose, New York.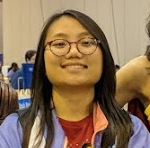 I went to the interactive center on the fourth day and it was a very exciting place to be for the day with all the activities and booths going on. As a piano player and growing up to have a passion for music, I was extremely delighted listening to other people play and experience the music section of the center. Everyone was open and great to talk to and it was a wonderful experience.
Natalie DiMundo (front row, second from left in green) worships at St. Paul Lutheran in Santa Monica, California.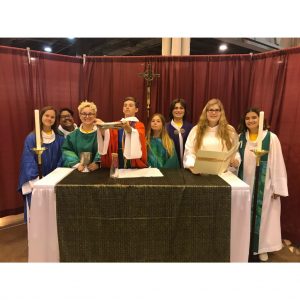 The worship interaction booth at the 2018 ELCA Youth Gathering was one of the most memorable components of the week. The musical area was my favorite, because I love playing music (especially with other people). This interaction booth was so memorable because it helped the group from my church bond and make connections. Because we needed to work together for the "service" or "acolyte olympics" to flow, we were able to become closer friends and fellow worshipers.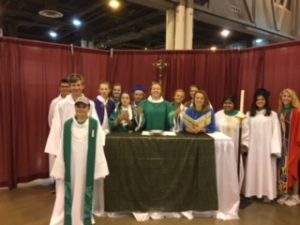 McKenna Moritz (left in purple) worships at Prince of Peace Lutheran Church in Dublin, Ohio.
The worship station was a fun learning experience for everyone who did it. We experienced an acolyte Olympiad and got to dress up like different members of the church community. I also liked the poster board set out to write prayers for different things around our world. Overall it was a great experience.
Thanks be to God for these young people and all who explored this center and attended the ELCA Youth Gathering! How can you continue to nurture the gifts of the young people in your assembly's worship?