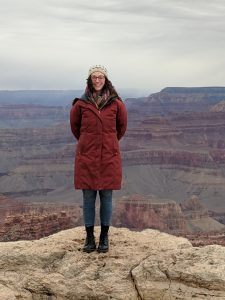 Hello! I'm Brooke De Jong, and I am very excited to join the ELCA World Hunger team as the Program Assistant for Hunger Education and share my diverse work background with the team. I can't wait to see what new things we can do together. Most recently, I served as the Director for Youth, Family and Community Outreach at St. John's Lutheran Church in Wilmette, Ill. Prior to my work at St. John's, I worked as a chaplain on an adolescent behavioral health unit, a grant writer for Heartland Alliance Health and as the ELCA's Coordinator for the Observance of the 500th Anniversary of the Reformation. I have a Bachelor of Arts in Religion and German with a minor in Ancient Languages from Augustana University in Sioux Falls, S.D. I am currently working on my Master of Divinity and in the process of becoming a deacon in the ELCA.
I have a passion for faith formation that is culturally sensitive, socially responsive and aimed at creating lifelong, engaged members of the ELCA. I am looking forward to assisting the ELCA World Hunger team in creating resources that foster the growth of a faith that is active in love and seeks justice. I also look forward to hearing from you about how you are using ELCA World Hunger education resources and what your hopes are for the future of these resources.
When I am not in the office, I can often be found doing CrossFit, hiking, backpacking or biking. My last hiking trip was to the Grand Canyon (see photo). The last backpacking trip I took was to Colorado, where I did the Marron Bells Four Pass Loop. I traversed four mountain passes in five days! I am looking forward to exploring Zion National Park or more of the Rocky Mountains next.