This summer ELCA World Hunger welcomes two interns to the team. We are excited to have them share their gifts and talents with us. Learn more about them below!
Aml Mohamed, ELCA World Hunger Education Summer Intern
My name is Aml Mohamed, and I will be working as the ELCA World Hunger Education Summer Intern. 'Aml' means 'hope'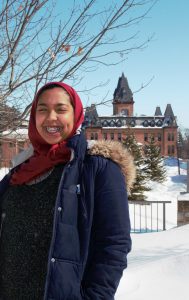 in Arabic, which is the first language that I speak in my home country of Egypt. I am a student at St. Olaf College in Minnesota, and I am designing an individual major which is titled International Youth Development. The major captures my passion to return home and pursue a career in youth development.
Before going to college, I completed a two-year pre-university program at the African Leadership Academy (ALA) in South Africa, whose mission is to prepare the next generation of African leaders. My experience at ALA motivated me to develop an educational initiative in my home city, Luxor, Egypt, called the "Step by Step Initiative." The initiative aims to increase young people's self-efficacy through providing them with life skills such as problem-solving, communication, teamwork and presentation skills. We were able to reach eighty students during the summer of 2018 and hope to continue in the future.
This is my first time in Chicago. While I am here, I hope to explore and learn about the history and the culture of the city. I will use some of my free time to pack my reflective thoughts and luggage, before I go on a St. Olaf College faculty-led study abroad program. The program is called Global Semester, and its theme is Education in a Global Context. During the program, we will visit six countries: France, Egypt, Tanzania, India, China and Argentina.
I am excited for the projects that we will be working on as the ELCA World Hunger Education team, and thankful for the learning opportunities that will come with it.
Joshua Meribole, Community Granting and Community Engagement Summer Intern
The building is tall. The work is important. The learning is endless.
Hello, my name is Joshua Meribole, and I am a Summer Intern at the ELCA in Chicago. I will be working as the Community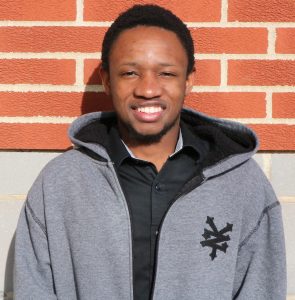 Granting and Community Engagement Intern with ELCA World Hunger. I am from Nigeria and came to the U.S. to study community development and journalism at Dordt University in Iowa. I will officially finish college at the end of the summer.
In college, I studied the different community development practices that organizations around the world have done to help impoverished communities. I am looking forward to learning how the ELCA works alongside its partners to help communities tackle the multiple and interconnected layers of world hunger.
My work for this summer ranges from organizing events to writing blogs and articles to reviewing documents. With each of the tasks that I will be doing, I am excited to learn and to gain new experiences and skills that will add to my dream and vision to work with community members in the countries I grew up in.
In my free time, I like to read, watch TV shows and video tutorials, and talk to people. However, living in Chicago for the first time, I have had to put visiting iconic landmarks and going to festivals to my list of hobbies. So far, I have enjoyed meeting new people, expanding my taste buds and walking around the city.
After talking to people within the ELCA and hearing about their experiences and projects, I am looking forward to being part of the family.