Lanny Westphal, director of ELCA Global Church Sponsorship
​Read on for updates on Zimbabwe: Building up the Church (GCS4037), an ELCA Global Church Sponsorship project that is part of Always Being Made New: The Campaign for the ELCA. To make a gift to this Global Ministry, click here.
Sept. 28, 2014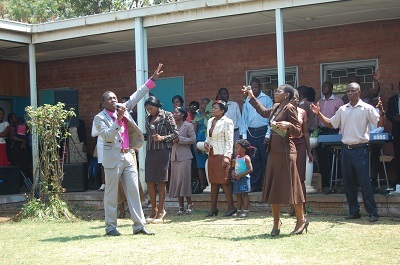 Musicians lead songs of praise and devotion.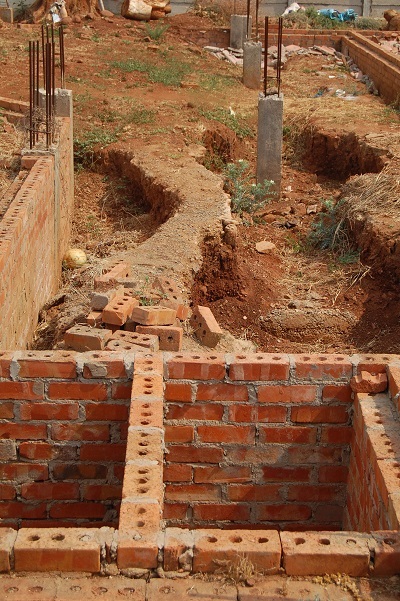 Construction has begun on City Centre congregation's building.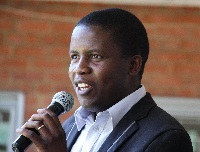 People began arriving early. Well before the main worship service was scheduled to begin, the rented courtyard was packed with dedicated church members. Dynamic musicians led joy-filled songs of praise and devotion. Then Arnold Moyo, a youth leader, (photo at right) stood up to lead a Bible study on prayer, inviting people to share their reflections on the Lord's Prayer.
Arnold is a national leader of the Lutheran youth throughout Zimbabwe. Now he also is part of an innovative plan for outreach in his home city of Bulawayo. This city, the second largest in Zimbabwe with 600,000 in population, has several Lutheran congregations on the outskirts which, for the average person, are hard to reach. Just to attend church can require a long ride on two buses, including a transfer and the cost of an extra bus fare. This is money that most cannot afford in a country with a very high unemployment rate.
So began the vision for the City Centre congregation located in downtown Bulawayo and accessible to all with just one bus ride. The congregation began with 100 members sent from its mother congregation in the north part of the city. These committed Christians began a health team to teach the prevention and treatment of tuberculosis, malaria, and HIV and AIDS. They provide buses for low-wage miners at a gold mine in the nearby countryside to come to church on Sunday. They have already grown to 600 members.
Now they want to take the next big step forward in faith. Arnold and the other leaders in this City Centre congregation have a vision of reaching out even farther and welcoming even more people into their growing fellowship. They dream of building a multi-purpose building downtown to provide more health programs for the community. They hope to provide "Infohut" education in computer literacy, life skills and health issues such as malaria and HIV and AIDS. And they want a space to welcome up to 1,500 people for worship, conferences, celebrations and classes.
And they're making it happen. After the worship service ended today, the chair of the development committee told the members that the contractor needed 54 wire meshes to pour the cement floor this week. One by one, members came up front to give what they could. At $37 apiece, these wire meshes were sacrificial gifts in a country where many workers earn only $200 a month. Once the cement floor is poured, the congregation will erect a tent and begin using the site for worship and meetings.
The Evangelical Lutheran Church in Zimbabwe, with 250,000 members led by Presiding Bishop Stephen  Dube, has asked for our help to walk alongside dedicated leaders like Arnold, to help make this dream a reality so that the City Centre congregation will grow from its foundation and open its doors to the whole city. In Zimbabwe, you can make a difference and help to grow God's church. Learn more at https://community.elca.org/zimbabwe.
———-
October 2014
Read an inspiring "Lesson in Giving" from Zimbabwe at www.ELCA.org/News-and-Events/blogs/HandInHand/450.
———-
October 2014
Read more about the trip that six ELCA members took to Zambia, Zimbabwe and Tanzania at www.ELCA.org/News-and-Events/blogs/HandInHand/446.
———-
July 2014
Bulawayo City Center congregation
Goal: $350,000 over two years
THE NEED:
The Bulawayo City Center congregation caters to communities around Bulawayo City Center and those transiting through the city of Bulawayo.  Currently, close to 500 people worship in inadequate rented premises, most of the time outside in the shade. During the rainy season, a heavy rainfall often disrupts Sunday and weekday worship services.
THE OPPORTUNITY:
We have the opportunity to support the improvement of facilities for worship and social service outreach for the people living around the Bulawayo City Center. The ELCA will partner with the church in Zimbabwe in this project, which will reach out to women, children and the youth by providing Christian education, HIV and AIDS awareness, malaria prevention, job training and information technology. This is primarily a church project that the members have initiated as mission in the local city center community.  About 75 percent of the congregation's adult population is women, and they would like to reach out to more men.

Evangelical witness and sustainable development projects at Burure, Gokwe District
Goal: $450,000 over three years
THE NEED:
The government's persistent inability to adequately provide health services continues the need for churches, including the Evangelical Lutheran Church in Zimbabwe, to intervene. About 70 percent of the health services in the rural areas is provided by the churches
THE OPPORTUNITY:
We have the opportunity with brothers and sisters in the Evangelical Lutheran Church in Zimbabwe to improve health care in this area. ELCA Global Church Sponsorship will fund the provision of basic health services to communities in need through improving the health clinic in Burure, as well aiding staff and operational costs.
The project will also identify and develop new water sources for sustainable development in collaboration with the Lutheran Development Service. Funds will also enhance the work of the sustainable development initiative.
Professional skills will be taught to the youth through a program that integrates information technology and HIV and AIDS prevention, care and treatment, and malaria prevention.
All projects at Burure are an entry point for the evangelical witness and outreach ministry of the church within Gokwe District and beyond.
GET INVOLVED!
This ELCA Global Church Sponsorship priority is a new ministry as part of Always Being Made New: The Campaign for the ELCA. You can help by sharing this information, by praying, and by making a donation.
By check: Make your check payable to "ELCA Global Church Sponsorship" with "Zimbabwe,  GCS4037" in the memo line, and send it to: ELCA Evangelical Lutheran Church in America, ELCA Gift Processing Center, P.O. Box 1809, Merrifield, VA 22116-8009  or place your gift in the offering plate.  
Online: Go to https://community.ELCA.org/Zimbabwe  to make a one-time gift.
By phone: Call 800-638-3522 and pay with a credit card or set up a monthly gift.
For more information, please visit www.elca.org/globalchurch or contact:
Lanny Westphal, director, ELCA Global Church Sponsorship
8765 W. Higgins Road, Chicago, IL  60631
773-380-264, lanny.westphal@elca.org