Lanny Westphal, director of ELCA Global Church Sponsorship
Connect your youth with ELCA Young Adults in Global Mission (YAGM)!
* Your youth group is invited to make covenants of prayer, mutual communication and financial support for a YAGM group or individual participant. (See www.ELCA.org/YAGMsupport.)
* YAGMs are young adults (age 21-29) who serve for a year in one of eight country groups: Argentina/Uruguay, Jerusalem/West Bank, Madagascar, Mexico, Central Europe (Hungary), Southern Africa and the United Kingdom – and new in 2014, Rwanda! (See www.ELCA.org/YAGM.)
Connect with a YAGM!
These 63 Young Adults in Global Mission (YAGM) can be resources for your youth ministry.
While serving across the world, they are as close as email, tweets, Skype, Facebook, YouTube or a blog post!
Sponsor one of them with a covenant of prayer, communication and financial support, and watch your youth grow in faith, mission, stewardship and servant leadership.
Learn more at www.ELCA.org/YAGMsupport or contact globalchurch@elca.org.
__________
February 2015
Supporting YAGMs at the Youth Ministry Extravaganza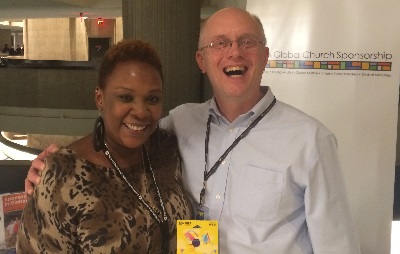 Jacqui Garrett (left), of Mediator Lutheran Church in Philadelphia, holds the Best Buy gift card she won in the drawing at the Youth Ministry Extravaganza in Detroit (Jan. 29-Feb. 2). Those who entered the drawing will receive information on how to sponsor a member of the Young Adults in Global Mission program.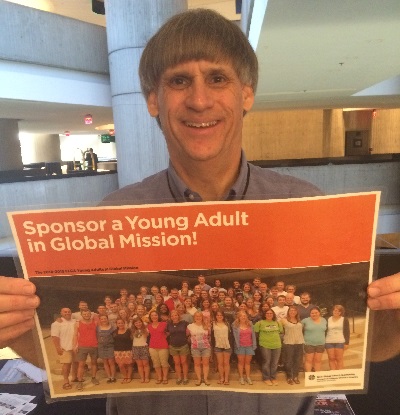 Gary Pecuch won a $50 gift card at the Youth Ministry Extravaganza in Detroit (Jan. 29-Feb. 2). He works for the ELCA Southern Ohio Synod and signed up to learn how to sponsor a member of the Young Adults in Global Mission program.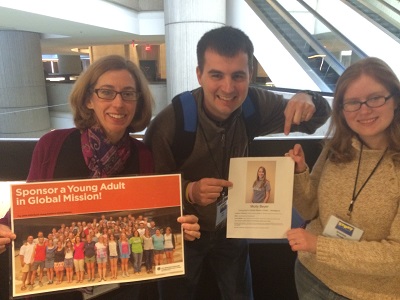 While attending the Youth Ministry Extravaganza in Detroit (Jan. 29-Feb. 2), members of Bethel Lutheran Church in Winchester, Va., hold up a picture of Molly Beyer, a member of Bethel who is now serving in the Madagascar YAGM program.
__________
February 2015
Showing his YAGM support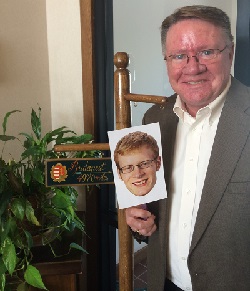 Bishop Ullestad of the ELCA Northeastern Iowa Synod demonstrates his support for the Young Adults in Global Mission in Hungary by holding up a mask that was used for Shrove Tuesday last year, with a photo of Ole, a YAGM who served in Hungary. The bishop is standing in the synod office next to a sign pointing to Budapest, Hungary.
__________
Jan. 19, 2015
Win Best Buy gift cards!
If you are at the Extravaganza (Jan. 29–Feb. 2) in Detroit, sponsored by the ELCA Youth Ministry Network, stop by the ELCA Global Church Sponsorship display and learn how your youth group or congregation can sponsor a Young Adult in Global Mission (YAGM) and register for a drawing to win Best Buy gift cards.
__________
January 2015
Synods publicize Young Adults in Global Mission
The Northwestern Ohio Synod distributes YAGM blogs and e-letters.
The North Carolina Synod posts e-letters from the YAGM from North Carolina onto its website and then publicizes them in its synod e-letter.
__________
December 2014
These synods are encouraging support for Young Adults in Global Mission (YAGM):
__________
Dec. 3, 2014
Illinois synod supports Madagascar YAGM group
The Central/Southern Illinois Synod included a photo of the Madagascar YAGM group, along with a description of their ministry and encouragement to make gifts to support them, in its December 2014 edition of Mission Matters, reproduced below.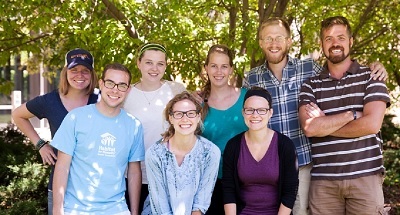 The 2014-15 YAGMS who are serving in Madagascar.
Young Adults in Global Mission (YAGM) volunteers, ranging in age from 21 to 29, take the plunge into a life-changing year-long journey in communities around the world. As they share their gifts of service, they also receive the gifts of their hosts' hospitality, engaging in relationships of mutuality, interdependence, solidarity and trust. Applications for the program are due Feb. 15 each year for service beginning that same August.
How they serve
Young Adults in Global Mission accompany the Malagasy Lutheran Church in social service and health ministries, leadership development and evangelism. Placements include work with children and youth, women's vocational training, health and wellness training, mental and spiritual health, health care and sustainable agriculture programs.
What they learn
Young adults serving in Madagascar live simply in a challenging setting. Their service invites theological reflection on economic justice, hunger and poverty, since Madagascar is one of the poorest nations on earth. They also engage the complexities of life in a society of subtle ethnic and spiritual diversity.
Where they serve
Madagascar, an island nation in the Indian Ocean, is a cultural crossroads between Africa and Asia. Thanks to strong evangelism and a commitment to social ministry, the Malagasy Lutheran Church has more than 3 million members. Of the 22 million inhabitants of Madagascar, 70 percent live on less than $1 a day. Most households engage in subsistence agriculture and fishing. These livelihoods are under threat from climate change, deforestation and lack of access to world markets.
Say 'yes' to these young adults
Offerings to support Young Adults in Global Mission may be sent to: Central /Southern Illinois Synod, 524 S. 5th St., Springfield, IL 62701-1822. Please write "Madagascar YAGM" in the memo line.
__________
Nov. 21, 2014
Minnesota synod youth gathering supports YAGMs
By Catherine Anderson
*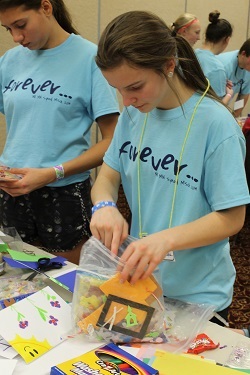 Nine hundred youth and adult leaders gathered for the Northeastern Minnesota Synod Middle School Gathering. Under the theme "Forever" and with speaker David Scherer of Agape, youth learned about the sacraments and their identity as a child of God. Nearly $1,500 was collected during the offering to support the synod's two young adult leaders serving with Young Adults in Global Mission (YAGM) this year. David Zastrow, who is serving in South Africa, shared a letter with the group to explain YAGM, his role as a missionary, and how serving connected with his baptism and growing faith. Zastrow challenged participants to live out their baptism by sharing: "I believe that God wants us to be missionaries wherever we are; your baptism, not a plane ticket, makes you a missionary." Youth also made cards of encouragement to share with YAGMs who are serving so far from home during this holiday season.
__________
Nov. 14, 2014
2015 ELCA Youth Gathering will support YAGMs
By Lanny Westphal
In Detroit, synod youth leaders gathered this weekend from across the ELCA to prepare for next July's ELCA Youth Gathering. The theme of the "synod day" at the Youth Gathering will be "How Jesus is good news." To illustrate this theme, Karis Ailabouni, who served last year with the ELCA Young Adults in Global Mission (YAGM), told a story on YouTube about how Jesus was good news to her through the people who welcomed her warmly and enthusiastically when she first arrived to serve in Madagascar. Hear her moving story at https://www.youtube.com/watch?v=r51Ex7kTItE&feature=em-upload_owner#action=share.
In these months before the Youth Gathering, youth from your synod can connect to exciting global missionaries like Karis! Congregations and youth groups are encouraged sponsor a YAGM, especially those with connections in your synod, by making a covenant of prayer, communication and financial support. Learn how to do this at www.ELCA.org/YAGMsupport  or contact globalchurch@elca.org. Then consider involving your YAGM in "synod day" in July at the Gathering in Detroit or spend the next few months learning about what missionaries and YAGM do.
A fourth of the offering at the Youth Gathering closing worship will be used to support missionaries and YAGMs, so the coming months offer a great opportunity for youth going to Detroit to learn how their gifts will be turned into exciting global ministries.
__________
September 2014
YAGMs in Hungary
The Northeastern Iowa Synod published an article describing how young people serving in the YAGM program are leaving their mark in Hungary through simple acts of kindness, an enthusiasm to embrace a new culture and language, and an active witness to their faith through service. See http://www.neiasynod.org/wp-content/uploads/2014/03/STAR_September_2014.pdf.
__________
June 22, 2014
Synod support in Pennsylvania
The Lutheran Youth Fellowship Assembly in the Northeastern Pennsylvania Synod took an offering to support the Young Adults in Global Mission (YAGM) serving with the church in Argentina/Uruguay, the synod's international companion. The Youth Assembly also passed a resolution encouraging the 2015 Synod Assembly to designate a synod account for the future support of the YAGM serving in Argentina and Uruguay.
__________
April 25, 2014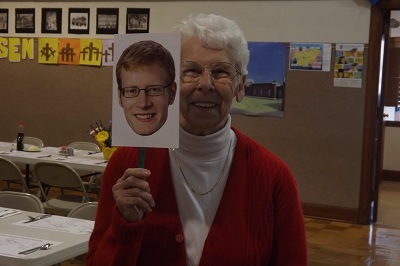 Ole masks at a pancake supper
By Mark Anderson
At a pancake supper at St. Paul's Lutheran Church in Waverly, Iowa, participants received a cardboard mask with the image of Ole Schenk, an ELCA Young Adult in Global Mission (YAGM) serving in Hungary. Those who received the masks were told about Ole's ministry and invited to take home the masks, share this information about Ole with family and friends, and then use the masks as a daily reminder to pray for missionaries.
St. Paul's is a sponsor of Ole who works with students in a parochial school of the Lutheran church in Hungary, which has a companion-synod relationship with the Northeastern Iowa Synod, ELCA. The Northeastern Iowa Synod encourages its members and congregations to sponsor the four YAGMs in Hungary, and then to make connections between these YAGMs and young people of the Synod through youth groups, confirmation and Sunday School classes.
(Note: This pancake supper and the masks were originally planned for Shrove Tuesday before Lent, but were postponed due to a blizzard until the Tuesday after Easter.)
__________
January 2014
Youth for YAGM – the goals and benefits
By Lanny Westphal
* Teach youth about stewardship, global mission and servant leadership
* Give youth an opportunity to teach their whole congregation about stewardship, global mission and servant leaderships
* Continue the excitement for youth who have taken part in the ELCA Malaria Campaign or the 100 Wells Challenge
* Use digital communication to foster international peer role-modeling
* Provide an opportunity for young people to consider their own vocations
* Support an exciting, growing ELCA global ministry
Youth for YAGM – three simple steps
Step 1: On the covenant form, write your congregation or sponsoring ministry (such as synod or campus ministry) and your youth group.
Step 2: Write down the YAGM individual or group you've chosen.
Step 3: Choose your level of support. It can be any amount, large or small – then send it in!
For more information
Email globalchurch@elca.org or call 800-638-3522, ext. 2657, to request information about YAGM groups and individuals in service. You can also request a "sponsor covenant" to make a covenant commitment for prayer, communication and financial support, or download a covenant at www.ELCA.org/resources/globalchurch.